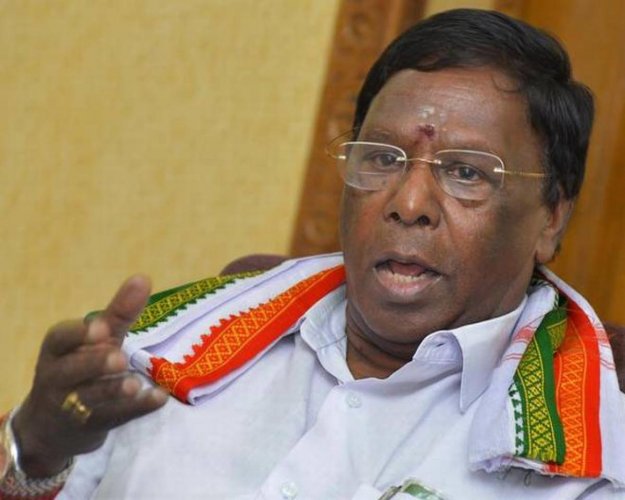 The Union Cabinet on Wednesday (February 24) approved a proposal to impose President's Rule in Puducherry, days after a Congress-led government in the union territory lost power during a vote of confidence.
Announcing the Cabinet decision, Union Minister Prakash Javadekar, told reporters that the decision was taken as no party claimed to form a government in Puducherry following the resignation of the chief minister there.
Subsequently, the Lieutenant General had recommended President's Rule in Puducherry and the Union Cabinet has approved the same, the minister said.
After the President's assent, the assembly will get dissolved, Javadekar said, while adding that further necessary steps for administrative work in Puducherry would be taken soon.
He also noted that the model code of conduct was expected to come into effect soon after the Election Commission announces the dates for elections there, along with four states.
Also read: Bedi, the mastermind of op Puducherry, eased out to show BJP 'innocence'
After five MLAs from the Congress and its ally, the DMK, resigned, the Narayanasamy government became minority. There has been a slew of resignations from January, which reduced the strength of the Puducherry Assembly to 26.
Health and family welfare minister, Malladi Krishna Rao, was the first to resign on January 13 as minister, and as an MLA on February 15. Rao was part of the delegation that Narayanasamy led to President Ram Nath Kovind earlier seeking removal of Kiran Bedi as Lt Governor of Puducherry.
On January 25, PWD minister A Namassivayam and MLA, E Theeppainthan, quit the Congress and joined the BJP. Then Congress MLA, A John Kumar, resigned on February 16. Then two MLAs, one each from the Congress and the DMK, K Lakshminarayanan and Venkatesan, respectively, resigned on February 21. One Congress MLA, N Danavelu, had been disqualified in July 2020 for anti-party activities.
Also read: Narayanasamy exits, what's next in Puducherry?
While the Congress-DMK ruling alliance had 12 MLAs, including the Speaker of Puducherry Assembly on its side, the Opposition had 14. Puducherry Assembly has a strength of 33 MLAs with 30 elected and three nominated (who are all are BJP MLAs).
On February 22, Narayansaanmy, who failed to prove his government's majority in the Puducherry Assembly, resigned before the vote on the motion of confidence and blamed the former Lt Governor Kiran Bedi and the central government for the political crisis in Puducherry.
(With inputs from agencies)