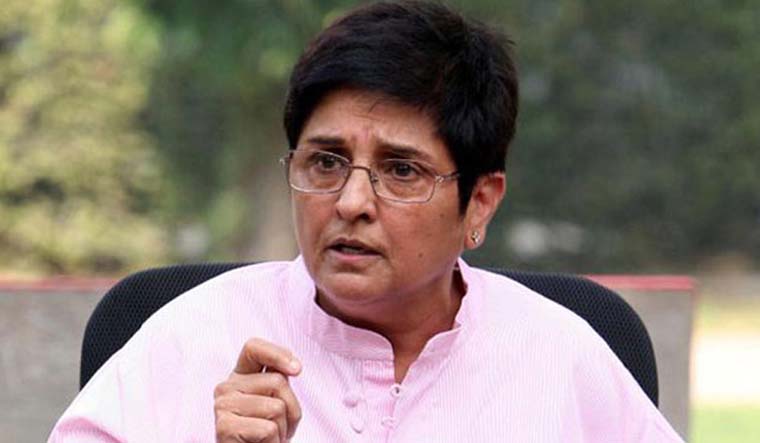 Having successfully completed the mission of Operation Destabilization of the Congress government in the Union Territory of Puducherry, Kiran Bedi, the LG, has been withdrawn from the scene to enable the BJP to paint a picture of innocence when the Narayanaswamy government would be delivered the final blow.
For over four years, Kiran Bedi had put a spoke in the wheel of the Pudicherry government, whether it was social welfare schemes cleared by the cabinet or development programmes of the government.
Just like the famous Indian left-arm spinner Bishen Singh Bedi was used to fox the English batsmen, PM Narendra Modi used the 'spin doctor' Kiran Bedi to stall the Congress government at every stage.
In an unprecedented move, Kiran Bedi nominated three BJP members as MLAs, a prerogative which had always been given to the ruling party.
At every step, the PMO, the Union Home and Law Ministries have backed Bedi's decisions to undermine the elected government. However, the electorate gave her a resounding reply when the Congress won the Lok Sabha by-election by a huge margin despite a united opposition. This was described by political observers as a verdict against Kiran Bedi's style of functioning and her obstructionist policy.
Also read: DMK banks on party hopper with 'tilak' always on forehead to win Puducherry
In the last month or so, things reached a flashpoint when a couple of legislators jumped ship and CM Narayanaswamy himself led protest demonstrations and a fast against what he called Bedi's move to obstruct the programmes of the government and to destabilize it by engineering defections.
Bedi, on the other hand, charged the Narayanaswamy government with corrupt practices.
On the day when two more Congress MLAs resigned, and the opposition, spurred by the BJP, gunned for the Narayanaswamy government and demanded his resignation, the Centre quietly sought to remove Bedi from the scene to avoid further embarrassment to the BJP.
Also read: Governors Vs states – Delhi 'sultanate' back amid growing sense of bias
With the Congress government tottering on the brink, the BJP would like to give the impression that it was collapsing on its own weight and that it was not the handiwork of Bedi. The BJP wants to give the impression that it has distanced itself from the destabilization game.
That is why Bedi has been eased out and Tamizhisai Soundararajan, Telangana Governor, given additional charge of Puducherry. It will be left to Tamizhisai to bang the "last nail into the coffin".
It will be little satisfaction for CM Narayanswamy to see Bedi go even as he presides over a sinking ship.