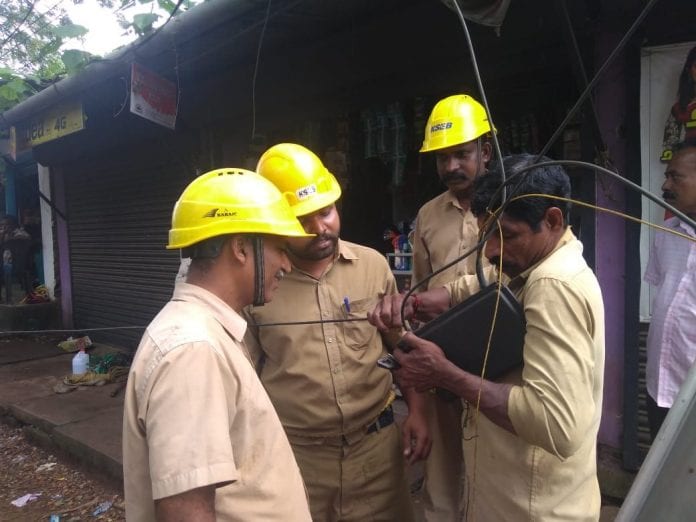 The landline phone at the office of Kerala State Electricity Board (KSEB) at Thrissur rings incessantly. Satheesh, who with his team of linemen has been working day in and day out to restore power in different parts of the city, in the wake of floods, has lost count of the number of times people have called in the past one week to convey their grievances. He and his team, though exhausted have rushed to the spot every time they have been called. So, when this time the phone rings, he gets ready for yet another trip.
It is a call from the nearby Velappaya area, where an electric line had snapped after a tree fell on it. Satheesh and his team have to start from scratch, from clearing the branches to fixing the pole to restoring power.
Satheesh and his team are among the thousands of workers of the Kerala State Electricity Board (KSEB), who have been tirelessly working for the past one week, sometimes working for more than 30 hours at a stretch, to restore electricity in several parts of the state in the wake of heavy rains and floods.
One might say that what they do is what their job demands, yet what goes unnoticed and unappreciated is the magnitude of hazards and risks that they are faced with, especially after a disaster.
Satheesh, says they have been receiving more complaints about uprooted electric poles and snapped service lines, soon after the rains subsided and the water receded from several parts of the city. "When there is water involved, the risk increases, making us susceptible to slipping or getting electrocuted while mending the lines. Since August 8, we have been working without a break to restore electricity. We get calls even during the night. Sometimes people yell at us over the phone and sometimes nobody cares about the kind of risk we take to make their lives comfortable. But we take everything in our stride," Satheesh says.
According to a report by Indian Express, 43.54 lakh consumers were affected across the state because of flood and landslides during this year's floods. The loss this year has been estimated around ₹500 crore, said an official from the department.
Despite the increased risk to their lives while fixing lines after floods, especially in a water-logged areas, Siju, a sub-engineer at KSEB, Thrissur says there are certain priorities which cannot be overlooked. "Though this is our job, we risk our lives for it. During heavy rains, we sometimes have to restore electricity in places like hospitals which are important. Thankfully fixing lines is a teamwork and there is always someone whom you can fall back on when in crisis," says Siju says.
Although linemen are required to adhere to safety measures while working, many say their safety at times depends on sheer luck. Last week, Baiju, an assistant engineer at KSEB, lost his life while restoring power in a flood-affected area. "We have been advised to take safety measures and are provided with safety kits. But, sometimes we get a minor shock while fixing a line," says Radhakrishnan, a lineman. "We are aware of the dangers of the profession. But most of the time, we are not concerned about our own safety than that of others. Imagine, how we would feel if electrocution occurs during rain only because we had not fixed it. We would feel partly responsible for such deaths," he adds.
The most needed tool for an electrician on the field is the presence of mind, says Siju. "When there is a heavy downpour or a disaster, we go to the respected sub-station and take a permit to cut off the power supply. For a place which has been hit by landslides, it takes almost five days to restore. In case of floods, are first required to drain the water, which takes at least two days, before restoring power supply," Siju explained.
But their job isn't as appreciated as they would want it to be. "People take us for granted. They starting trolling the department on social media if there is half-an-hour of a power cut. What they don't understand is that when it is raining or flooding, it isn't easy to reach certain places and fix the electricity lines with immediate effect," says Nishad, another lineman.