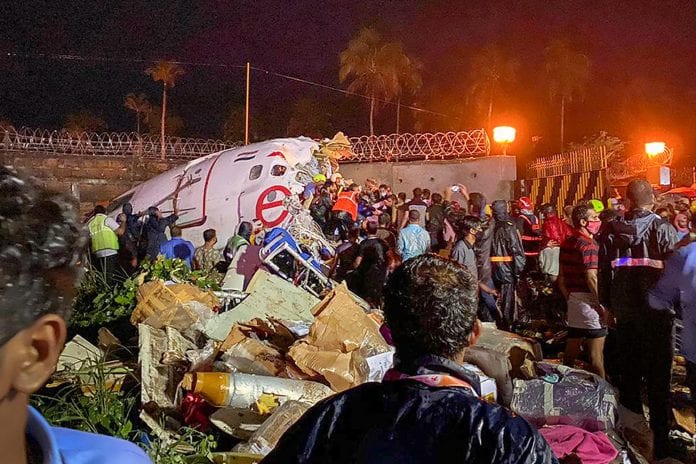 Apprehensive if the Kochi Airport would be safe for landing due to the heavy rains, Nasiya along with her three children decided to take a flight to Kozhikode from Dubai. Little did she know how perilous her decision would turn out.
"We preferred a flight to Kozhikode as we thought Kochi airport would not be safe during the rain," says Nasiya, a survivor of Friday's air crash at Kerala's Kozhikode airport in which 18 including its two pilots perished.
She thanks her stars for surviving the tragedy with a fracture on her leg and minor injuries while 18 of her co passengers died.
Trapped, bloodied, but alive
Nasiya took Air India B 737 from Dubai to Kozhikode with her three children, hoping to have a safe journey home. She was on a visit to her husband working in Dubai and managed to get seats in the Vande Bharat Mission Air India Express flight after 60 days of waiting since registration with the Embassy and the state's NORKA roots for return.
Related news: 18 dead in Kozhikode air crash; Kerala CM, aviation minister to visit spot today
Nasiya chose to fly to Kozhikode because Kochi International Airport has a consistent history of waterlogging. The airport remained closed for around 20 days during the 2018 floods. "When the landing was announced, I was relieved that I have reached home. My only worry was about my husband who had to stay back in Dubai," she says.
Little did she know that the worst was not over yet. Nasiya who is yet to come out of the shock of the tragedy, remembers the tragedy in bits and pieces. "During the landing, there was an unusual shake. I did not understand what was going on and in no time everything was over," Nasiya says. When she regained her senses, Nasiya found herself stuck between the seats. She and her children were in the 13th row. She could not move an inch as she had severe pain all over the body and neither could feel her legs.
"I turned towards my kids and tried talking to them. They too were not able to move and my elder daughter (14) was bleeding," she said.
She tells us how then the locals came for the rescue. "I was lifted by someone. He carefully handled me and we were shifted to some vehicle," she says.
It was a gloomy Friday for Kerala. The day that began with the shocking news of a landslide in which 70 people went missing ended with another horrifying incident of the plane crash that has claimed 18 lives so far. It was on the same day last year that a massive landslide in Malappuram district claimed 58 lives of which 11 bodies went unrecovered. With rain fury becoming an annual event in Kerala, the state is struggling hard to fight with its limited resources.
Locals – the real heroes behind the rescue
Experts and eyewitness say more deaths were averted due to two reasons – the presence of mind of the captain that averted the engine from catching fire and the dedication of the local people who rushed to the spot for the rescue. The spirit of dedication shown by locals who rushed to the rescue of the hapless passengers reminds one of the spirit of unity Kerala had shown during the 2018 and 2019 floods.
Suresh Babu, who lives 200 metres from the airport, is one such Good Samaritan. Suresh was among the first few who arrived at the spot.  "I heard a loud noise like an explosion. I called up a friend and inquired. While talking to him, I heard another noise and saw a light towards the end of the runway. I realised something is wrong. A neighbour was also there with me. We rushed to the spot, but the airport security guards tried to stop us, but we didn't care (later one of the same security guards apologised to him). When I reached the crash site, we saw a few passengers lying unconscious. We rescued them first," he says.
Suresh says by the time they rescued the first batch of injured passengers, a few more locals had joined the operation and were stopping vehicles to take the injured to hospitals.
"We sent the passengers in all possible vehicles. By the time more local people came with cars and auto-rickshaws. We got inside the aircraft. We saw one pilot trapped in his seat. He was bleeding heavily and was unconscious, the other pilot was also jammed in his seat and we could not take him out. We talked to him and he said his entire body is numb and he can't move. We then moved to the rear of the aircraft. First, I found was a small child crying and while rushing it out, saw a woman trying to lift her hand and calling for help. I handed over the child to someone and helped the woman get out," he recalls. The pilot he said he found unconscious had, however, died on the spot.
Suresh does not remember how many passengers he managed to bring out. He said that he was getting electric shocks while touching the seats. It was a sleepless night for him.
It is vouched by many that almost all the passengers were rescued by the local people even before the arrival of the fire department officials. Despite heavy rains and the threat of COVID-19, all the passengers were shifted to hospitals within one-and-a-half hours. Suresh along with 15 others was quarantined on Saturday as a precautionary measure for their contact with passengers aboard an international flight.
The hospitals in Malappuram and Kozhikode too witnessed rare moments of humanity. People rushed to hospitals for blood donation as well.
"As soon as I came to know about the accident, I went to MIMS hospital," says Anwar Sadath, a resident of Kozhikode.
"There were around 30 people there who came for blood donation. I met a man who came all the way from Mukkam (around 30 km from the hospital) for blood donation," says Anwar who runs an advertisement agency at Kozhikode.
In Kannur, a group of youngsters gathered with food for the passengers landing at Kannur Aiport. All the flights scheduled to Kozhikode Airport were rescheduled to Kannur.
Related news: Kozhikode crash: Black box recovered from mangled aircraft
"We distributed around 2,500 packets of food, not only to passengers but to airport staff who had to take additional duty due to the mishap," said Vineeth who is an office secretary with the local office of CPI (M). Vineeth and friends continued food distribution till 4 30 am.