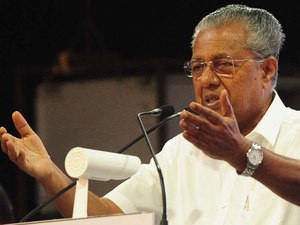 Kerala Chief Minister Pinarayi Vijayan on Sunday (April 30) hit back at Prime Minister Narendra Modi for his remarks against the state government over several issues, saying that he was "deliberately trying to belittle" the state.
The chief minister claimed that the state had only experienced "neglect and discrimination" at the hands of the Centre and bringing a Vande Bharat train would not hide these things.
Also read: Projects, youth, Christian outreach: Modi sets tone for 2024 in Kerala
Vijayan said the prime minister made several statements, including the alleged huge unemployment in the state, during his political programme – Yuvam 2023 – in the port city of Kochi recently that were "baseless and devoid of facts".
"The Prime Minister deliberately tried to belittle Kerala," he claimed.
Speaking in Kozhikode at an event on the occasion of Onchiyam Martyrdom, the Kerala CM gave details of the state government's initiatives to provide jobs to the youth and the appointments made through the public service commission.
Kerala govt's welfare measures
He also gave details of various other welfare measures – like housing under Life Mission and pensions for the elderly – that the Left government had carried out in the state and contended that it was the BJP at the Centre which had not followed through on its poll promises to provide jobs to the youth.
Modi at the Yuvam 2023 conclave had accused the LDF government in the state of not taking steps to provide jobs for the youth.
Centre took payment for foodgrains provided as relief after 2018 floods: Vijayan
Vijayan further flayed the Modi government by accusing it of taking payment for the foodgrains provided as relief after the 2018 floods.
"We thought the foodgrains were free and distributed them accordingly. But the Centre took payment for it later," the CM claimed.
Also read: 'The Kerala Story' taking up Sangh Parivar propaganda by raising love jihad issue: CM Pinarayi Vijayan
"Even Kerala's share in taxes was cut down," Vijayan said.
He said, "This is the kind of neglect and discrimination that Kerala has experienced at the hands of the Central government. Such things cannot be hidden by bringing a Vande Bharat train to the state."
(With agency inputs)