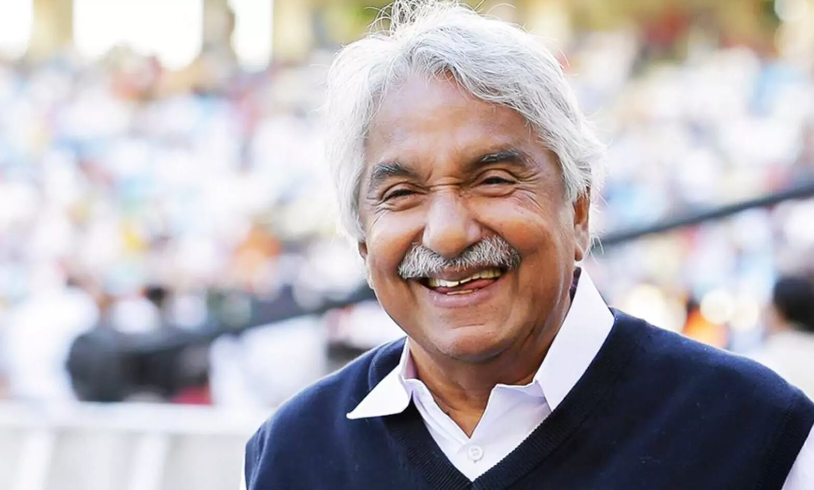 Oommen Chandy's demise: Tributes pour in; Kharge hails him as visionary leader
The Congress on Tuesday (July 18) condoled the demise of its veteran leader Oommen Chandy, with party president Mallikarjun Kharge saying that the former Kerala chief minister, with his unwavering commitment and visionary leadership, has left an indelible mark on the state's progress and the nation's politics.
Chandy, 79, died at a private hospital in Bengaluru in the early hours of Tuesday after a prolonged illness.
Kharge, Sonia Gandhi and Rahul Gandhi along with Karnataka Chief Minister Siddaramaiah and his deputy DK Shivakumar visited former state minister late T John's residence in Indiranagar, where Chandy's mortal remains were kept, to pay their last respects.
In a letter to Chandy's wife Mariamma Oommen, former Prime Minister Manmohan Singh said, "I have learnt with profound sorrow the demise of your beloved husband Shri Oommen Chandy ji today. He was a leader of high esteem who was respected by everybody irrespective of party lines. The former prime minister further said, "He was a mass leader and distinguished administrator who devoted his whole life to the service of the people. He will always be remembered for his contribution to the Indian National Congress and the state of Kerala."
Also read: Oommen Chandy obituary: A people's CM who steered Kerala to progress
Former Congress president Rahul Gandhi also condoled Chandy's demise. "Oommen Chandy ji was an exemplary grassroots Congress leader. He will be remembered for his lifelong service to the people of Kerala," Gandhi said on Twitter, adding, "We will miss him dearly. Much love and condolences to all his loved ones."
Speaking to reporters in Bengaluru, the former MP from Wayanad said, "Chandy ji represented the spirit of Kerala and the spirit of India. He was a true leader of the people of Kerala. We will all miss him and we will remember him fondly. My condolences to his family and everybody who loved him."
The Congress party said on Twitter, "Deeply saddened by the passing of former Kerala chief minister and esteemed Congress leader Oommen Chandy." Extolling on his virtues as a leader, the Congress further said, "A stalwart in politics, his contributions to Kerala's progress and development will always be remembered. A true statesman, he leaves behind a legacy that will inspire generations. Our heartfelt condolences to his family and loved ones during this difficult time. May his soul rest in eternal peace."
Congress president Kharge also joined in condoling Chandy's demise and paid tributes to the leader, saying he was a staunch Congressman who stood tall as a leader of the masses. "His unwavering commitment and visionary leadership left an indelible mark on Kerala's progress and the nation's political landscape. He will be remembered for his dedication and service to the people. Heartfelt condolences to the family and supporters," Kharge said in tweet.
Congress general secretary Priyanka Gandhi Vadra also condoled Chandy's demise and said that he was a pillar of the party. She said Chandy was a leader who dedicated his life to the service of the people and was "deeply committed to the values we are fighting for today. We will all remember him with great respect and miss his wise counsel".
Jairam Ramesh, Congress general secretary in charge of communications, said Chandy was an extraordinary personality and a true mass leader. "A man of great simplicity and unfailing courtesy, he was a 24/7 politician giving everything he had to the welfare of his constituents and of the people of Kerala," he said.
Ramesh said Chandy's tenure as chief minister was notable for many achievements that were widely lauded and recognised by the United Nations as well. "I was privileged to have known him for years and still recall our joint visits to various settlements in Attappadi 10 years ago."
In a tweet, the Congress Kerala unit said, "Extremely sad to bid farewell to our most beloved leader and former chief minister Shri Oommen Chandy. One of the most popular and dynamic leaders of Kerala, Chandy sir was loved across generations and sections of the population." The Congress family will miss his leadership and energy, it said.
Kerala unit chief K Sudhakaran also condoled the passing away of Chandy and said, "The tale of the king who triumphed over the world with the power of love finds its poignant end. Today, I am deeply saddened by the loss of a legend, Oommen Chandy. He touched the lives of countless individuals and his legacy will forever resonate within our souls."
Also read: Bengaluru Oppn Meet Live | Congress not interested in Prime Minister's post: Kharge
Tagging his tweet a few months ago in which he had talked about visiting Chandy in hospital and wished for his complete recovery, senior Congress leader and Thiruvananthapuram MP Shashi Tharoor said, "Sadly, it was not to be. The news of Oommen Chandy's passing leaves millions bereft. My heart goes out to his family at this inexpressibly sad time. May his soul rest in peace. Om Shanti."
Congress general secretary (in charge of organization) KC Venugopal expressed sadness over the death of Chandy. "He was a visionary chief minister who leaves behind a rich legacy of pro-people governance. Under his towering leadership, Kerala reached great heights and he transformed the state through his reformist agenda. His passing is a big loss for the Congress party and the people of Kerala," he tweeted.
The death of the former Kerala chief minister was announced by his son, Chandy Oommen, in a Facebook post. "Appa has passed away," he wrote without elaborating.
Chandy, who had not been keeping well for quite some time, had been staying in Bengaluru for treatment at a hospital.
(With agency inputs)