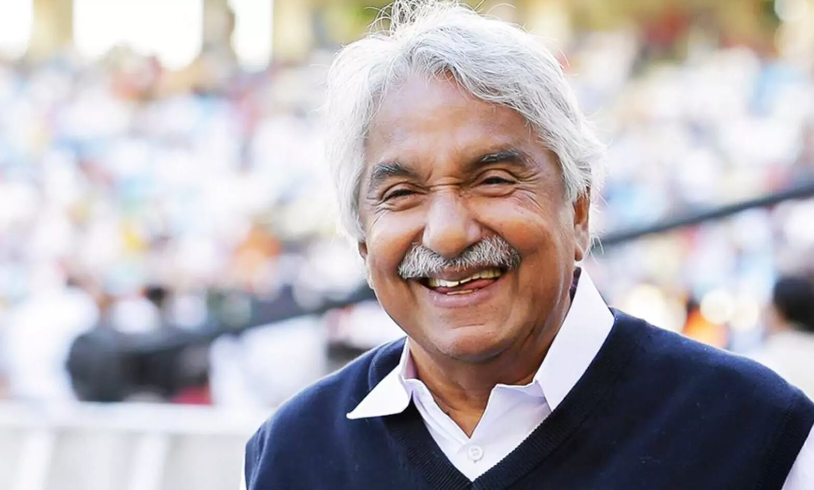 Oommen Chandy obituary: A people's CM who steered Kerala to progress
Oommen Chandy,  former Chief Minister of Kerala, breathed his last in the wee hours of Tuesday (July 18), leaving behind a legacy of dedicated public service and leadership that has imprinted an indelible mark on the state of Kerala.
From student leader to Kerala CM
Born on October 31, 1943, in Puthuppally, Kerala, Chandy began his political journey at a young age with the Kerala Students Union (KSU). As a student activist, his commitment to public welfare and grassroots politics quickly earned him recognition within the party. Chandy's rise in the political arena was steady, and he held many positions in the administration, from being the MLA of Putuppally for five decades – he was elected in 1970, 1977, 1980, 1982, 1987, 1991, 1996, 2001, 2006, 2011, 2016 and 2021 – to handling the home and finance portfolios of the state cabinet before assuming charge as the chief minister of Kerala for the first time in 2004. This was when AK Antony stepped down following a huge poll debacle for the Congress in the 2004 Lok Sabha elections.
Tales of struggle  
Chandy, who went by the endearing moniker of 'Kunjoonju', (little boy) served as the leader of the KSU at St. George High School in Puthupally before rising to the position of state president of the organisation. Chandy completed his pre-university studies at CMS College in Kottayam and obtained a Bachelor's degree in Economics from St. Berchmans College in Changanassery. Subsequently, he pursued a Bachelor's degree in law (LL.B) at Government Law College in Ernakulam.
Also read: Former Kerala CM Oommen Chandy dies at 79
Chandy was at the forefront of a significant student protest named 'Orana Samaram' organised by the KSU in 1958 – a movement that catapulted a group of enthusiastic young individuals to top leadership positions in the state Congress. The political journeys of leaders of the likes of Vayalar Ravi, AK Antony, and Chandy gained further significance as they battled against the first Communist government led by EMS Namboodiripad to reinstate the student concession of one anna (equivalent to six paise) for boat travel. Their efforts during this time are remembered as fervent tales of struggle by the Congress workers.
None other like Oommen Chandy
In the 2010 Malayalam movie Pranchiyettan and the Saint (Brother Francis and the Saint), there is a conversation where some characters discuss whether the then chief minister Chandy had any namesakes. None of the characters could conjure up any acquaintance by that name, even though the name Oommen Chandy – first name derived from his grandfather's and surname from his father's – is common among Christians in Kerala. Such was Chandy's unique stature as a mass leader in Kerala!
During his tenure as chief minister from 2004 to 2006 and from 2011 to 2016, Chandy displayed an unwavering dedication to the people of Kerala. He was hailed for his quick decisions and their implementation coupled with a vision for progress and inclusive development of the state.
A leader of the masses, Chandy was well known for his simple lifestyle. His political acumen and ability to navigate complex situations were evident throughout his political career. He was known for his approachability and willingness to listen to the concerns of the people. His accessible and affable nature endeared him both to his constituents and colleagues across party lines.
Commitment of a lifetime
Chandy's commitment to the welfare of the people extended beyond his political life, and even after stepping down as chief minister, he continued to serve as a respected voice in Kerala's political landscape.
Athivegam Bahudooram (Project Fast Forward) and Vikasanavum Karuthalum (Development and Care) were the two mottos he adopted as the chief minister, for two separate terms. His mass contact programme, where he met petitioners at a pre-fixed time and settled issues on the spot, was widely discussed and accepted. He was awarded the 2013 United Nations Public Service Award for the Asia-Pacific region in the area of 'Preventing and Combating Corruption in the Public Service'. From 2006 to 2011, when VS Achuthanandan of the CPI(M) was the chief minister, Chandy served as the opposition's leader.
Trials and tribulations
Inside the party, he was the epitome of group politics and in charge of the 'A' group of AK Antony. It was when Karunakaran, the leader of the 'I Group' (named after Indira Gandhi), refused MA Kuttappan a seat in the Rajya Sabha in 1994, Chandy resigned as the finance minister and went on the offensive. Karunakaran had to resign as the chief minister soon after due to the ISRO espionage case, but the internal party rift behind it was an open secret.
Chandy faced the toughest time of his life when he was linked with the notorious solar scam that rocked the state in which a woman named Saritha Nair, along with her then partner, swindled money in the name of state-sponsored solar panels. It was revealed that three of Chandy's staff members had personal connections with Saritha. Furthermore, Saritha later accused several Congress leaders, including Chandy, of sexual exploitation. However, in December 2022, the Central Bureau of Investigation (CBI) submitted a report to the Chief Judicial Magistrate Court that cleared Chandy of any involvement in the sexual exploitation case, providing him with huge relief.
Kerala Chief Minister Pinarayi Vijayan condoled Chandy's death, saying, "It is extremely difficult to bid him farewell. We were elected to the Legislative Assembly in the same year. It was at the same stage that we came to the political fore through student life. We led public life at the same time and it is extremely difficult to bid him farewell. Oommen Chandy was a capable administrator and a person who was closely involved in people's lives."
Chandy's passing is an irreplaceable loss not only for the Indian National Congress but also for the people of Kerala. His demise leaves a void in Kerala politics, as he was widely regarded as a seasoned statesman and an embodiment of ethical politics. His contributions will continue to inspire future generations of leaders to work diligently towards the betterment of society. Chandy's name will be remembered with reverence and gratitude by the people whose lives he touched and transformed.