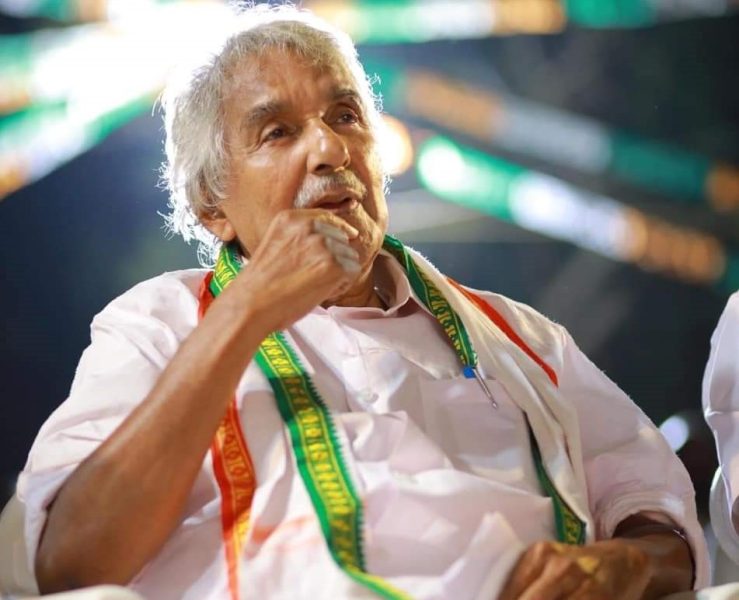 Oommen Chandy was great leader, worked tirelessly for Congress: Kerala CM
Kerala Chief Minister Pinarayi Vijayan on Monday (July 24) said late Congress stalwart Oommen Chandy was not only a good organiser and campaigner of his party, but he excelled in every role assigned to him and worked tirelessly without rest for strengthening the grand old party.
Vijayan said Chandy's demise was a huge loss for the Congress and the opposition UDF led by it and neither would be able to fill the vacuum left by his departure that easily.
The Chief Minister was speaking at the programme organised by Kerala Pradesh Congress Committee (KPCC) at the Ayyankali Hall in Thiruvananthapuram to commemorate Chandy, who died in Bengaluru last week.
Also read: Fissures in Congress over Pinarayi Vijayan's invite to Oommen Chandy event
As Vijayan walked up to the podium, slogans were shouted from the crowd in support of Chandy and prevented the Chief Minister from commencing his speech for a few seconds.
Only after some Congress party leaders gestured to the crowd to stop, did the sloganeering end and Vijayan was able to start his address.
Vijayan, in his speech, recalled that from his student days, Chandy was active in politics and "was a good campaigner and organiser for the Congress party".
Also read: Thiruvananthapuram bids adieu to Oommen Chandy; remains taken to Kottayam
"He was unquestionably one of the great leaders of the party and displayed exemplary leadership qualities," the Chief Minister said.
He also said that Chandy's priority was always to strengthen the party and the front led by it and "for that, he worked tirelessly without any rest".
Even when he was ill, he did not shy away from performing his official duties or his obligations as a people's representative, Vijayan said.
Also read: Malayalam actor Vinayakan's house attacked for abusing Oommen Chandy
The Chief Minister said Chandy's continuous representation of an Assembly constituency – Puthuppally – for 53 years without a gap in between was a record in itself in the history of parliamentary politics.
"In contrast, there have been many gaps where my political career as a legislator is concerned, even though we both entered the state assembly as MLAs together for the first time in 1970," Vijayan said.
KPCC chief K Sudhakaran, who also spoke at the event, said Chandy was a beloved leader of the people and the farewell accorded to him by the public after his death was an indication of the same.
Sudhakaran said that Chandy was kind and polite when responding to everyone including those who humiliated him over the corruption allegations against him.
The KPCC chief said Chandy was always working to better the lives of the common people and referred to the various schemes – like for providing cochlear implants – he had initiated for public welfare.
Leader of Opposition in the assembly VD Satheesan too spoke along similar lines and remembered the late Congress stalwart's contributions to the party and the people of the state.
Satheesan said that it was due to the work Chandy put in for the people, which was repaid by the public with their love when he died.
Chandy, who served as the chief minister of Kerala twice, breathed his last in a private hospital in Bengaluru on Tuesday (July 18). His end came while undergoing treatment for cancer, party sources said. He was 79.
A historic chapter in Kerala politics came to an end with the demise of Oommen Chandy. His contributions to our state as an administrator, political leader & people's representative have been exemplary. Joining the grief of family, friends & supporters. Condolences. pic.twitter.com/kYgivnkwJ5

— Pinarayi Vijayan (@pinarayivijayan) July 18, 2023
(With agency inputs)