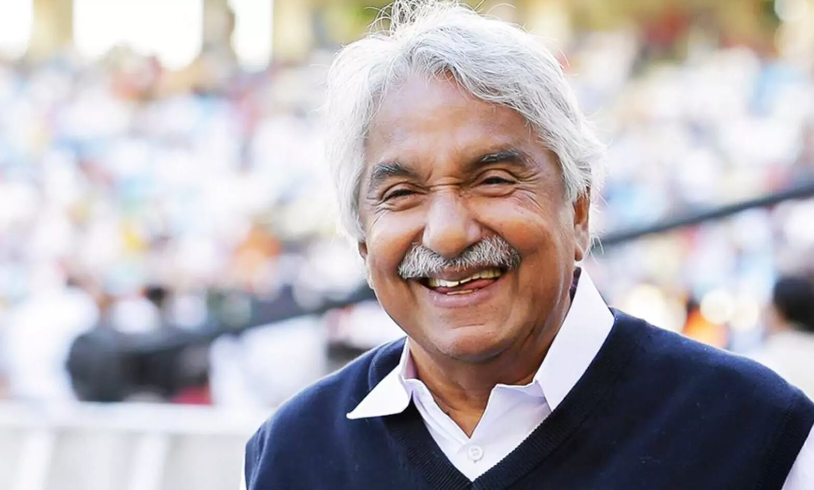 Fissures in Congress over Pinarayi Vijayan's invite to Oommen Chandy event
Few would contest that Oommen Chandy was arguably the most popular Congress leader in Kerala after seeing the crowds that gathered during his last procession from Thiruvananthapuram to his native place Puthuppally in Kottayam.
It took more than 24 hours to cover a distance of 150 km with people from all walks of life cutting across party lines pouring in to catch a last glance of the longest-serving legislator of Kerala.
One of those who came to pay his tributes and share a touching obituary note on him was Chief Minister Pinarayi Vijayan, a Marxist veteran and a bitter political opponent of Chandy.
When the Leader of Opposition invited him to be part of Oommen Chandy's commemoration event organised by the Congress and presided over by the KPCC president, the chief minister did not hesitate to accept it.
Dissent over CM
But according to Congress sources, the decision to invite Vijayan was not unanimous. KPCC president and the Leader of Opposition were not keen on it. They felt it was Vijayan who spearheaded the scathing attack on Chandy during the solar scam controversy and subsequent sexual allegations against him.
"A consulting editor of CPI(M) mouthpiece the other day confessed that they knew those allegations were false, vindicating our stance. Inviting the very leader who amplified those allegations to his commemoration programme will prove counterproductive for the party," said a senior Congress functionary.
Also Read: Former Kerala CM Oommen Chandy's burial without state honours. Here is why
But senior leaders like AK Antony and those part of the party high command insisted for it. Chandy's family also wanted the Chief Minister to take part. This was conveyed to the leadership by his son, Chandy Oommen. It was after these developments that the Leader of Opposition invited the chief minister.
The Congress initially said Vijayan would inaugurate the event. But after certain leaders pointed out that inaugural ceremonies are not done for memorial gatherings, the plan was revised.
Vijayan's participation has not gone well with a section of the party. Some leaders took to social media to express concern.
Byelection nominee
With the Congress and Chandy's family coming to terms with his demise, now all eyes will shift to the upcoming byelection in Puthupally. Since 1970, OC, as party workers and journalists called him, had served as Puthuppally's MLA.
If nothing exceptional happens, his son Chandy Oommen is all set to run for office from the constituency. The Congress leadership has already arrived at a consensus but is yet to announce it.
PCC president K Sudhakaran told the media that someone from Oommen Chandy's family will run for the office but retracted his statement owing to criticism from inside the party. "I did not say that we have zeroed in on the candidate, but the feelings of his family will be considered," he clarified.
While interacting with journalists, the PCC president said that if the ruling Left Democratic Front (LDF) had any respect to the departed leader, they should avoid contesting the byelection. Sudhakaran had also said this when Rahul Gandhi was disqualified from the Lok Sabha in March 2023.
Sudhakaran's remark too has not sunk well in his own party ranks, with many expressing displeasure. "It's a very conducive political climate for us. Oommen Chandy's memories are enough and more for a thumping victory not only in the byelection but in the 2024 general elections also. Such was the people's affection we saw in the past days. The KPCC president should be aware of this and refrain from making unwarranted statements," a Congress leader told The Federal.
Unrelenting LDF
The LDF is gearing up for the byelection.
"We have great regards for Ooomen Chandy as a rival leader, who was immensely popular. But as far as elections go, we fight them politically and definitely we will be fielding a very strong candidate," said EP Jayarajan, the convener of the LDF.
In the last election, Ommen Chandy had a real scare against CPI(M)'s young candidate and DYFI joint secretary Jake C Thomas, with his majority plummeting from 27,092 to 9,044.
This was the second lowest majority of Chandy from his home constituency, the lowest being 7288 when he first contested in 1970 against EM George, a mighty Communist leader.