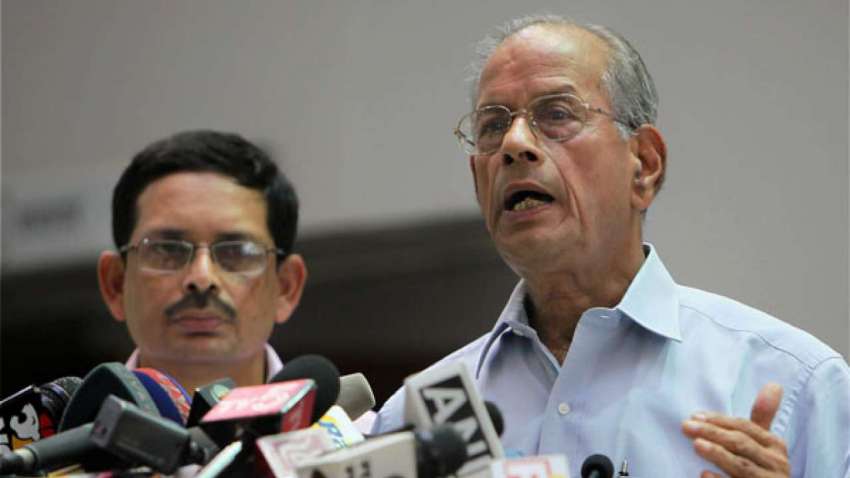 'Metro Man' E Sreedharan is BJP's chief ministerial candidate in Kerala
In a dramatic development in Kerala politics, Elattuvalapil Sreedharan, popularly known as the 'Metro Man' in the country, has been declared as BJP's chief ministerial candidate for Kerala on Thursday in the upcoming state Assembly elections.
The BJP on Thursday (March 4) declared Elattuvalapil Sreedharan, popularly known as 'Metro Man', as its chief ministerial candidate in Kerala.
The 88-year-old technocrat, who is widely admired for changing the face of public transport in India with Konkan Railway and the Delhi Metro projects, had repeatedly told journalists that he is only too willing to become chief minister if the BJP comes to power. He said the state should be "efficiently" governed on the lines of the Delhi Metro Railway Corporation.
BJP state president K Surendran, who is currently on a Vijay Yatra in Kerala, made the announcement and added that the party would shortly release a list of other candidates as well, The Indian Express reported.
Sreedharan, an admirer of Prime Minister Narendra Modi, had formally joined the BJP last week, in the presence of Union minister R K Singh, at a function at Changaramkulam in Malappuram district.
Also read: Ahead of Kerala polls, 'Metro Man' Sreedharan to join BJP
Union minister and BJP leader from Kerala V Muraleedharan, however, said that the party has not made any such announcement. He said he "cross-checked" with the BJP's state unit to confirm this.
"What I wanted to tell was that through media reports I learnt that the party has made this announcement (about Sreedharan being the chief ministerial candidate). Later, I cross-checked with the party chief who said that he has not made any such announcement," V Muraleedharan said, reported ANI.
The retired government engineer, who is credited with laying the foundations of modern infrastructure engineering in India, had told journalists that he was entering politics because of the lack of industrial and infrastructure development, misrule and corruption in Kerala.
Sreedharan said he had been living in Kerala for the last 10 years, and was "disgusted with the corruption, misrule and nepotism" in the state. "Since I had anyway more or less completed my responsibilities, I thought I could use my experience for the benefit of Kerala. I accepted the BJP's invitation as I was not enamoured by either the CPI(M)-led LDF or Congress-led UDF," Sreedharan told the media at that time.
In the 1990s, after completing the Konkon railway project in a record seven years, Sreedharan was made the managing director of DMRC, and he completed the project within the budget and target date. For his achievements, the government honoured him with a Padma Shri in 2001 and a Padma Vibhushan in 2008. In 2005, he was awarded the Chevalier de la Légion d'honneur (Knight of the Legion of Honour) by the French government.
One of Sreedharan's earliest achievements that brought him to the notice of his superiors was his restoration of the Pamban Railway Bridge in Tamil Nadu in 46 days, when a part of it was washed away in a cyclone in December 1963.
Talking to the media on Thursday (March 4) after the announcement of his candidature, Sreedharan said he had not yet narrowed down a constituency from which to contest. He was, however, convinced of his victory from any seat in the state, he added.
Also read: CM Pinarayi Vijayan's battle cry in Kerala: 'Certainly LDF'
But he expressed a desire to contest from a constituency not far from Ponnani in Malappuram, where he currently resides, media reports stated.
Sreedharan will not go knocking on people's doors asking them to vote for him, he said. A mentor of the Kochi Metro project, the high-profile Sreedharan said, "I won't go to houses and shops soliciting votes. But my message will reach the voters."
Sreedharan is part of the 16-member state election committee constituted by the BJP for the April 6 assembly polls. According to him, people in Kerala need jobs and the BJP will show what needs to be done and how.
Sreedharan alleged that Kerala is being pushed into a "debt trap" by the ruling Left government due to disproportionate borrowings and lavish spending. He believed that careful planning and execution can change this situation and bring development to the state. In Karmayogi, a biography of Sreedharan, the author had written that Sreedharan, who never spent more than eight hours a day in his office, is regarded the world over for his productivity standards.