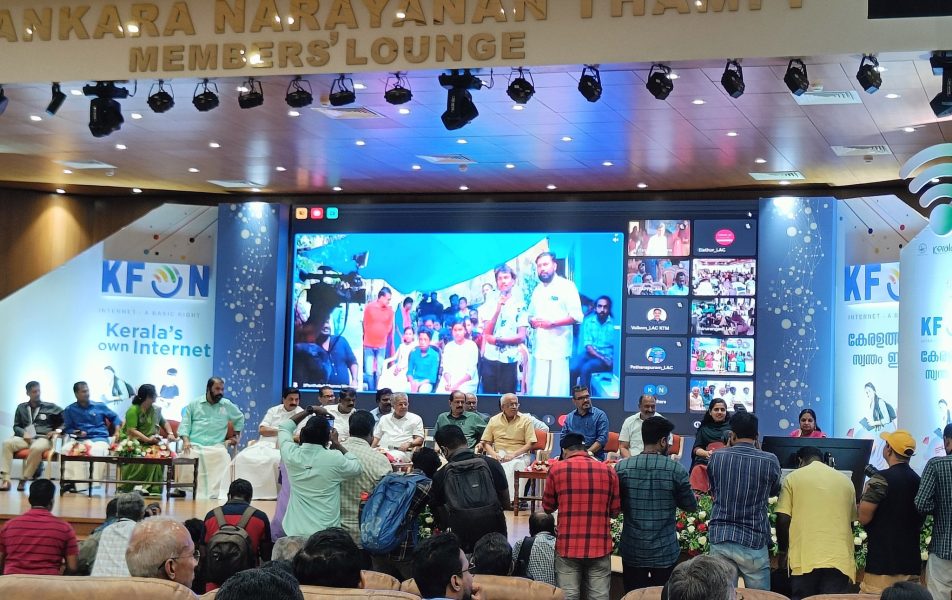 K-FON will bridge digital divide in Kerala, facilitate internet access to all: Vijayan
Internet access to everyone has become a reality in the state, Kerala Chief Minister Pinarayi Vijayan said on Monday after launching K-FON — a government-owned broadband service provider.
After launching the service, which in its initial phase would provide internet connections to 14,000 households in the state, Vijayan, in a dig at the Congress-led UDF Opposition, said there were those in Kerala who were opposed to any kind of development in the state. The Congress-led UDF Opposition boycotted the launch of the Kerala Fibre Optic Network (K-FON) alleging corruption in the implementation of the project.
Also read: Rs 82 lakh to share stage with Kerala CM Vijayan in US? Controversy brews
Cong alleges corruption

In a press conference held at Kochi, Leader of Opposition in the state assembly VD Satheesan contended that such an "extravagant" event was being conducted in the Legislative Assembly at a cost of over Rs 4 crore when various welfare schemes and pension payments were stalled due to lack of funds.
Satheesan also alleged that the optical fibres were not made in India, but were instead procured from China and then rebranded. He also claimed there was corruption in the implementation of the project.
CM rubbishes charge

Referring to the allegations of Satheesan, the chief minister said such claims indicate a mindset which is opposed to any kind of progress or development in the state. However, their stand does not affect the government, instead it impacts the state and the people, Vijayan said.
Refuting the other allegations of Satheesan, the CM claimed that the cables were procured from Bharat Electronics Limited (BEL) and that pension payments and other welfare schemes remain unaffected. Vijayan said that better internet services should be everywhere if the youth are to benefit from it and K-FON is the solution for that. By ensuring connectivity in places, including like Idamalakudy in the interiors of forest, "no one would be left behind and everyone would be a part of the real Kerala story," he said.
Twitter link: Finally, #Kerala has realized the dream of becoming the first state with its own internet service!
"Universal internet access is essential to keep up with the changing world and through K-FON we are preparing the infrastructure to transform Kerala into a knowledge economy and innovation society," Vijayan said. It will help to make the digital infrastructure of the state strong and efficient and make e-governance universal and thus, speed up the construction of a new Kerala, he said. "It will also help in ensuring there is no digital divide in Kerala," he added.
Low tariff plans

Vijayan said K-FON was an alternative model to the corporate-run telecom sector and it was being launched with the intention "to free people from the exploitation of private sector cable networks and mobile service providers". K-FON services will be available at lower rates than other service providers, but would provide the same high speed and quality throughout Kerala, irrespective of urban and rural areas, he claimed.
Also read: Vijayan terms Centre's decision to cut Kerala's borrowing limit as 'sadistic'
According to the K-FON tariff rates announced at the launch, the most basic plan would cost Rs 299 (excluding GST) per month with a speed of 20 Mbps and a free download limit of 3,000 GB each month. The highest plan offered by K-FON is of Rs 1,249 (excluding GST) with a speed of 250 Mbps and a free download limit of 5,000 GB per month. All the plans it is offering presently are six month advance rentals.
Under the K-FON project, free internet service connection has already been given to over 17,280 government offices across Kerala, while the state secretariat and 10 district collectorates are already functioning using its services.
(With agency inputs)