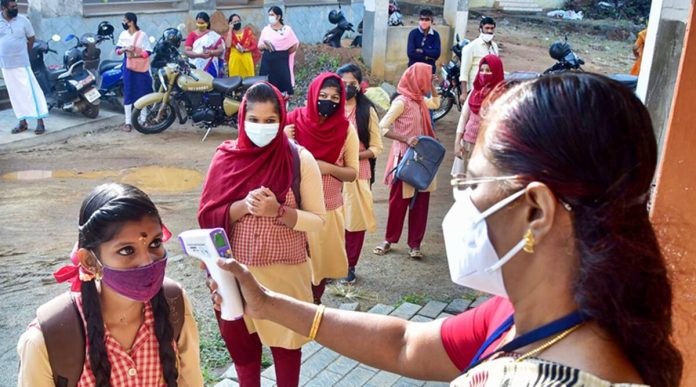 As on January 27, the Test Positivity Rate (TPR) in Kerala stands at 11.07 per cent. Over the last one week, this rate has been fluctuating between 10 and 12 per cent and on January 24, Kerala had recorded its highest ever TPR at 12.48 per cent.
Of late, Kerala has been consistently reporting a high number of cases daily, even as the national average has come down to 2 per cent. What has gone horribly wrong in Kerala? A state, known far and wide for its efficient healthcare system. In fact, this southern state has been globally praised for successfully containing the pandemic, maintaining the death toll at probably the lowest in the country. In fact, till yesterday, Kerala's COVID-19 death count totals up to just 3,663.
The Kerala government however is not particularly perturbed by its high TPRs and claims the situation is under control. Health officials in the state are quick to provide a host of reasons why they believe there is no cause for anxiety.
Also read: India logs fewer COVID-19 cases but Kerala sees no respite
Firstly, they argue that Kerala's current situation cannot be compared with the other states.
"Our strategy has been to delay the peak. Hence, our current scenario has to be compared with the situation in other states during September and October last year," said Dr Asheel Mohammad, director of Social Security Mission, who plays a lead role in dealing with the pandemic. According to health experts, the growth rate in the state has been steady and slow due to the strategy devised by the government to protect their healthcare system.
The state did not want to be hit by a sharp increase in the number of COVID-19 cases, which could have ended up laying a lot of stress on their medical care.
The availability of ICUs and ventilators are checked on a daily basis, said Dr Mohammad, adding that just 15% of their ventilators are currently occupied.
According to Kerala's health officials, this strategy of delaying the pandemic has been successful because it keeps the hospitals from getting overcrowded. "We managed to keep the case fatality rate low, largely due to this strategy of delaying the peak. If we examine and compare the graph of the TPRs of all states, we can see that Kerala's graph never shows a dramatic, steep rise. Instead, the slope is slow and steady," pointed out Dr Aravindan, one of the expert committee members of the state's COVID-19 task force.
Also read: Amid COVID, Kerala budget focuses on employment, digital economy
It is true that Kerala protected its healthcare system and has successfully maintained its death rate as low as possible. However, a few experts believe that all is not well.
"Until now, we have no clarity on how long this virus will be around. For that matter, it is crucial that we know the COVID-19 seroprevalence rate," said a health expert, employed with the government. The seroprevalence rate is the rate of the prevalence of antibodies in a society.
"In a study conducted in August last year, Kerala's seroprevalence rate was only 3 per cent, while many other states have hovered at 20 per cent. Those states have achieved some level of herd immunity and the curve has been flattened out," he added.
Does it mean that Kerala should have relaxed the rules and restrictions and waited for herd immunity to take over? Certainly not, said Dr Mohammed. "If we had done that, the death rate would have gone beyond our control. Opting for a slow and steady strategy is the only way to deal with COVID-19," he reiterated.
There are three categories of the population under COVID-19. The susceptible population (not yet exposed), the exposed population and the recovered (or dead) population. It is generally perceived that the graph starts flattening out, when 30 per cent of the population has been exposed. It has to be assumed that the majority of the Kerala population continues to fall under the category of 'susceptible'. Hence, COVID-19 may prevail in Kerala longer than it does in other states.
The Kerala government is reluctant to conduct a seroprevalence test since it may be concerned about its image. "However, none of us know how long the coronavirus will last in the country. We could have had some clarity on this by now, if we had the seroprevalence data with us," a source said.
Meanwhile, people in Kerala are contracting COVID-19 in multiple ways. According to a study done by the department of community medicine at the Government Medical College, Thiruvananthapuram, 56 per cent of people, who were infected have not stepped out of their homes. They have contracted the virus from family members, who have been actively moving around. 20 per cent of people been infected in public places like markets, shopping malls and restaurants. Another 20 per cent got the virus from workplaces. The study discloses that 45 per cent of people have not worn masks and 30 per cent got infected from asymptomatic patients.