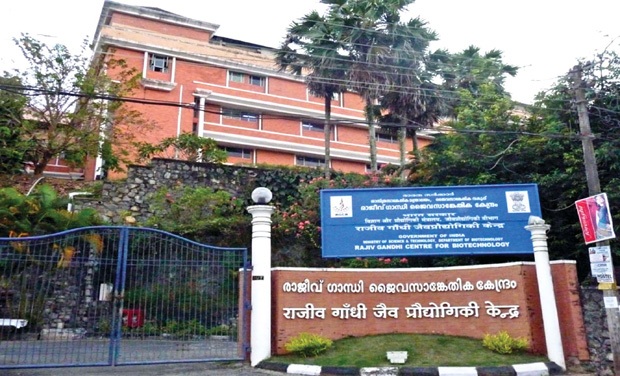 Union Minister for Science and Technology Dr Harsh Vardhan on Friday declared that the second campus of Rajiv Gandhi Centre for Biotechnology, which has been set up in Thiruvananthapuram in Kerala, will be named after Rashtriya Swayamsevak Sangh (RSS) ideologue Madhav Sadashiv Golwalkar. The decision has sparked debate in the state, with the Congress and the ruling CPI (M) seeing it as BJP's attempt to create communal divide ahead of the Assembly polls next year.
Senior Congress leader Shashi Tharoor was livid as he tweeted in response to the Centre's decision to name the campus 'Shri Guruji Madhav Sadashiv Golwalkar National Centre for Complex Disease in Cancer and Viral Infection'. "What is Golwalkar's contribution to science other than promoting the disease of communalism?" he asked.
Also read: After Bihar resurgence, is the Left finally on the right track?
Speaking to The Federal, Tharoor asked: "Are there no BJP icons who have at least tried to do the same thing? Should the government memorialise a bigoted Hitler-admirer who in a 1966 speech to VHP asserted the supremacy of religion over science?"
"This is a deliberate attempt to create a communal divide in Kerala and thus to reap the result," said M A Baby, former minister and CPI (M) politburo member. "Golwalkar was heading the RSS when Gandhi was killed. He was a close ally of Godse, who killed Gandhi," Baby told The Federal. He called for raising a collective voice against the Centre's decision.
Also read: CPI(M) mouthpiece accuses Congress-BJP of conspiring against Kerala CM
Congress' Ramesh Chennithala, the leader of opposition in the state, has sent a letter to Prime Minister Narendra Modi asking him to revoke the decision. Chennithala requested the Union Government to consider former prime minister Rajiv Gandhi's pivotal contribution to promoting science and technology and to retain his name for the second campus. "The government should tell the people the reason behind this decision. What is Golwalkar's contribution to the growth of science in India?" asked Chennithala.
Writer N S Madhavan likened BJP's act of naming institutions after RSS ideologues to Nazis in Germany who renamed schools after Adolf Hitler as soon as they came to power. "Golwalkar was anti-science to say the least," he told The Federal.
Voices of dissent can be heard in social media too. Several Facebook posts asked the Kerala government to explore the possibility of resisting this decision legally or to register its dissent at the least.
"Shri Guruji Madhav Sadashiv Golwalkar National Centre for Complex Disease in Cancer and Viral Infection will be a unique knowledge centre and hub for mid and high-level innovation, founded on deep and advanced level technical platforms, multi-disciplinary courses that will seed growth and innovation," said Dr Harsh Vardhan in his online message on Friday.
The new campus will be developed in three phases. It will strive to begin a state-of-the art 'Advanced Centre for Molecular and Cellular Therapeutics' that will offer cutting edge technologies, therapies, clinical trials for cancer vaccines and immunotherapeutics. The centre will also have facilities for therapies such as stem cell replacement, gene therapy, molecular tumor, targeting and imaging.