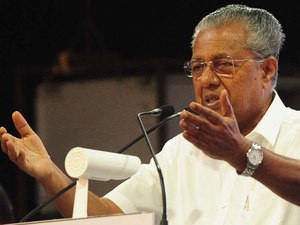 Amid allegations of corruption in the installation of AI cameras in the state, the CPI(M) on Friday (May 5) strongly defended Kerala Chief Minister Pinarayi Vijayan, while the Opposition Congress demanded a comprehensive judicial probe into the matter.
AI cameras were installed in the state as part of Pinarayi Vijayan government's recently launched "Safe Kerala" project.
The Congress continued to stand their ground and said a probe is needed to bring out the truth over the grave corruption charges that have cropped up against the project and demanded a judicial inquiry into the matter.
CPI(M) reacts
Senior CPI(M) leader and former minister A K Balan said the CM was not reacting to the allegations against him as a vigilance probe and an administrative level inquiry are already underway in the issue.
Similar controversies had cropped up before as well against the CM and his family members but nothing could be proved so far, he told reporters here.
Also read: PM Modi deliberately trying to belittle Kerala: CM Pinarayi Vijayan
The CM had received a complaint regarding the camera project in 2020 and it had been forwarded to the Vigilance Department then itself, the leader, also a central committee member of the CPI(M), claimed.
"How can the Chief Minister give a reply to all these charges when the vigilance department under him carries out an investigation in the matter?" Balan asked, adding that it was not right to react to the allegations when his own department is carrying out a probe. Balan was defending the CM for his continuing silence on the matter.
No vigilance probe, says Congress
However, Congress leader Ramesh Chennithala, who had first raised corruption charges against the project, rejected Balan's claim that a vigilance probe is underway in the AI camera project.
"Balan said that a vigilance probe is going on. What vigilance probe? The said probe is based on a complaint by someone against a retired government official who was a former transport commissioner," he told a press meet here.
Apart from this, no probe is going on against anything related to the AI cameras. "Otherwise, would the Chief Minister who is in charge of the Vigilance, have inaugurated a project that is facing a probe?" the former home minister asked.
Also read: How CPI(M) cracks the whip and Pinarayi Vijayan toes the line
He further charged that the controversial state-based private company, which has been facing charges in the camera deal, has close connections with Vijayan and the ruling CPI(M).
Stating that a comprehensive probe is needed to bring out the truth over the grave corruption charges levelled against the project, he demanded a judicial inquiry into the issue.
The Congress has been raising corruption charges against the Safe Kerala project, which included installation of the AI cameras, envisaged to reduce road accidents and traffic violations in the state, since its inauguration in April.