Even as Union Home Minister Amit Shah addresses virtual rallies in Bihar, Odisha and West Bengal this week, the Karnataka Congress is preparing to go one step ahead and beat him, at least in the virtual scheme of things for now.
The party is gearing up to host a fully tech-driven ceremony of DK Shivakumar taking charge as the president of Karnataka Pradesh Congress Committee. The "Pratigna" (oath-taking) programme is being billed as the biggest two-way interactive political digital event taking place over Zoom platform which is expected to garner 1 million viewers.
Related news: Saffron push in Karnataka a ploy to destabilise Yediyurappa: Analysts
Digital mobilisation at grassroots
Congress workers will join from more than 7,800 places in Karnataka including 7,300 gram panchayat-level Zoom locations. Around 100-150 people will join from each of these locations via the popular meeting app. The party has sought permission for the event from the state government. The meeting will be streamed live on more than 100 Facebook, YouTube and Twitter accounts. The party has also advertised a number through which workers can give a missed call and get a link to watch the live stream of the event. A large team including 25-30 technical professionals are working to make this event a success. The Federal got to witness a test run that was conducted at the KPCC office in Bengaluru where Congress workers from 6,300 locations had joined the Zoom meeting.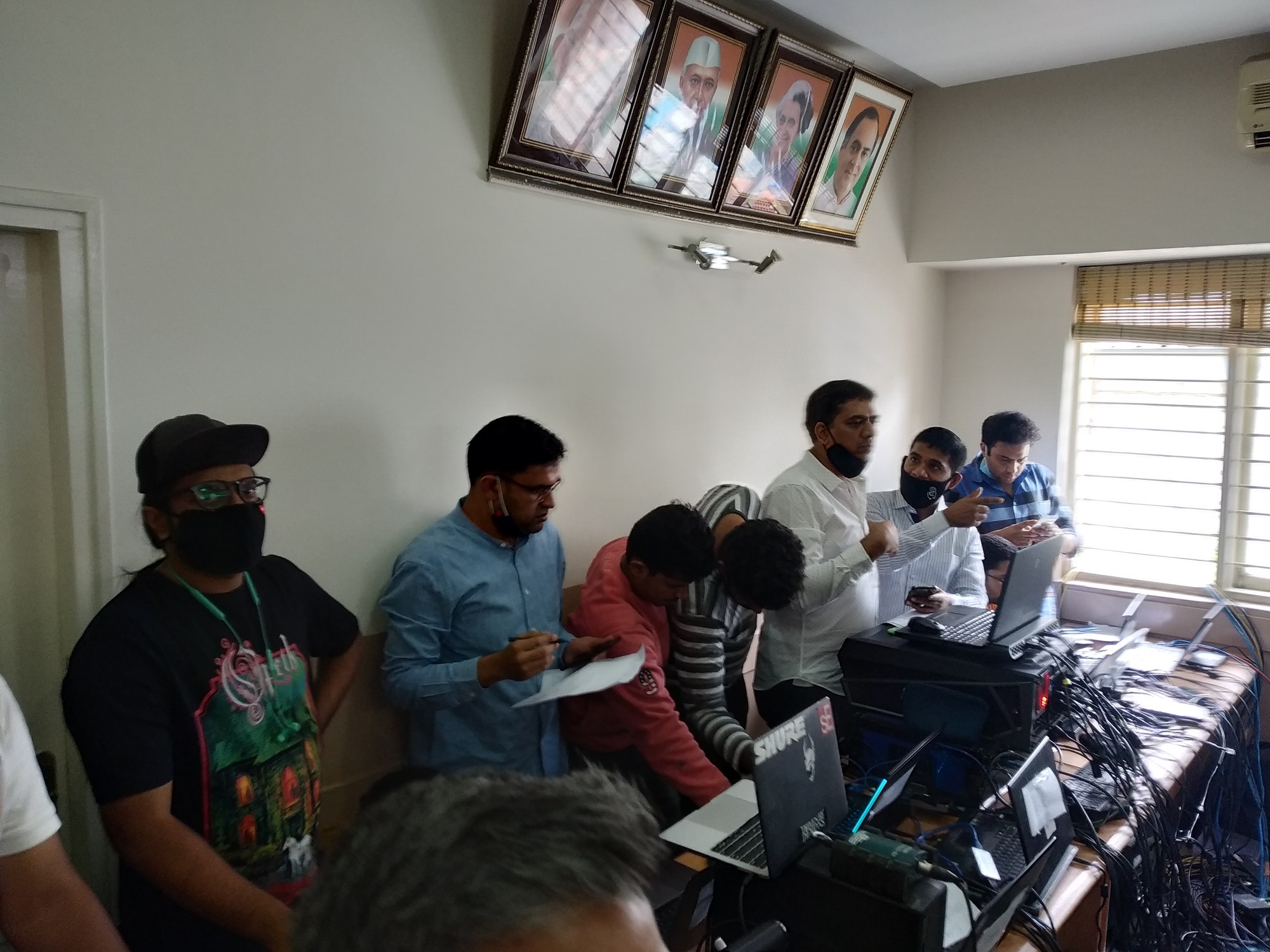 "Every panchayat team should send us a two-minute video and three photographs of how they helped people in COVID-19 relief work. We will also keep track of those who joined via Zoom, Twitter and YouTube for the programme" DK Shivakumar told party workers at the Zoom call.
This sort of digital accountability tracking is new for the grand old party, used to committees, observers and reports. "In the current situation, we need to change our entire thinking without changing our ideology. No party has the kind of history we have, but we don't want to live on legacy. We have to change with time and reach out to people. So we had a trial run today where people joined from nearly 7,000 locations.  I have told them not to come to Bengaluru for the programme, and instead join us from their respective blocks," said Shivakumar in a chat with The Federal.
'A digital youth in every booth'
The digital outreach is not just restricted to the coronation ceremony. The new KPCC president plans to have a "Digital Youth" in every booth in the next six months. The party intends to use the youth representative adept in digital communication, as a point of contact to extend its message to people at booth level, through social media. They will also provide organic hits and trends for messages by the party on social media.
Related news: Rift in Karnataka BJP? Congress says panel to decide rebels' re-entry
Shivakumar believes the party needs to work harder on creating a perception and improve the reach of its messaging, keeping in mind the next assembly election. The initiative is being tried out already with Digital Youth identified for 7,800 locations where the Pratigna programme will happen. These youngsters will take care of the digital set up and also ensure the success of this tech-driven event. All of them will be given login id and passwords to ensure digital security and avoid "Zoom bombing" which could embarrass the party.
"We need to convert Congress into a cadre-based party, we need to spread our ideas and policies to people at a large scale including the new voters. Youngsters are attracted towards modern technology, we will live up to their expectations. We believe technology will further transform the entire world. In a few days we will ensure we are not behind the BJP in this aspect," Shivakumar said.
 'Convincing narrative' against BJP, need of the hour
Any change is deeply resisted in the Congress party and getting senior leaders adapt to digital ways is amongst the several challenges that the new KPCC president faces. Narendra Pani, political analyst and faculty at the National Institute of Advanced Studies (NIAS), says the focus on digital outreach will only work if the Congress manages to flag resonating issues.
"The party will have to find a convincing narrative first to counter the BJP, social media can only be used to amplify it. The party has been traditionally strong at hitting the streets for issues, for example the state unit fighting for free travel of migrant labour etc. They will have to find issues – whether it's people's issues or about secularism and pluralistic values if they resonate in the current times".
Asked if he sees the digital coronation ceremony as a competition to Amit Shah's virtual rallies, DK Shivakumar says, "He is a big man, I am a small man. He is Union Home Minister, I am a humble party worker. I don't want to compete with anyone," and dashes to another Zoom meeting in the party office.