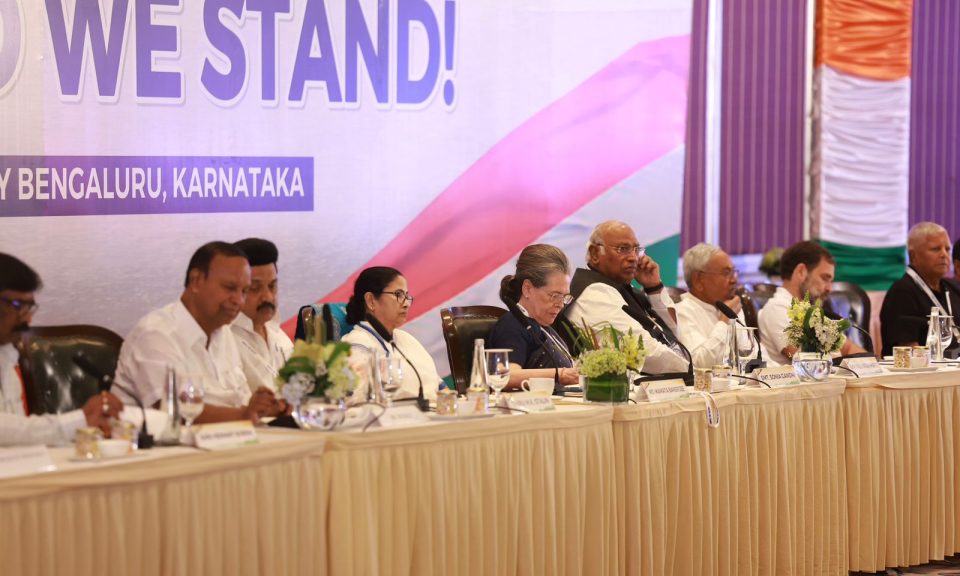 With INDIA in mind, Karnataka and Tamil Nadu set aside water row
Opposition leaders who stitched together the INDIA coalition to take on the BJP in parliamentary elections next year have decided to put a temporary halt to water and border disputes between states where their parties are in power.
The decision has had its first impact on Karnataka and Tamil Nadu whose Congress and DMK chief ministers respectively have been advised not to escalate the water row between them at least till the 2024 Lok Sabha battle.
This mainly covers the Mekedatu Balancing Reservoir and Drinking Water Project, with which the Karnataka government seeks to provide water to the IT hub Bengaluru and also produce electricity.
Also read: NDA vs INDIA: Who are the fence-sitters ahead of 2024 Lok Sabha polls?
The concern of INDIA members was that water-related issues are decades old and are very sensitive. These can generate needless emotion on both sides, injecting negativity in relations at a time when opposition parties are trying to forge close links.
Karnataka issue
Karnataka has prepared a Rs 1,000 crore plan for the Mekedatu project. The Supreme Court directed Karnataka in 2021 to wait for the Award of the Cauvery Water Disputes Tribunal (CWDT).
The war of words between the two governments was still on till recently.
Also read: Big Opposition meet pulls off a coup, turns 2024 battle into INDIA vs Modi
Similar issues between Karnataka and Maharashtra also came up for discussion during the July 17-18 meeting of 26 parties in Bengaluru where their new grouping was named the Indian National Developmental Inclusive Alliance or INDIA.
The decision may have been easily taken but Opposition parties like the BJP in Karnataka and the AIADMK in Tamil Nadu may keep up the pressure on their state governments, if nothing else but to embarrass the ruling parties.
Karnataka deputy chief minister DK Shivakumar, before the May elections which the Congress swept, led a padayatra from Bengaluru to Mekedatu demanding that the state's BJP government implement the project.
Analysis: With INDIA, Oppn assumes savvy name, keeps trickier issues for later
This made the BJP government allocate Rs 1,000 crore for the project. Now the BJP wants the new Congress government to step on the gas as far as the project is concerned.
Bengaluru needs
Bengaluru uses around 1,391 MLD (million litres a day) of water, of which 995 MLD is for domestic purposes. Water supply is also crucial for Old Mysuru region. Due to late arrival of monsoon, dams in Karnataka do not have water yet till the desired level.
Karnataka also has to release Tamil Nadu 177 TMC water annually. But in the event of inadequate rains, Karnataka will find this daunting.
Also read: Cauvery issue again? Karnataka move on Mekedatu reservoir has TN on the boil
So, the Karnataka government is planning to construct a dam at Mekedatu near Kanakapura, 70 km away from Bengaluru, to ensure potable water supply to Bengaluru and neighbouring areas.
Tamil Nadu opposes the move to build a 67.16 TMC storage capacity dam at Mekedatu. The dam, it is alleged, will cause water shortage for farmers of Tamil Nadu.
At the same time, INDIA member parties want to support each other in all Assembly elections to be held before next year including in Rajasthan, Chhattisgarh and Madhya Pradesh.
Watch: Explained: Why is TN staunchly opposing Mekedatu dam?
Elections, media
For example, the Trinamool Congress (TMC) and Aam Aadmi Party (AAP) do not have much of a base in these states but they may divide secular votes if they contest.
This issue is expected to be sorted out at the next meeting of INDIA in Mumbai.
But the parties have concluded that there is no restriction to any parties of INDIA contesting against one another in local body elections in any state.
The Bengaluru meeting also decided to depend more on social and other alternative media as the Modi government is accused of exercising undue control over mainstream print and electronic media.