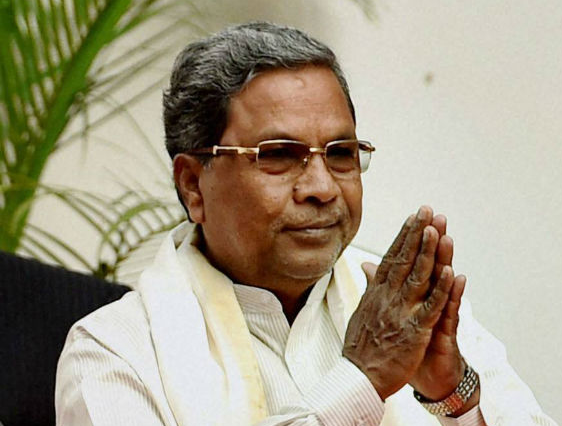 Many may view him as another leader of the faction-ridden Congress in Karnataka. But most voters, young and old, in Varuna constituency appear to be rooting for Siddaramaiah who they feel should be the next chief minister.
A random survey of voters in the mainly-rural assembly segments gives the impression that the 75-year-old veteran politician will sail through the May 10 contest, notwithstanding a strong candidate fielded by the BJP, V Somanna.
Also read: Karnataka polls: Why BJP will find it hard to topple 'Kanakapura Rock' DK Shivakumar
One apparent reason for Siddaramaiah's popularity is the admiration for the work done by his son Yatindra Siddaramaiah, the outgoing MLA from Varuna who has given up the seat for what is said to be his father's last election.
Almost everyone The Federal interacted with in Varuna, some 160 km away from Bengaluru, spoke highly of both Siddaramaiah senior as well as his son Yatindra, who stepped into politics following the death of his elder brother Rakesh.
The BJP's repeated allegation that Siddaramiah is an atheist is just not working in Varuna.
Temple man
Voters point out that whatever be his personal belief vis-a-vis religion, Siddaramaiah has contributed to renovating scores of temples in the sprawling constituency.
The Federal visited several such small temples, including those dedicated to Nanjundeshwara, Siddaramappa, Maramma, Chamundamma, Siddeshwara, Rama, Chowdeshwari and Anjaneya.
The temples belong to Kurubas, Besthas (fishermen), SC/STs, Vokkaligas and other communities. Siddaramaiah and his team provided funds for their upkeep and renovation.
Also read: Karnataka polls: How Kharge's spirited campaign has enthused Congress
Rameshappa of Hosakotal village told The Federal that people were aware of the allegation that Siddaramaiah was supposedly anti-Hindu and pro-Muslim.
"This is wrong. Siddaramaiah is always helping our temples which were in a bad shape. Several times Siddaramaiah or his son have also taken part in temple feasts. We are all happy with him," Rameshappa said.
Rangachar, a priest at the Hanuman temple in Alamburu village, said Yatindra Siddaramaiah helped to renovate the shrine belonging to the Vokkaligas. "The former chief minister gave all support when we sought his help."
Added Nanjaiah, a leader of the Dalit Sangarsh Samiti: "Though Siddaramaiah is an atheist, he respects our sentiments. He is secular and believes in social justice. He gives importance to all communities and castes."
Popular politician
The Dalit leader added: "Siddaramaiah is a shrewd politician who knows how to do politics without dividing our society."
Siddaramaiah is a veteran of many electoral battles. In 2006, he won the Chamundeshwari elections after leaving the JD-S. He won again as an independent.
After the delimitation of constituencies, Varuna was formed and he won from there in 2008 and 2013. In 2018, his son Yatindra contested from his home turf while Siddaramaiah himself fought elections from Chamundeshwari and Badami. He lost in Chamudeshwari but won from Badami by 1,696 votes.
Also read: Karnataka polls: Why North Karnataka will decide who forms the govt
This time, after initial speculation that he may contest from two seats including Kolar, Siddaramaiah finally picked Varuna, which includes his birthplace.
Despite his advanced age, Siddaramaiah is known to perform "Veera Makkala Kunita" — a form of folk dance — during the annual programmes at temples. Many youngsters admire his enthusiasm.
Yatindra is admired for responding to appeals for help from voters all across Varuna. "He knows hundreds of young leaders by name," said Raje Gowda, a gram panchayat member of Dandikere village.
People's politician

Siddaramaiah too had the quality of remembering people he met – young and old. His son has imbibed the trait.
"During COVID, Yatindra, being a professional doctor, helped people to get proper treatment and medical support on time," Bharamappa of Siddaramana Hundi said. "Dr Yatindra always responds to our calls."
The personal assistant to Siddaramaiah, known only as Kumar, is another person people at large turn to when they need help. "If we call Kumar, he provides support. Be it medical emergency, a dispute or anything personal," said an elderly man.
Also read: Karnataka: Congress' reliance on turncoats reflects failure to hone winnable talent
Ramanappa Gowda said when people ask for financial support when their children get married, help is provided. "If a death took place in a poor person's house, he attends to their requirements. Kumar is as popular as Yatindra."
Development work
Although the Varuna Canal, which brings water for farmers in Mysuru and Mandya regions, is a project initiated by former chief minister D Devaraj Urs, Siddaramaiah is credited with doing all the necessary follow-up during his stint as the finance minister in the Karnataka government.
Varuna also boasts of good roads, hospitals and basic amenities, including drinking water, said Rajappa, a villager.
Siddaramaiah's appeal to voters to back him in what he says will be his last election has also fired the imagination of many.
Several people told The Federal that they had no intention of spoiling Siddaramaiah's chances of becoming the Karnataka chief minister yet again – if the Congress ousts the BJP in the assembly elections.
Many remind visiting journalists that Siddaramaiah has had humble beginnings. There was a time when he grazed sheep in the village. "Whatever he has achieved is due to his hard work and dedication," said one villager.
Shankar Nayak, a MA student in Mysuru who hails from a village in Varuna, says he keenly follows Siddaramaiah's speeches in the assembly. "He is a motivation for people like us. Though from a backward Kuruba community, he is equal to any leader in the country. Who else can attack national leaders like (Narendra) Modi?"