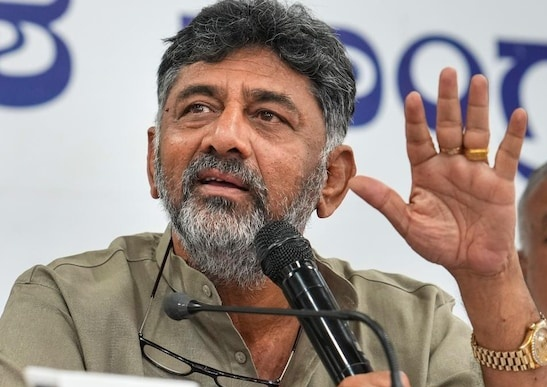 Can the BJP unseat the "Kanakapura Rock" from his Vokkaliga bastion? It seems unlikely, but the saffron party is trying its best to build a base in DK Shivakumar's fortress by pitching former Deputy Chief Minister R Ashok against the KPCC president.
Shivakumar, a Vokkaliga leader, is the seven-time MLA of Kanakapura Assembly constituency. Neither the BJP nor the JDS has been able to field a worthy opponent against him so far, prompting his admirers to give him the epithet of "Kanakapura Bande" (Kanakapura Rock). The title alludes as much to the granite rocks his constituency is famous for as his reputation for weathering every political and legal storm, including CBI and ED questioning, like a rock.
Watch | DK Shivakumar: Every wall in Karnataka govt offices knows about corruption
However, the BJP now wants to make a dent in the mighty Congress fortress, and it has started by fielding Ashok, one of its few prominent Vokkaliga faces, to woo the powerful community. It's a tall task to say the least. Because, Shivakumar has been an undefeated leader, first from Sathanur and then from Kanakapura.
The undisputed king
After the reallocation of assembly constituencies in 2008, the Satanur constituency ceased to exist and Shivakumar started contesting — and winning — from Kanakapura. Before his entry, PGR Sindhia of the Janata Party (and later Janata Dal) represented Kanakapura for five consecutive terms.
However, since 2008, Shivakumar has been the undisputed king of Kanakapura. The closest he came to a defeat was in that year itself, when he beat nearest rival, DM Vishwanath of JD(S), by only 8,000 votes. However, Vishwanath joined the Congress camp earlier this year.
Also read: Karnataka polls: Why North Karnataka will decide who forms the govt
Sindhia, who contested the seat in 2013 on a JD(S) ticket, is currently away from active politics. In the last election, the JD(S) fielded Narayan Gowda, but the top party leaders gave Kanakapura the skip when it came to campaigning time. Yet, JD(S) managed to bag 47,643 votes.
For a perspective, Kanakapura has 2,21,430 registered voters, including 1,09,290 men and 1,12,136 women. The major communities are Vokkaligas (1.10 lakh), SC/STs (45,000), Muslims (15,000), a small section of Lingayats (10,000). There are also some 6,000 Kurubas, 5,000 Lambanis, 4,000 Kumbaras, 3,000 Banajigas, 4,000 Christians, and 20,000 categorised as "others".
For Ashok, the challenge is to prove himself in Kanakapura against the Karnataka Congress chief, or at least divide the Vokkaliga vote base, and retain his seat in Padmanabhanagar in Bengaluru at the same time. However, the BJP party organisation in Kanakapura is marred by factionalism.
Who does Kanakapura love?
Against this backdrop, The Federal visited the Kanakapura constituency and spoke to people of several communities ahead of the crucial May 10 assembly polls. Many among the Vokkaligas and SC/ST and OBC communities openly stated that DKS remains their favourite, while Ashok is an "outsider".
Many said DKS has done a lot of development work in the constituency as the MLA. A few voiced their concern about the law-and-order situation in Kanakapura, where, they alleged, villagers' lands are looted but people are afraid to express their views.
Savitramma Bovi, a former member of Kasavanahalli gram panchayat, said Shivakumar gives a lot of importance to providing basic facilities to the village. "All government projects are implemented in our village without fail. All communities live in harmony and there is no discrimination between upper and lower castes," she said, adding that BJP or JD(S) leaders are not even seen in the area.
Basave Gowda, a 75-year-old farmer, said Kanakapura has undergone a sea change over the past 20 years. The real estate boom changed the constituency. Farmers sold their properties to builders, which improved their financial status. Several English-medium schools and health facilities have come up in the region. Even a small farmer has benefitted, Gowda claimed. "There are poor people, but they enjoy some facilities," he added.
Darshan Gowda, an MBA degree holder, said Shivakumar hardly visits his constituency but sends his followers to listen to any problems people may have and solve them. He has evolved as the local leader for all communities, who represent him in several hoblies (wards) in the region.
Even though JD(S) still has a strong base in Kanakapura, it's a nil for BJP, Darshan said. "BJP contests every time, but this time, it has succeeded in making an appearance in social and electronic media. Yet, no hoblies have seen BJP workers, except for two rallies held by their leaders in Kanakapura town," he added.
Darshan made an interesting observation, indicating that Kanakapura loves both JD(S) and Shivakumar. "The people, if you ask, will say DKS has to win and become MLA and minister. But HD Kumaraswamy must become the chief minister," he said.
Also read: Karnataka polls will open door for Congress in 2024 LS elections: Shivakumar
Interestingly, Shivakumar and Kumaraswamy were rivals in Ramanagar district politics (since both Kanakapura and Ramanagara constituencies are in the same district). But after JD(S) formed the coalition government with the Congress in 2018, the two leaders came closer and now have good relations.
While Shivakumar has been pitching for the CM's post in case of a Congress victory, Kumaraswamy is clearly the CM candidate if JD(S) forms a coalition government with any party in case of a fractured mandate. So, in the case of a Congress-JD(S) alliance, things will surely get interesting.
The flip side 
It is only in the minority Lingayat community that a section seems to be keen on having a BJP candidate. Shivarudrappa SK, a shopkeeper, feels that local politics is not stable and must see new faces. "Why can't I give a chance to a new person, who can maybe bring more development," he asked.
Rudra Gowda, a farmer leader in Gowdana Doddi village, said the cases of corruption and misappropriation lodged against Shivakumar may be true. "DKS has a team that does all the work forcibly, according to their whims and fancies. If someone questions them, he has to face the consequences. Hence, people are afraid," he alleged.
"Earlier, people had no choice. But this time, BJP has fielded a strong candidate from the Vokkaliga community. So, why can't we change the leader?" he argued. "I think the result will be different this time. No one has the courage to express their opinions publicly, but they have their anger inside and will cast their votes for a good person," he added.
A bar owner, who asked not to be named, said there is no law and order in the area, as the police also keep quiet if something happens. Only muscle and money power speaks in Kanakapura. If we oppose them, there will be problems," he said.
Sidde Gowda, a farmer, alleged that the farmlands adjoining Kanakapura highway, as well as many acres of land near the villages, have been forcibly sold to realtors. Also, hundreds of farmhouses were built for VIPs and other powerful people. "Villagers have no voice in Kanakapura," he said.
Ravi Kumar Bestha, who belongs to the OBC community, said the BJP stands for change in the country. "Why can't we give a chance to a new person, from whom we can maybe expect more and also a smoothly functioning life?" he pointed out.
Also read: Karnataka polls: BJP dumps non-performing MLA Limbavali, instead fields wife
Bestha believes that though Ashok may or may not win, but the winning margin will be different. BJP will create a strong base, as many youths and the educated classes are not in favour of the Congress, he said. "The real estate mafia harassed many innocent farmers and that has to end," he said.
Kamalamma Rajanna, a silk farmer, said Shivakumar won't find the cases against him easy to escape. "He may land in more trouble, and people know his reality. So, we will answer through the ballot," she added.
The Mekedatu promise
Yet, many farmers in the remote villages expressed their faith in Shivakumar for making his dream Mekedatu dam happen. Chenne Gowda, a farmer, said the project on the Kaveri River will not only help Kanakapura farmers, but the whole region, including districts like Ramanagara and Mandya. It may even help provide drinking water to Bengaluru city. "DKS has the chance of becoming CM this time, and he will help farmers," he believes.
Keshavappa, another farmer, said the BJP was making Ashok a scapegoat in the election. "He is an outsider in our constituency. The BJP cannot do anything here. We cannot even find a single BJP worker here except for a few in the town. Only the people who are against DKS are talking against him or supporting Ashok," he said.