When the recipient of various prestigious awards, S L Bhyrappa got the Padma Bhushan award, he said, "All that I can say is as Modi is the Prime Minister, I have got this award. If not I wouldn't have..."
After the BJP came to power at the Centre, followers of Dr S L Bhyrappa, one of the pre-eminent writers of India, who writes in Kannada desperately hoped that the writer would be bestowed with the prestigious Jnanpith Award for his outstanding contribution to literature.
Probably, they did not know the stringent selection process involved in the country's prestigious literary award. Presented by the Bharatiya Jnanpith – a literary and research organisation – for the past 62 years, the award is actually above any political and ideological concerns of the writer. The selection process of the award is independent of any influence, especially political, and is transparent.
Despite knowing the highest level of integrity of the selection committee, the former Chief Minister of Karnataka, B S Yediyurappa in 2019, publicly expressed his desire that Bhyrappa should be honoured with the Jnanpith Award. He even said at a public function in Mysuru: "I only hope that the Jnanpith award panel need not be apologetic one day in the future for not giving the award to S L Bhyrappa".
S L Bhyrappa bestowed the Padma Bhushan
However, followers and fans of Bhyrappa, who were disappointed when their favourite author was overlooked for the Jnanpith, heaved a sigh of relief when the octogenarian novelist Bhyrappa was selected this year in January for the prestigious Padma Bhushan, awarded to him for his contribution to the field of literature and education. (Bhyrappa had received the Padma Shree award in 2016)
But, what surprised cultural circles in Karnataka was Dr Bhyrappa's response after being chosen for the prestigious Padma Bhushan award, which is one of the highest civilian honours of India announced annually on the eve of Republic Day.
Responding to PTI, after receiving the award, Bhyrappa said: "All that I can say is as Modi is the Prime Minister, I have got this award. If not I wouldn't have….not sure why not earlier". This may be true though Bhyrappa has been the recipient of many prestigious awards including the Saraswathi Samman and Pampa Awards.
Also read: 'Parva,' the play, brings alive a Mahabharata that forces audiences to introspect
What added fuel to fire, was the Twitter response of Tejasvi Surya, Member of Parliament representing Bengaluru South Lok Sabha constituency.  "One of India's greatest novelists, who was sidelined all these decades by vested interests has received due recognition for his work in Kannada literature – I join crores of proud Kannadigas in thanking Shri@narendramodi ji for bestowing him with Padma Bhushan," said Tejasvi Surya in his tweet.
A litterateur par excellence
Of course, Kannada readers both in Karnataka and other parts of the country are not questioning the literary and scholarly merits of Dr Santeshivara Lingannaiah Bhyrappa, popularly known as S L Bhyrappa, who claims to be constantly in search of truth, aesthetics, and academic research for enriching his literary works.
Bhyrappa is undoubtedly a kind of a living legend in Kannada literature for the 'majoritarian section' of society. A bestselling author in the country, awards do not mean much to Bhyrappa.  The renowned novelist told PTI that "awards will come and go. No one will observe, what awards a writer has got, if they (readers) have an interest in his book, they will like it".
The literary community in Karnataka, however, was taken aback when Bhyrappa openly and directly said that he had got the award because of PM Modi.
A controversial and prolific literary figure
The recipient of various prestigious awards including Kendra Sahitya Akademy, Karnataka Sahitya Academy, besides the Padma Awards, Bhyrappa is the author of 26 widely read, and at the same time, very controversial Kannada novels, six collections of articles on aesthetics and critical essays on literature. Many of his novels have been translated into other Indian languages, besides English. Translations of his works have been in great demand in various parts of the country, especially in the Hindi and Marathi belts.
Bhyrappa's novels have seen many reprints. His most controversial novels, Aavarana and Kavalu were sold out even before their release. Bhyrappa's Vamshavruksha, Tabbaliyu Neenade Magane, Matadana, and Nayi Neralu have been made into films by renowned filmmakers such as Girish Karnad, T N Seetharam and Girish Kasaravalli. Bhyrappa wanted the doyen of Indian theatre B V Karanth to direct Vamshavruksha, but, B V Karnath told him that he will jointly direct this novel with Karnad. Later, Karnad repented for having directed Vamshavruksha.
Bhyrappa's landmark novels, Gruhabhanga and DaaTu were serialised in entertainment channels.
Also read: 'Parva', a retelling of Mahabharata, set for launch on March 12
Bhyrappa's stand on Hinduism
His most controversial Aavarana was sold out even before its release and saw a record of ten reprints within five months of its publication. Critics observed during a debate on Aavarana – "the popularity of Bhyrappa's works can be related to the desires of the middle-class with its consumerist notions of spirituality and culture that every now and then, needs to rewrite history to posit an enemy".
Jnanpith recipient writers U R Ananthamurthy and Girish Karnad have been critical about Bhyrappa's stand on Hinduism. Ananthamurthy has gone to the extent of calling Aavarana a "dangerous literary work". Even his critics admit that his writings are provocative. Aavarana is an unveiling of "secularism" as practised in post-Independent India juxtaposed with historical realities. Critics were forced to bring out a book criticising Aavarana to dispute Bhyrappa's claims.
His autobiography Bhitti, which was first published in 1996 and had 11 reprints, has been translated into English, Marathi, and Hindi. Yana by Bhyrappa created waves by selling 15,000 copies in two editions on the first day. This novel is a science fiction and it is story of two astronauts (a man and a woman) travelling in a spaceship.
However, all these literary credentials of Bhyrappa have been eclipsed by his pro-Hindutva stance. He is always at the center of controversies because of his alleged fundamentalist leanings. Bhyrappa has cut a controversial figure raising some hackles for his views on caste, religion, and gender.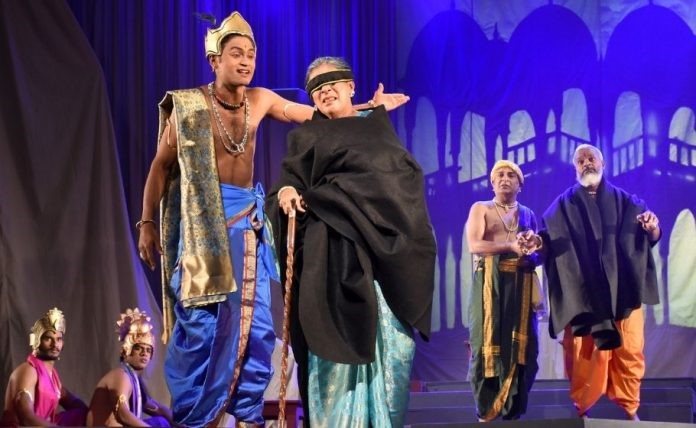 'Rangayana' and 'Parva'
Parva, which Bhyrappa wrote in 1979, got translated into all major Indian languages, besides Russian and Chinese. In Parva, Bhyrappa divested the epic Mahabharata of its mythical elements and his extensive study of the historicity of Mahabharata and the social and anthropological aspects of the time, have given incredible authenticity to the book's narrative.
In a way, it freed the epic from mythology and magic. Natakakarnataka Rangayana, the government-run theatre repertory has produced seven and half hours play on the lines of Peter Brook's Mahabharata. Addanda Cariappa, the director of Karnataka's most coveted theatre repertoire, Rangayana, produced the play directed by noted actor and theatre practitioner Prakash Belawadi.
The BJP government in Karnataka was gracious enough to spend more than ₹70 lakhs for the production of Parva. Addanda Cariappa blamed the Congress and Janata Parivar governments for Rangayana's reluctance in adapting Bhyrappa's works to theatre and asserted that the BJP government is doing justice to Bhyrappa.
Bhyrappa released Addannda Cariappa's Tippu Nija Kanasugalu, a response to Girish Karnad's  Tipuvina Kanasugalu, and criticised attempts to glorify the 'anti-Kannada' Sultan. He evoked controversies because of the positions he took in recent years. Most of his prominent novels Vamshavruksha, Tabbaliyu Neenade Magane, Parva, and Saartha, which claimed to have strong roots in ancient Indian philosophical traditions, have been severely criticised.
While noted literary critic and linguist Ha Ma Nayak in his Kannada Literature-A Decade published in 1967 lauded Vamshavruksha as one of the most interesting and best novels that have appeared in Kannada in recent years, another renowned critic G S Amur in his Essays on Modern Kannada Literature said that "understanding of the problematic nature of marriage in the context of modern Indian society is impeccable and the scheme he works out in terms of action and character satisfactory, but, he treats his characters as puppets and manipulates their destinies to suit his own purpose denying them their freedom and truth".
Tabbaliyu Neenade Magane, which dissects the manner in which consumerisation has hijacked even a sense of basic compassion, ethics, and morality, has become a tool for Sangh Parivar to launch a movement against cow slaughter.
National anthem controversy
Bhyrappa supported the IT czar, N R Narayana Murthy, during the controversy over playing an instrumental version of the national anthem and on the Cauvery issue. Girish Karnad and other writers slammed Bhyrappa during a debate on the issue of the religious tolerance of Tipu Sultan.
Bhyrappa painted Tipu as a religious fanatic, rather than a national hero and became the demi-god of Sangh Parivar. He declared that the abrogation of Article 370 (which ended the special status of Jammu and Kashmir) was the best thing to have happened in the country. But the Opposition fails to acknowledge the good things about the BJP government, he said.
It is not a great secret that, throughout his long literary career Bhyrappa has cut a controversial figure, raising many hackles by his views on caste, religion and gender. He is a vocal advocate against religious conversion and cow slaughter.
According to his critics, by praising Sanskrit as the 'Mother of all Indian languages", defending the Ghar Wapsi move of the BJP government, and opposing women's entry into Hindu temples, Bhyrappa wanted to appease the Hindutva forces. Writers took serious objection to Bhyrappa's stand on women's entry into Lord Ayyappa temple in Sabarimala.
Writer, translator and journalist Preethi Nagaraj had taken to social media to counter Bhyrappa's statement, "Uterus is where women store the menstrual blood. Poor cursed men; they carry it always in their heads". By criticising Nehru as "one who distorted the history of India's freedom struggle, Bhyrappa, became the 'darling' of not only Sangh Parivar, but also Prime Minister Modi.
This is precisely why one section of the society, alleged that choosing Bhyrappa for the Padma award is a reward by Prime Minister to the writer, who is promoting Hindutva ideology. However, regardless of his staunch loyalty to the Hindutva ideology, Bhyrappa is a force to reckon with in the Kannada literary scene and his contribution cannot be overlooked while documenting the literary history of Karnataka. In fact, noted filmmaker P Sheshadri, has done a documentary film on Bhyrappa for the Kendra Sahitya Akademy.