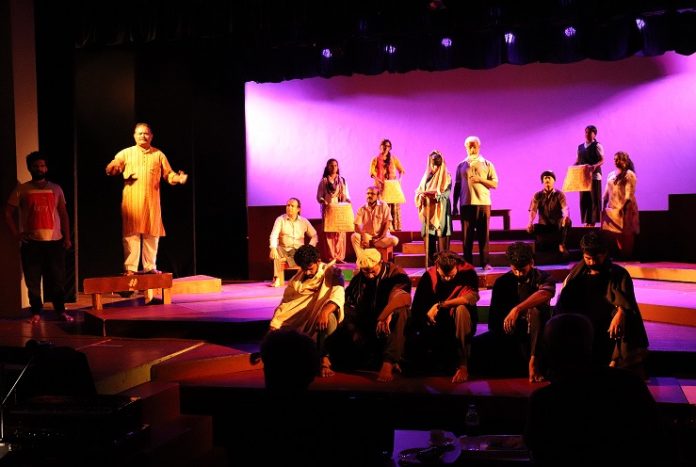 Mysuru-based Nataka Karnataka Rangayana – the lone state-owned theatre repertory in the country – is all set to stage "Parva", the Kannada literary classic by renowned writer SL Bhyrappa which is a modern retelling of the Mahabharata.
It appears Rangayana took a leaf out of British playwright and screenwriter Peter Brook's much-acclaimed Le Mahabharata staged at a quarry just outside Avignon in France in 1985.
And so the countdown begins with hardly 14 days left for the first show of the magnum opus on March 12. Anxiety is mounting for the cast and crew of Parva, which is rigorously rehearsing the play. At the same time controversy is also plaguing the landmark production of Rangayana, which is no stranger to controversies.
Peter Brook's masterpiece with a multi-racial cast of 21 actors from 16 different countries including India, ran for a full nine hours, with 11 intervals. Parva, which unravels the minds and souls of Mahabharata's characters with a cast of 40 actors, will run for 7.30 hours, has three intervals. Through his play, Peter Brooks proved that Mahabharata doesn't belong to one country or one race.
Noted Indian theatre, film, television and media personality Prakash Belawadi has painstakingly adapted Parva—a 696 page voluminous novel—to the theatre and has taken the responsibility of directing this landmark play, probably among the biggest challenges in his theatre career.
Similar to a star-studded Kannada movie blockbuster, Parva's tickets too have been sold out already in no time. Tickets priced at ₹1,000 (for special shows) is said to be the "costliest" in the history of Kannada theatre. Similar is the response for tickets priced at ₹500 and ₹250. "Ticket collection for the first three days is approximately ₹2 lakh," says Rangayana director Addanda C Cariappa.
A section of the theatre community in Karnataka, is upset with the pricing of tickets. Mysuru District Amateur Theatre forum criticised the "abnormal" entry fee as "absurd" and "illogical".
It appears the play is aimed for the  "haves" and not for the "have-nots"  says  J. Lokesh, former chairperson, Karnataka Nataka Academy. Some theatre enthusiasts went to the extent of accusing the Sangh Parivar of booking all the first day tickets in advance. The Theatre forum even warned it could launch a protest if the ticket prices are not slashed.
Also read: Bengaluru's theatre circuit is experimenting with intimate spaces 
Rangayana and writer Bhyrappa are defending the pricing, citing the length of the play. The writer who bought a ₹1,000 ticket argues, "The price of a ticket is too low for a play of 7.30 hours".
Countering this argument, C Basavalingaiah, former director Rangayana and Director, National School of Drama, Bengaluru Centre, questions the rationale when the play is being produced with government assistance.
"Pricing of tickets should be within the reach of theatre audience. Hitherto that was the norm. Pricing tickets at ₹1,000 is irrational, unscientific and unrealistic at a time when theatre is struggling to return to normalcy and pulling theatre enthusiasts to theatres has become a big task," says Basavalingaiah.
However, this is not the first time, Rangayana has produced an "8-hour long" play with three intervals. "Malegalalli Madumagalu" (based on Jnanapeeth recipient writer Kuvempu's classic novel) directed by Basavalingaiah in 2010 was a record of sorts, as it was a nine-hour play with three intervals. "It was a night-long play and tickets were priced at ₹40", he says adding that the ticket price was priced at ₹100 when staged in Bengaluru.  But, Parva is "day-long" not "night long".  That is the only difference.
While the BJP government headed by Chief Minister BS Yediyurappa in Karnataka released ₹30 lakh for Malegalalli Madumagalu in 2010, the same government is releasing ₹50 lakh to Parva. Interestingly, ministers in the Yeddyurappa cabinet—Aravind Limbavali and ST Somashekar—besides BJP general secretary  CT Ravi, have also evinced a keen interest in the production of Parva.
"Does this gesture point to the possible peddling of a Hindutva agenda?" asks a senior theatre activist, who is associated with Rangayana since its inception.
According to him, the present discord about pricing of tickets is just a symptomatic micro-narrative of the grand-narrative of friction between the ongoing Hindutva vs secular ideology in Karnataka, after BJP's coming to power. Secularists view staging of Parva as an extended design of BJP, which thrust repeats of  TV serials  Mahabharata and Ramayana on viewers during the pandemic.
On coming to power the BJP government sacked all the directors of four Rangayana centres appointed by the previous Congress government  and dissolved Ranga Samaja, the governing body of the premier theatre repertory on September 13, 2019.  Addanda C Cariappa was appointed as director of Mysuru repertory in December. This move was viewed in cultural and theatre circles as a grand design of the BJP government to push its Hindutva agenda through cultural institutions.
Also read: As COVID draws curtains on stage, drama moves to short film platform
"A section,  which regards writer S L Bhyrappa as an ideologue of Hindutva, is against the idea of producing Parva," says Cariappa. "Most of those who are opposing I think haven't read Parva," he adds.
None, even those opposing the Rangayana's endeavour, disputes the classicality of Parva. Written in 1979, Parva got translated into all the major Indian languages including Bengali, Hindi, Marathi, Tamil, Telugu and Sanskrit apart from English. Recently this novel has been translated into Russian and Chinse languages too.
Bhyrappa divested Mahabharata of its mythical elements and his extensive study of the historicity of Mahabharata and social and anthropological aspects of the time have given incredible authenticity to the narrative in Parva.
In a way, Bhyrappa freed Mahabharata from mythology and magic, when he looked at the epic from a human perspective. The narrative in the novel is in the form of personal reflections of some of the principal characters and therefore unique.
Contrary to Rangayana's claims Bhyrappa is not the first writer to look at Mahabharata from a sociological,  anthropological and historical perspective.
Renowned anthropologist and sociologist Irawati Karve in the late 1960s wrote "Yuganta: The End of an Epoch", which explores the literary setting,  the mythological, historical context and the sociology and politics of the time as the backdrop and brings alive the central question of the human condition — the meaning of life and its moral concerns.
Yuganta received the Kendriya Sahitya Akademy award in 1967 and translated it into various Indian and foreign languages.  Bhyrappa's Parva was published in 1979.  But Cariappa feigns his ignorance about Yuganta.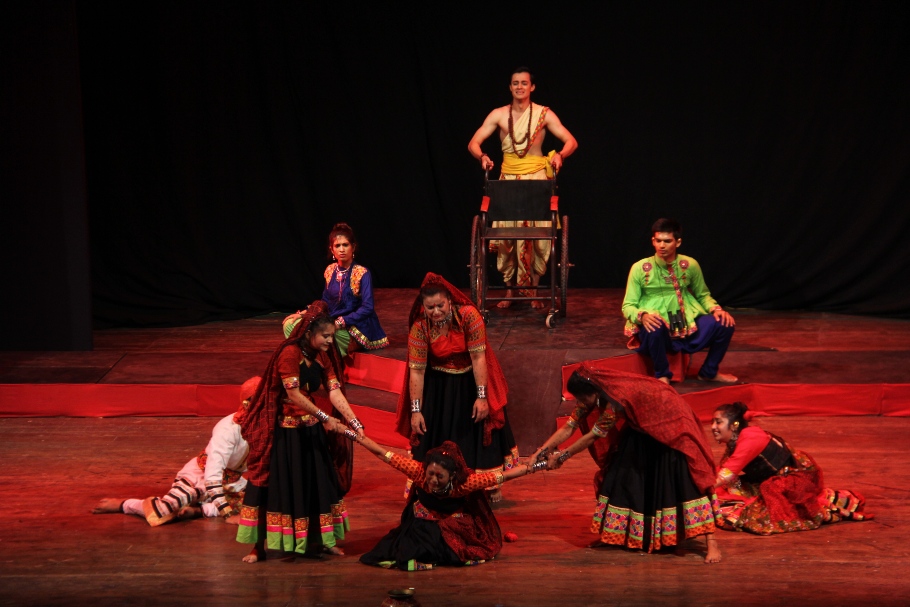 One thing that cannot be refuted is that, even after 42 years, Parva has not lost its relevance and people consider this as one of the classics of Bhyrappa. The writer has recreated and restructured the whole Mahabharata in the process creating his own myth through Parva. Compared to Bhyrappa's later works, Parva has remained non-controversial to date. Aravind Adiga, the Booker Prize-winning author described Parva as one of the most breathtaking of 20th century Indian novels.
Sources in Rangayana argue that "despite having vast readership in Indian languages, especially in Kannada, Bhyrappa's works have not been experimented in Rangayana because of the prejudice that  Bhyrappa is a right-wing writer. This Saraswathi Samman recipient was an anathema to many theatre activists, artists and people who were in the forefront of theatre.  Rangayana never thought of adapting his novels to theatre all these years. Now with Cariappa holding the mantle, "things are moving in the right direction without any bias", says a Rangayana artiste.
On assuming office, Cariappa decided to  open Rangayana to Bhyrappa by adapting Parva. "It was not easy to persuade Bhyrappa to permit adaptation of his work.  Rangayana approached Prakash Belawadi, who produced "Gora" and "Shikari" for the repertory earlier. Taking this opportunity Belawadi painstakingly drafted the 200-page theatre-play of the novel, with a focus on the central theme of the epic and convinced Bhyrappa with his artistic treatment,"  explains Cariyappa.
Belawadi says he first approached Bhyrappa with a proposal to adapt Parva to theatre some eight years ago. "Bhyrappa asked me, 'whether you want to portray Kunti as Naxalite?' and asked about the possibility of adaptation of the novel to the theatre. I dropped the idea then.  Now Parva again fell in my lap," Belawdi said.
Even theatre enthusiasts are keenly waiting to see how Prakash Belawadi has handled the text, which flows mostly in monologue form. Both Rangayana and the director are crossing their fingers on the response to this 450-minute play as both have invested nearly a year of effort for this historic endeavour.
Bhyrappa, who watched the rehearsal thrice, got convinced with the treatment of the novel by Belawadi and observed; "it has a cinematic effect".  Bhyrappa spoke to artists and offered them valuable inputs .  Rangayana hosted a national seminar on Parva and Mahabharata recently,  as a prelude to the grand show.
Like Peter Brook's Mahabharata,  Parva will travel out of Mysuru.  Taking a cue from how regional cinema has become popular the world over through subtitles, Parva will have sub-titles on digital screens when staged in five cities across the country, including Varanasi and New Delhi.  "The plan is to stage the play in 10 districts in Karnataka and take it outside the state," says Cariappa.
Rangayana is leaving no stone unturned to make Parva a landmark event. It is documenting each and every step of the making of the epoch. National award recipient filmmaker P. Sheshadri,  who made a documentary on S L Bhyrappa for Kendriya Sahitya Akademi,  is documenting the "making of Parva".