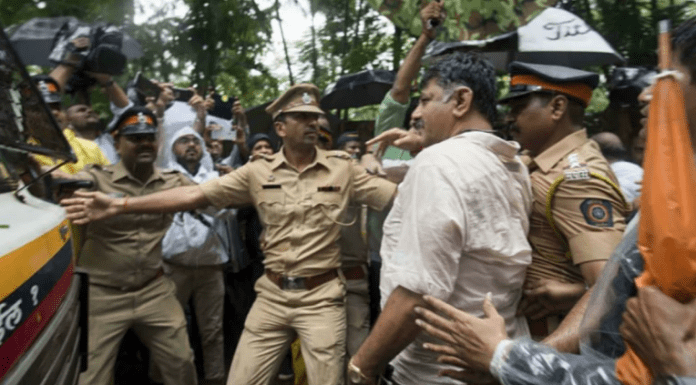 Protests organised by Vokkaliga community members and Congress party choked Bengaluru roads on Wednesday. An estimated 7,000-8,000 people belonging to the community from across the state thronged to the city to protest against enforcement directorate's (ED) arrest of Congress leader D K Shivakumar in the alleged money laundering case. ED took his custody until September 13.
Motorists travelling in the Central Business district (CBD) area faced roadblock and slow-moving traffic on roads leading to National College Grounds in Basavangudi. Traffic came to a standstill at noon near JC Road, Basavanagudi, Jayanagara, Majestic and Mysore Road.
The community members, ired by the Centre's move, vowed to retaliate against the BJP led by Prime Minister Narendra Modi and Home Minister Amit Shah, for playing vendetta politics. Thousands of protestors marched from National College grounds to Freedom Park.
For the Congress Party, which failed to mobilise people for the bandh it called for on September 4, a day after the arrest of 57-year-old Karnataka Congress leader, Wednesday's protest call was a show of strength against the BJP. On September 4, sporadic incidents of violence were reported in the Vokkaliga belt in Ramanagara and Kanakapura, the home turf of Shivakumar.
Shivakumar, who accused the BJP of vendetta politics, expressing confidence that he will emerge victorious both legally and politically, thanked party leaders and supporters for standing behind him and urged them to hold a peaceful protest.
The city Police Commissioner Bhaskar Rao said 90 platoons of the Karnataka State Reserve Police (KSRP) and City Armed Reserve (CAR) along with 5,000 police personnel to monitor law and order situation in the city.
One of the motorists vented his anger at the crowd saying the community members, instead of organising protests, should fight for better amenities to underprivileged people.
Senior Congress leaders including former minister Krishna Byre Gowda, Karnataka Pradesh Congress Committee president Dinesh Gundu Rao, former minister Ramalinga Reddy among others joined the protest. Supporter from Janata Dal (Secular) workers from the Vokkaliga heartland also expressed solidarity with the arrested leader.
Speaking to the gathering, Krishna Byre Gowda alleged that the BJP government at the Centre harassed V G Siddhartha (Café Coffee Day owner) through ED and Income Tax deparments and called his death not as a suicide but a kind of murder.
"The autonomous bodies—the CBI, ED and IT are working as BJP slum dogs. Why has the Centre not used these agencies against entrepreneurs like Vijay Mallya, Nirav Modi and Mehul Choski? Shivakumar has not eaten anyone's father's money. This is nothing but vendetta politics," he said.
Meanwhile, the ED on Tuesday issued summons to Aisshwarya, daughter of beleaguered Congress leader D K Shivakumar. ED asked her to appear before them on September 12.
Shivakumar's daughter will be questioned in connection with the money laundering case against Shivakumar. The agency is likely to record her statement under the Prevention of Money Laundering Act (PMLA).