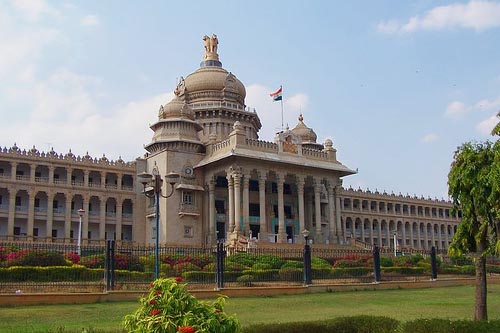 The Karnataka Legislative Council witnessed some unruly scenes on Tuesday as Congress members forcefully removed the deputy chairman from his seat before a discussion on the cow slaughter bill.
Watch video: MLCs heckle each other in Karnataka's upper house
Congress MLCs got into an argument with deputy chief minister Ashwathnarayan and then heckled deputy chairman SL Dharme Gowda, a JD (S) candidate, saying it was unconstitutional of him to occupy the chair. Finally, the house marshals had to intervene.
Also read: As K'taka cow bill goes into cold storage, Dy CM says cow vigilantes are at risk
The anti-cow slaughter bill was passed in the Assembly on Monday. The Congress had asked its MLCs to be present in the Council on Tuesday to vote against it. Trouble started when the Congress sought a vote, but the JD(S) wanted to send the bill to a select committee before approval.
Also read: BJP may use 'anti-Muslim card' to woo Christian voters in Kerala
"We've never seen such a shameful day in our council's history. I'm feeling ashamed about what the public might be thinking about us," said BJP MLC Lehar Singh Siroya on the ruckus.
Congress MLC Prakash Rathod responded saying, "The BJP and JD(S) made the chairman sit in the chair illegally when the house was not in order. It is unfortunate that the BJP is doing such unconstitutional things. The Congress asked him to get down from the Chair. We had to evict him as it was an illegal sitting."
The Legislative Council has been adjourned sine die.