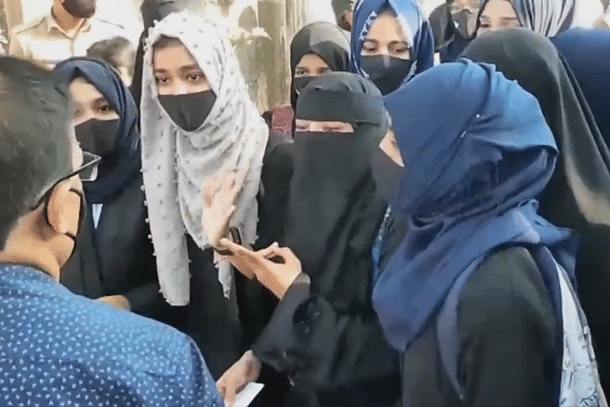 Students wearing burqa not allowed to write class 12 exams in Udupi
Two Muslim women students who were at the forefront of the hijab row in Karnataka, were not allowed to appear for the class 12 Board exams at a PU college in Udupi on Friday (April 22) as they insisted on giving exams wearing burqa.
Aliya Assadi and Resham had arrived at the examination centre at the Vidyodaya PU College in Udupi on Friday (April 22) wearing burqa. But the invigilators and the principal did not allow them to give their exams even after 45 minutes of argument. They then left the place silently.
The two students had earlier petitioned the court to allow hijab inside classrooms in Karnataka, but the court had turned down their petition and upheld the BJP-run Karnataka government's ban on wearing religious clothing.
Karnataka Education Minister BC Nagesh too had earlier said that students won't be allowed to take their exams in the hijab.
Ahead of the exams, Assadi had appealed to Chief Minister Basavaraj Bommai to allow them to write exams in hijab.
"2nd PU exams are going to start from 22nd of this month. Hon'ble CM @BSBommai you still have a chance to stop our future from getting ruined. You can make a decision to allow us to write exams wearing hijab. Please consider this. We are the future of this country," 17 years old Assadi had urged Bommai in a tweet.
The Karnataka Pre University Board is conducting the second Pre-University exam (class 12 board exams) from Friday. According to the education department, more than 6,84,255 students have registered for the exams. The exams will be held at 1,076 centres across the state, amid tight security with cops deployed at various centres to ensure there are no untoward incidents with regard to students following the dress code.
Also read: Pro-hijab petitioner urges Bommai to reconsider ban ahead of exams
The court, in a 129-page judgement on March 15, however, upheld the ban on the attire by stating that Quran does not mandate the wearing of the hijab and thus the attire cannot be treated as fundamental to Islamic faith.
The petitioners have now moved the Supreme Court against the high court's ruling. The Supreme Court has also refused to hear the petitions on an urgent basis.
Also read: Muskan Khan's father to Al-Qaeda chief: 'We are living peacefully in India'
Last month around 40 Muslim girl students from Udupi including the petitioners skipped the first pre-university examination in protest against the high court's judgment.