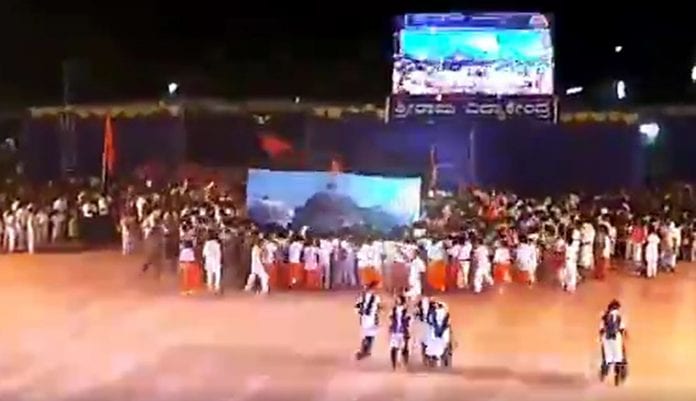 In a shocking incident, at least 100 students from a school in Karnataka — which is run by a member of the Hindu nationalist organisation Rashtriya Swayamsevak Sangh (RSS) — enacted the demolition of Babri Masjid in a play.
Hundreds of students clad in white shirts and saffron dhotis were seen running towards a flex banner with a picture of the mosque and tearing it down even as the speakers reverberate with Jai Shri Ram chants by the narrator. The kids are not only seen demolishing the mosque but also enacting the building of the Ram temple, with other students cheering and applauding.
The play was enacted by class 11 and 12 students of the school as part of their annual day celebrations.
Advertisement
Sri Rama Vidyakendra High School in Dakshina Kannada district in Kaladka village is run by Kalladka Prabhakar Bhat, an influential RSS leader in the Karnataka coastal belt.
According to reports, the Union Minister of Chemicals and Fertilizers, DV Sadananda Gowda, Puducherry Governor Kiran Bedi and several other ministers from Karnataka presided over the function as chief guests.
Kiran Bedi even went on to hail the act by the students on Twitter.
Another formation d school children made was of the proposed Shri Ram Mandir at #Ayodhya. All such performances enabled d school ensure all of its 3800+ school children participate in d annual festival of Sri Rama Vidya Kendra, Kalladka Village, near Mangalore @PTI_News @ANI pic.twitter.com/IdaoySuBY4

— Kiran Bedi (@thekiranbedi) December 16, 2019