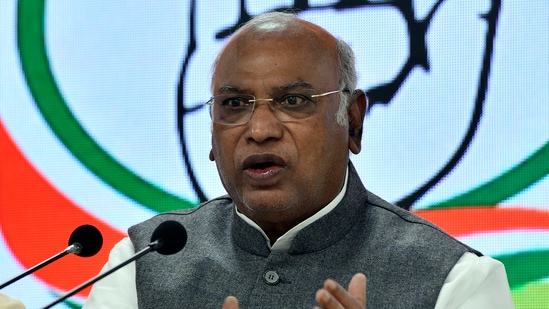 In closed-door meet, Sonia tells Kharge to work for Siddaramaiah-DKS patch-up
Ahead of the Assembly elections in Karnataka early next year, party (interim) president Sonia Gandhi, who has joined Rahul Gandhi's Bharat Jodo Yatra, has asked state leaders — read Siddaramaiah and DK Shivakumar (DKS) — to stay united.
According to sources, senior leader Mallikarjun Kharge has been asked by Sonia to work for a patch-up between former chief minister Siddaramaiah and Karnataka Pradesh Congress Committee (KPCC) chief DKS so that the party can reclaim power in Karnataka.
The same was discussed in a hurried meeting, attended by Sonia, Rahul Gandhi, Kharge, now the leading contender for the All India Congress Committee (AICC) president, Siddaramaiah and DKS, during Bharat Jodo Yatra's lunch break in Mandya.
A strong Congress leadership in Karnataka
It's learnt that during the meeting, it was discussed that "if worked unitedly, the Congress could emerge victorious in the state".
According to Sonia, if the three leaders join hands, then the Congress leadership in the state would be the best in the country itself.  The party chief also felt that a joint leadership could give an edge to Congress as the three leaders are from Dalit, Backward and Vokkaliga categories.
Also Read: Bharat Jodo Yatra: Sonia joins Rahul in Mandya; 'her era will start again', says DKS
The party believes Kharge's victory in the upcoming presidential election would be a shot in the arm for the party, while formulating election strategies with the able support of Siddaramaiah (proven mass leader) and DK Shivakumar (resource management).
According to sources, Kharge's elevation would consolidate Dalit votes in favour of the party.
A different scenario from the past
Not all was well earlier, though. According to sources, Kharge had a role in Siddaramaiah's defeat in the Chamundeshwari Assembly constituency last elections. Later, Kharge, too, lost the 2019 Lok Sabha seat (Gulbarga Lok Sabha constituency).
When Siddaramaiah was the chief minister, he and Kharge were not on good terms since Kharge's name cropped up repeatedly for the top post.
Sources say had Kharge not been in line to be the next AICC chief, his name would again have been recommended for the post of Karnataka chief minister. The Siddaramaiah-DKS' in-fighting would have further helped him, it's learnt. With Kharge set to adorn the top post, it's easier for him to work out differences between Siddaramaiah and DKS.
Also Read: Kharge choice: Congress' socio-political engineering ahead of 2024
It is said the three leaders agreed to Sonia's advice in the meeting, also attended by Rahul.
Kharge's presence, sources say, in the Bharat Jodo Yatra was not publicised because of the election norms set by the AICC for the election of the party president.