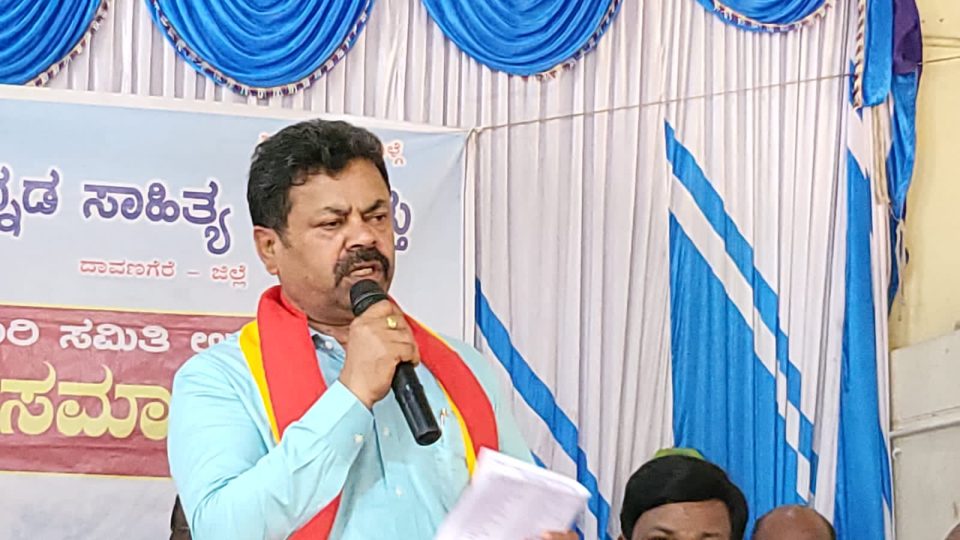 Renukacharya: Karnataka BJP chief Kateel should have resigned over poll debacle
Former MLA and BJP leader M P Renukacharya expressed his opinion on Thursday (June 29), stating that the state President of the party, Nalin Kumar Kateel, should have resigned from his position to take moral responsibility for the defeat in the Assembly polls.
Targeting party leaders without taking any names, the former minister alleged that the BJP office has been turned into a "corporate office", and urged them to introspect and work towards strengthening the party and boosting the morale of the workers for the Lok Sabha elections and the zilla and taluk panchayat polls, among others.
"After the election debacle, the state president should have taken moral responsibility and resigned. He should have taken the moral responsibility. Some days ago, there was news that he had resigned, and within an hour after that statement came denying it. What is happening," Renukacharya asked.
Also Read: Heavy rains to hit Karnataka's coast for next 10 days; NDRF personnel to be stationed
Speaking to reporters here, he said people still have respect towards the BJP, but the party leaders should set-right things within.
"BJP should come to power once again in the state and at the Centre, Narendra Modi should become Prime Minister once again. Morale of the party workers should be restored to face zilla panchayat, taluk panchayat and other polls. So, introspect. I don't know whether there is a soul in some people to introspect," he lamented, alleging that some have turned the BJP office into a "corporate office".
Further alleging that party workers are being threatened, he asked some leaders — without taking any names — to shed their dictatorial attitude. Renukacharya said, "Just about four days ahead of elections, leaders held online meetings, virtual rallies. Looking at their faces daily, workers were tired."
When reporters pressed him to take names, he said he will come out with names when the situation arises. "I'm not speaking about Narendra Modi or Amit Shah or J P Nadda, but here some leaders had rigid self-esteem, a sense of competition among themselves," the former MLA said.
Also Read: Case against BJP IT cell chief Amit Malviya over Rahul Gandhi video
"Leaders who had no practical knowledge, who had not won even a gram panchayat election were guiding us," he pointed out, adding, "Tamil Nadu BJP president K Annamalai, who was the poll co-incharge for the party in Karnataka, came here and was giving guidance to us".
"Is Annamalai a big hero? He had come here and was striking a pose… Former CMs Yediyurappa and Basavaraj Bommai had to listen to someone who used to salute them (Annamalai had served as IPS officer in Karnataka in the past)," Renukacharya charged.
Targeting the state BJP leaders, he said, "When Congress was announcing poll guarantees much before the elections, our leaders were sleeping, and the party manifesto which came very late, did not even reach the people."
Candidates to some seats were announced at the last moment, he added, "which also led to the loss". State President Kateel and other leaders travelled across the state but failed to convert public response into votes, he complained.
Also Read: Anna Bhagya: Karnataka govt to offer cash instead of 5 kg rice due to grain unavailability
Questioning why Yediyurappa was made to step down as chief minister, Renukacharya said his removal from the CM post contributed to the party's defeat in the Assembly election.
"With Modi and Yediyurappa as the face, you wanted to win the election, but what was your contribution towards winning the polls?" he asked party leaders, without naming anyone, despite reporters repeatedly asking whether he was targeting BJP national general secretary (organisation) B L Santhosh.
He also pointed out that denial of tickets to some senior leaders led to the situation, and questioned, "Were they denied tickets to make way for your (leader's) chelas (followers)?"
Ruling out the possibility of him joining the Congress, Renukacharya said his recent meeting with Deputy Chief Minister D K Shivakumar was just a courtesy call.
"My intention is to see Modi as Prime Minister once again… I'm an aspirant for MP ticket, have conveyed it to the party. Let's see what happens," he said.
(With agency inputs)