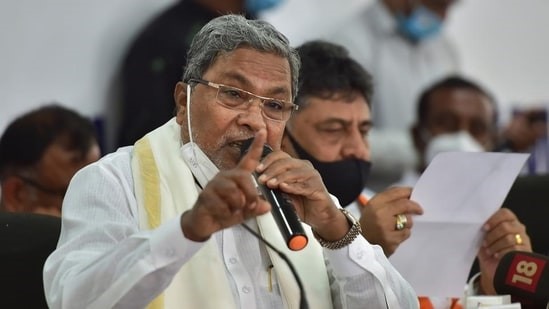 Power tariff hike decision taken before Congress came to power in Karnataka: Siddaramaiah
Denying that his government had anything to do with the power tariff hike in the state, Chief Minister Siddaramaiah on Friday (June 23) said it was done before the Congress formed the government.
The Karnataka CM dismissed the allegations that the hike was because of the Gruha Jyoti scheme that offers up to 200 units of free power for residential use every month.
It is a wrong notion that the burden of implementing Gruha Jyoti has been passed on others, he reiterated. "It is wrong to think that the burden of Gruha Jyoti Yojana has been put on others," Siddaramaiah told a delegation of Federation of Karnataka Chambers of Commerce and Industry (FKCCI). The delegation led by its President BV Gopal Reddy met the chief minister at his home office 'Krishna'.
Also Read: Gruha Jyoti Scheme: Technical glitches remain; over 1 lakh registrations on Day 2
Siddaramaiah, however, assured that he would look into the demands put forth by the FKCCI, which apprised him of the hardships being faced by traders and industries due to the "exorbitant" hike in power tariff.
The CM clarified that the hike was not done by his government but by the Karnataka Electricity Regulatory Commission (KERC), and added that the decision on tariff increase was taken by the KERC even before his party came to power.
Further, Siddaramaiah told the delegation that an appropriate decision would be taken after holding separate meetings with the finance and energy departments, Karnataka Small Scale Industries Association (KASSIA) and FKCCI.
The FKCCI members appealed to the CM to reduce the hike in power tariff for small and medium industries from 9 per cent to 3 per cent.
They also requested Siddaramaiah to provide concession on fuel escalation charges (FEC) and suggested that a policy for the Medium, Small and Micro Enterprises (MSME), as has been formulated in some other states, be drawn up in Karnataka.
(With agency input)