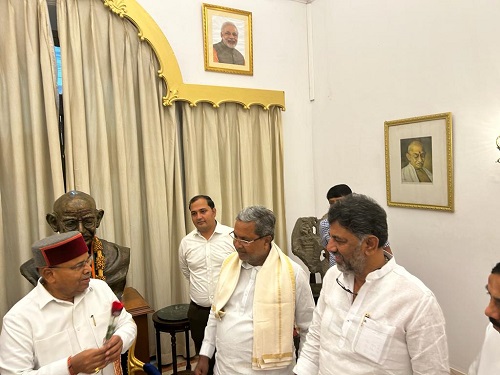 A meeting of the Congress Legislature Party on Thursday (May 18) formally elected Siddaramaiah as its leader and Chief Minister of Karnataka. Interestingly, senior leader and KPCC chief DK Shivakumar moved a resolution to elect Siddaramaiah as CLP.
Soon after, Siddaramaiah called on Karnataka Governor Thaawarchand Gehlot at the Raj Bhavan, and staked claim to form the next government.
The meeting of newly elected Congress MLAs, MLCs and MPs, which took place at Indira Gandhi Bhavan in Bengaluru was also attended by AICC general secretary Randeep Singh Surjewala and two other central observers, namely former Maharashtra Chief Minister Sushil Kumar Shinde and AICC general secretary Jitendra Singh.
According to Surjewala, Shivakumar moved a resolution to elect Siddaramaiah as the new leader of the Congress Legislature Party in Karnataka. All the members of CLP endorsed it unanimously.
Siddaramaiah and Shivakumar, who were in a tight race for the top post, will take oath on May 20 at 12.30 pm along with a group of ministers-designate.
Will rebuild 'Brand Karnataka': Congress 
The Congress said it would strive to restore Kannada pride and rebuild the "Brand Karnataka" and pledges to take the state on the path to prosperity and growth by fulfilling its promises made to people.
Congress general secretary in-charge for Karnataka Randeep Sujewala said the party would deliver on its promises and take Karnataka to a new level in development and progress.
#KarnatakaCM | Congress Legislative Party (CLP) approves the name of Siddaramaiah as the CLP leader.

RV Deshpande, HK Patil, MB Patil and Lakshmi Hebbalkar proposed Siddaramaiah's name https://t.co/ExlkKOnQYz

— ANI (@ANI) May 18, 2023
AICC general secretary (organisation) K C Venugopal said the Congress is committed to fulfilling the promises made to people of the state and will implement the five pledges made ahead of elections in the first meeting of the state cabinet.
He said it is "our promise" to the people of the state which will be fulfilled in the first meeting of the cabinet in Karnataka. "Our main motive is to implement the five guarantees that we have promised to the people of Karnataka and this will be implemented on the first day of the cabinet itself," he said.
He also said, "This victory has helped us get extra energy to fight Narendra Modi in 2024 and this will give a boost to the Congress. Definitely it will help us".
Surjewala said the "insurmountable love of people bestowed upon you and all Congress leaders is indeed an onerous yet rightful responsibility to fulfil the millions of hopes and aspirations of people".