Plush fields, trees laden with fruits, and mulberry plants can be seen on both sides of the narrow lane leading to Naraganahalli, located about 35kms from Bengaluru. But this scenic beauty might not last long with the agriculture activity has come to a near standstill.
Fruits are ripe and hanging on the trees, but there are none to pick them. The dampness is visible on the fields and roads leading to the village due to early summer showers.
Where are the villagers? One may ask. Women are removing thread from the silk cocoons at home and with no kids or elderly were out in the village, the health-sub centre wore a deserted look.
The lockdown, which had two faces in the village — one, the scare of the coronavirus pandemic and adherence to the government-imposed restrictions and two, the debt trap for farmers following crop losses with lack of transportation and police excess — saw agriculture labourers only in a couple of farms.
Related news: Karnataka farmers in distress over shutdown impact on supply-chain

Much of the produce of Nagarenahalli goes to Bengaluru city. With lockdown, farmers are unable to take their produce to the market claiming that there were not enough buyers in the wholesale markets.
At the village entrance, unlike all other farmers, Sriram N is out on the farm. Three of his family members along with three labourers, who are working in the field with an oral permission from the local police, are busy plucking and segregating tomatoes to be taken to the market in the immediate cluster where all big food chains of stores come to pick produce.
If he doesn't pluck tomatoes, he may end up losing nearly ₹3 lakh, said Sriram, adding that besides tomatoes, he also cultivates other crops such as potatoes, beans, ginger and cucumber. However, due to extreme summer, his bean crop productivity is down to a third and incurring losses.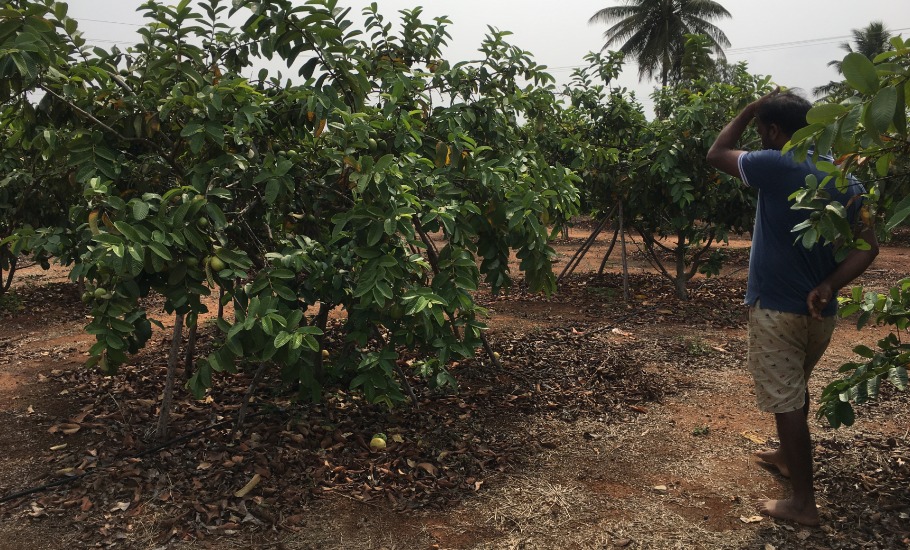 "During the same time last year, we sold a crate (15kg) of tomatoes upto ₹400. But now, I barely get 150. In the wholesale market, it's ₹90 to ₹100. That's ₹6 to ₹7 a kg. All this, if only we can transport out produce to the local market. If not, we will have to throw the crop or feed to animals," he added.
"I am more worried for the crops than the virus," said Sriram explaining about his real concerns amid the coronavirus pandemic.
He said that he had signed a ₹2.5 lakh worth contract to sell his guava stock to a juice manufacturing company and received an advance of ₹50,000. But is now in doubt if he would get the balance amount since no personnel from the company have turned up to pick the fruits and they are getting wasted.
Related news: Amid COVID-19 lockdown, villages in Karnataka block outsider entry

Another farmer, Prasanna Kumar, who was loitering on a bicycle said it's difficult to stay indoors in a village.
"For how long can we sit indoors? Beyond TV and mobile, we have nothing much to do. While the ration and health messages are taken care of, if the government also takes care of buying our produce, it would be much helpful," he said.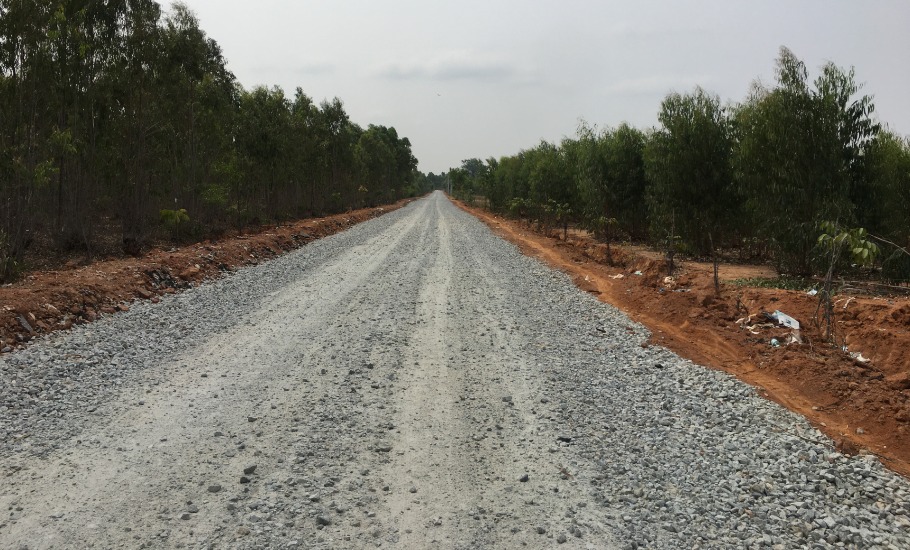 Even as both the farmers have their own set of issues other than coronavirus, they revealed that there was a positive case reported in a nearby village (about 15 kms away) and told a reporter from The Federal to be extra cautious as police presence was everywhere.
They said they got the information through fellow villagers and regional news channels.
On the exit road of Nagarenahalli, the sight of halted work on village roads (which took away the jobs under NREGA scheme) and main road filled with tomatoes left to rot with no takers can be witnessed.
In the next village, people stood in a long queue maintaining social distance to collect the food supplies distributed by the local politician.
Farmers wary of sowing next crop if the lockdown continues
The situation is no different across several villages in the state. In fact, if the lockdown continues, even as the state has assured enough seeds in stock, farmers are wary to sow the next crop, pointing out to labour shortage as another big concern.
As the food supplies are given in advance to rural households in the wake of shutdown, farm labourers at certain places are not willing to go to the fields and risk their lives with the pandemic.
Jagadeesh, a farmer who cultivates beans and ginger, said he would decide on how much to sow depending on the lockdown extension.
"We are already suffering with the existing crops. Getting back the money we invested in the present crops seems to be a bigger challenge for us now. And with labour shortage, we cannot carry on the next sowing," Jagadeesh said.
Related news: Coronavirus threat turns bustling Bengaluru silent; businesses hit

He added that he would wait for Prime Minister Narendra Modi to announce the lockdown extension on Saturday (April 11) and then see if he wants to cultivate ginger in the entire one acre of land.
Not just for vegetable crops, but in many places like Mysore, Mandya, Chamarajnagar, farmers who sow crops such as groundnut, ragi, green gram and mustard during April and May are thinking not to sow this season.
The agriculture and horticulture department said they are doing their best to solve the farmers' worries.
"The government has now asked all APMC to be open. We are giving passes to farmers so that they can take their produce to the market without any hindrance," Brijesh Kumar Dikshit, Commissioner for Agriculture said.
"In these times, the government is encouraging mechanisation and giving farm equipment at subsidised rates, wherever necessary," he added.