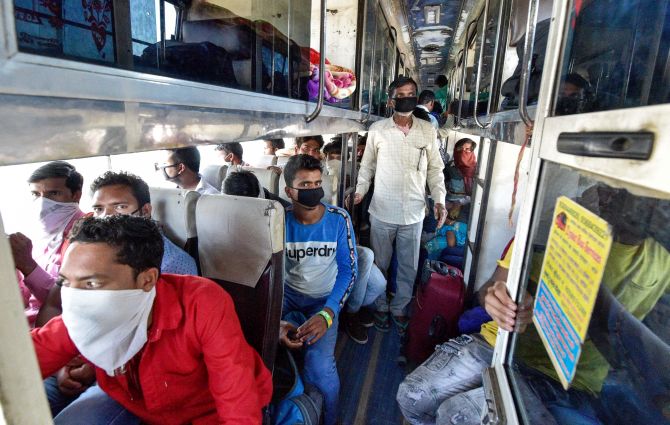 The Karnataka High Court on Tuesday (March 9) rebuked the state government for not making changes to the order that imposed travel restrictions from Kerala, saying it is against Union government orders.
Despite the counsel, representing the state government, stating on March 5 that the order would be modified, the court was informed on March 9 that it had not been done.
The order, issued by the Deputy Commissioner of District Disaster Management Authority of Dakshina Kannada, restricting entry from Kerala's Kasaragod district to Dakshina Kannada district, has been limited to only four checkpoints and travellers have been asked to produce a negative RT-PCR COVID-19 test certificate.
Also read: What's behind the rise in number of COVID-19 cases?
A division bench headed by Chief Justice Abhay Oka and Justice S Vishwajith Shetty took issue with the Karnataka government's stand. "There are 25 entry points and you are limiting it to four entry points. Under what law are you doing it? You are acting contrary to the orders of the Union government," the bench said, according to Live Law.
To the counsel appearing for the government, the court said: "You want the RT-PCR test to be conducted, understood. If a person from Kerala wants to enter Karnataka by air, will you tell him only to enter from Bengaluru airport? Can you say that person should enter from only one road?"
Also read: Continue with 'test, track and treat', Centre tells 8 states and UTs
Subbaya Rai, the counsel who challenged the travel restrictions, stated that the entry of people from Kerala's Kasaragod district alone was restricted. People from all the other 13 districts in Kerala could enter. In response, the bench called this situation "ridiculous".
The counsel appearing for the Karnataka government stated that the restriction in Dakshina Kannada district is because many people travel for education and employment, to which the court said: "Consider creating infrastructure near the check post to check RT-PCR test certificates."