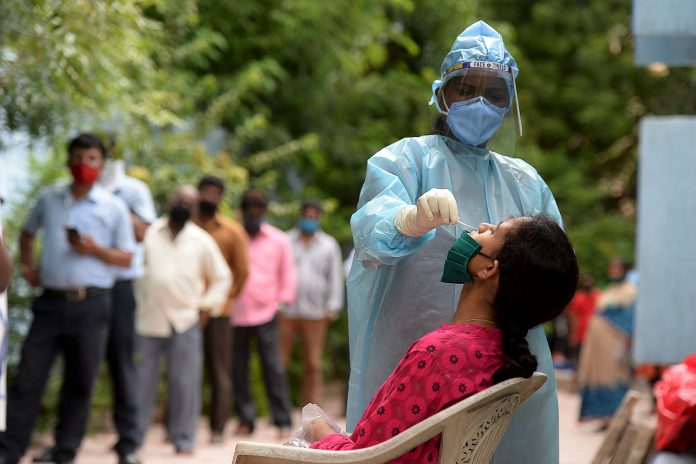 The Centre has advised eight states and UTs reporting a high active COVID-19 caseload to continue with measures to rein in the pandemic, including with the strategy of "test, track and treat".
Union Health Secretary Rajesh Bhushan and NITI Aayog member (Health) Dr Vinod Paul on Saturday discussed the prevailing situation with health secretaries and MDs of Haryana, Andhra Pradesh, Odisha, Goa, Himachal Pradesh, Uttarakhand, and the UTs of Delhi and Chandigarh.
The government said that nine districts each in Delhi and Himachal Pradesh, 10 each in Andhra Pradesh and Odisha, 15 in Haryana, seven in Uttarakhand, two in Goa, one in Chandigarh were seeing a decrease in tests being conducted; low share of RT-PCR tests; increase in weekly positivity and the low number of contact tracing.
Also read: Scientists find multiple mutations, unique proteins in SARS-CoV-2 genome
Among the measures the states and UTs were asked to take were: Continue with the strategy of 'test, track and treat'; improve overall testing; increase share of RT-PCR tests in districts dependent on high levels of antigen testing; refocus on surveillance and stringent containment of those areas with clusters of cases; carry out an average close contact tracing of a minimum of 20 persons per positive case; accelerate vaccination for priority population groups in districts reporting higher cases; make optimal use of the available vaccine doses and focus on critical districts.
Also read: Efficacy, acceptance, production: A COVID vaccine's formula to success
Meanwhile, the government has sent multi-disciplinary teams to Maharashtra and Punjab, which have seen a spike in the number of cases. The teams will help state health departments in surveillance, control and containment measures, the health ministry said.
The team to Maharashtra will be led by P Ravindran, senior chief medical officer, Disaster Management Cell. The team to Punjab will be led by SK Singh, director, National Centre for Disease Control, New Delhi.
According to the ministry, there are 6,661 active coronavirus cases in Punjab and 90,055 cases in Maharashtra.
(With inputs from PTI)