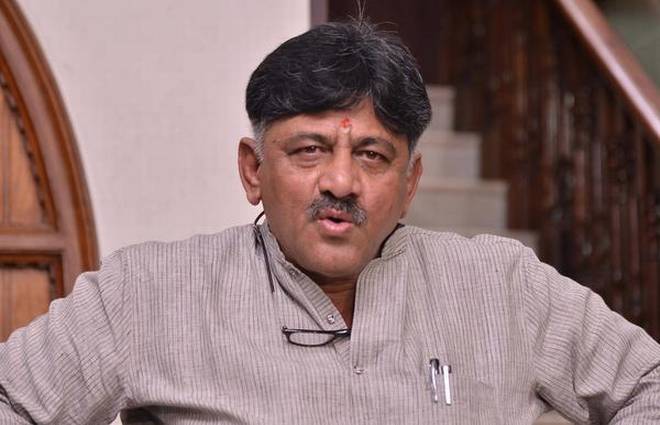 The Congress on Saturday (April 22) alleged that Karnataka Chief Minister Basavaraj Bommai's office was calling the returning officers of various districts to find defects in the applications filed by Congress candidates and rectify the mistakes in the filings of BJP candidates contesting the Assembly election.
Karnataka Pradesh Congress Committee (KPCC) chief DK Shivakumar demanded that the Election Commission should investigate the matter and summon the call details of the CMO to ascertain the truth.
'Major conspiracy to reject applications of Congress candidates'
"A major conspiracy is going on to reject the applications of the Congress candidates," the party's Karnataka unit chief said in a press conference.
He charged that some applications of the BJP candidates, for instance in Saundatti Yellamma constituency, were defective, but the CMO "directly called the officer and directed him to make changes".
I have filed my election form 10 times: Shivakumar
"There is no need to elaborate how a big team is trying to reject (my) application. You all have been informed about it," the Congress state chief said.
Shivakumar said he had filed the election form 10 times yet "when they can do this to me then imagine what they can do to the ordinary candidates".
Also read: Karnataka polls: DK Shivakumar's papers in order, over 3,000 in fray after scrutiny
"Pressure is being built on all the returning officers. There is rampant misuse of power. The EC must take note of it. The CMO must be investigated," the Congress leader demanded.
Responds to Karandlaje's allegation of collecting bribes from candidates
On Union Minister Shobha Karandlaje's charge that the Congress was collecting bribe from those candidates who had been given ticket to contest the Assembly election, Shivakumar retorted that his party was not collecting 40 per cent commission.
"We are only raising building fund for our party. We are collecting ₹2 lakh from general candidates and ₹1 lakh from SC/ST candidates," Shivakumar explained.
Also read: Karnataka Polls: Union Minister Shobha Karandlaje lodges complaint against Shivakumar
The opposition Congress is locked in a tussle with the ruling BJP to wrest power in Karnataka with the JD(S) also an important player as polling is just weeks away.
Karnataka will vote in a single phase on May 10 and the results will be declared on May 13.
(With agency inputs)