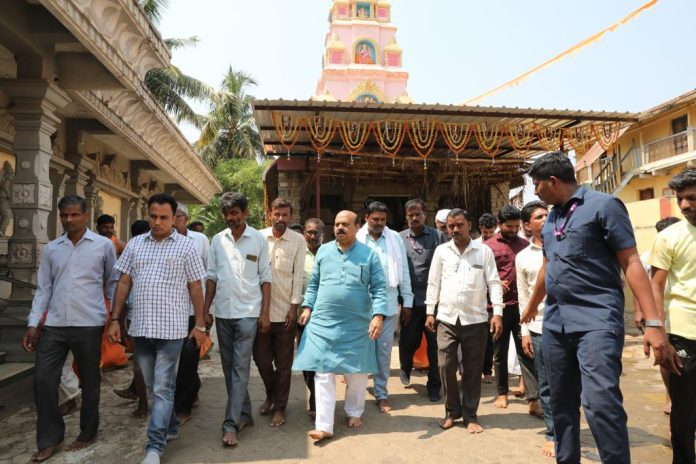 CM Basavaraj Bommai, along with BJP President J.P. Nadda and Kannada actor Kichcha Sudeep, conducted a grand roadshow in Shiggaon, his constituency, before filing his nomination for the May 10 Assembly elections.
Earlier this month, actor Sudeep had announced his support to Chief Minister Bommai in the poll-bound state.
Live : ಬಿಜೆಪಿ ರಾಷ್ಟ್ರೀಯ ಅಧ್ಯಕ್ಷರಾದ ಶ್ರೀ @JPNadda ಅವರ ನೇತೃತ್ವದಲ್ಲಿ ಸನ್ಮಾನ್ಯ ಮುಖ್ಯಮಂತ್ರಿಗಳಾದ ಶ್ರೀ @BSBommai ಅವರ ನಾಮಪತ್ರ ಸಲ್ಲಿಕೆ.

ಸ್ಥಳ – ಶಿಗ್ಗಾಂವಿ, ಹಾವೇರಿ ಜಿಲ್ಲೆ. #BJPYeBharavase #DoubleEngineSarkara https://t.co/Xg8LTz4YXf

— BJP Karnataka (@BJP4Karnataka) April 19, 2023
A large crowd had gathered, as Bommai, Nadda and Sudeep travelled through the streets in a specially-designed vehicle, after garlanding the statue of Kittur Rani Chennamma, queen of the former princely state of Kittur who led an armed resistance against the British East India Company.
Also Read: Karnataka Assembly polls: PM Modi, Yogi, Shah in BJP list of 40 star campaigners
The crowd, mostly wearing saffron caps, moved along with the vehicle with BJP flags in their hands. They cheered when the leaders and their favourite cinema star waved at them.
Bommai is seeking re-election from Shiggaon, from where he has been MLA thrice. The BJP leader became the Chief Minister in 2021 after party stalwart B S Yediyurappa stepped down from the post.
He has already filed one set of nominations, during an "auspicious muhurat" on Saturday.
Also Read: Karnataka polls: Yediyurappa's son Vijayendra files nomination in Shikaripura
Congress has fielded Mohammed Yousuf Savanur to take on the Chief Minister from Shiggaon.
Filing of nominations for the election ends on April 20. Voting will take place on May 10 and the counting of votes will be on May 13.
(With agency inputs)