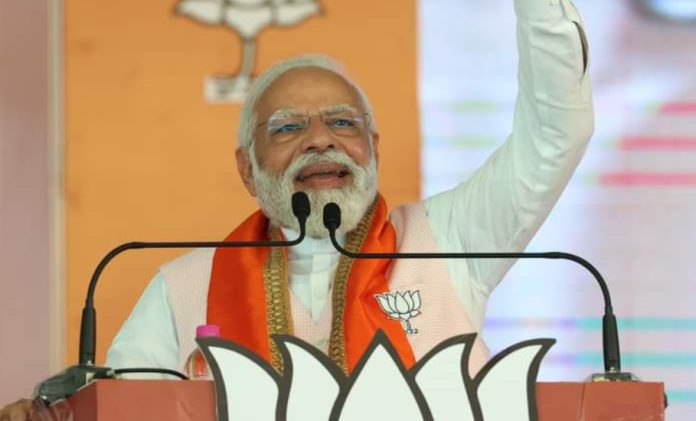 At a time when the BJP was battling a strong wave of anti-incumbency, the Congress appears to have provided a much-needed ammunition to Karnataka's ruling party by threatening to ban the Hindu rightwing Bajrang Dal.
Just ahead of the May 10 assembly elections, Prime Minister Narendra Modi has aggressively latched on to the Congress manifesto to dub it anti-Hindu and, more specifically, as one opposed to Lord Hanuman.
The Congress, which seemed to be sitting pretty until now, has gone on the backfoot, trying to distance itself from the manifesto pledge although it cannot disown the election document. Karnataka Congress leaders, who have been counting on the party's victory in the election, are visibly worried.
Also read: Karnataka polls: Modi chants 'Jai Bajrang Bali' in campaign meetings
Congress fissures
A senior Congress functionary said the state leaders did not want the issue in the manifesto. But they were overruled by General Secretary Randeep Surjewala, who is in charge of party affairs in Karnataka.
"Surjewala did not agree with the Chairman of the Manifesto Committee and so the Bajrang Dal issue was brought into the manifesto," the leader told The Federal. Once the BJP and allied groups pounced on the issue and went on an overdrive, Karnataka Congress leaders called an emergency meeting at a hotel for damage control.
Former chief minister Siddaramaiah, Karnataka unit chief DK Shivakumar, strategist Sunil Kanagol and Surjewala participated in the meeting in Bengaluru. After the meeting, Shivakumar told the media: "We too are devotees of Anjaneya. There is no relationship between Lord Hanuman and Bajrang Dal."
He added: "The BJP is very provocative. People understand this. We are Hanuman devotees. We are the ones who have developed the instinct of self-piety. Anjaneya is different from Bajrang Dal."
Divisive issues
Most observers concede that until now, none of the polarising issues flagged by the BJP was making any impact on the voters. This was one of the reasons why it was decided that Prime Minister Modi, Union Home Minister Amit Shah and BJP president JP Nadda will take control of the campaign instead of leaving it in the hands of state leaders.
Even if the Bajrang Dal issue does not click all across Karnataka, it could make a difference to the electoral outcome in the coastal as well as Malnad regions where Bajrang Dal activists are more in number than any other part of the state.
The coastal belt includes Dakshina Kannada, Udupi and Uttara Kannada while the Malnad region consists of Chikkamagaluru, Shivamogga and Kodagu. Bajrang Dal activists claim to be defenders of Hinduism.  It sees prevention of cow slaughter as its prime responsibility.
Also read: Mulki rally: Modi soothes Bajrang Dal nerves in coastal Karnataka
Manifesto promise
The Congress manifesto said: "The Congress is committed to taking firm and decisive action against individuals and organisations spreading hatred among communities on grounds of caste or religion. We believe that law and Constitution are sacrosanct and cannot be violated by individuals and organisations like Bajrang Dal, PFI or others promoting enmity or hatred, whether among majority or minority communities. We will take decisive action as per law including imposing a ban on any such organisations."
It seems this was just the provocation the BJP was waiting for although Congress strategists say this itself proves that the ruling party is devoid of any positive agenda and can't win on the strength of its governance record.
While several BJP leaders attacked the Congress for comparing the Bajrang Dal with PFI, the outlawed Muslim outfit, Modi took up the theme at his rally in Vijayapura, saying the Congress was ranged against Hindu god Hanuman. In his speech in the coastal city Mulki, he repeatedly used the slogan "Jai Bajrang Bali… Jai Bajrang Bali"
Bajrang Dal
The Bajrang Dal's core strength lies mainly in the backward class communities including Billava, Mogaveera and Kulala. The youths from these communities have been involved in communal violence. A few were even killed by PFI.
Ministers including V Sunil Kumar, BJP General Secretary CT Ravi and others are supporting Bajrang Dal. Yashpal Suvarna, a candidate from Udupi, was an active Bajrang Dal worker. He is one of the prime accused in the stripping and parading of a father and his son who were allegedly transporting calves.
The Bajrang Dal has been flayed for 'moral policing' and stray attacks on homes and pubs which triggered tension. Santosh Pai, a social activist, said many of the backward class Hindu youths active in Bajrang Dal are economically poor. "They are brainwashed by Hindu ideology. Similarly, Muslim youths are also brainwashed. Many of the Hindu youths considering themselves as protectors of Hindutva."
Also read: Bajrang Dal to have Hanuman Chalisa recitals across Karnataka in counter to Congress
Ramesh Perla, another social activist, said: "Several Muslims went to the Gulf and other regions and came back and have a good lifestyle. A gap was created between Muslims and Hindus. The socio-economic tussle created hatred."
BJP aggression
The BJP has decided to use the Bajrang Dal issue against the Congress in the remaining days of the election campaign in a big way. Chief Minister Basavaraj Bommai said devotees of Lord Hanuman are Bajrang Dal workers.
In some areas, billboards have come up warning Congress activists against entering their houses to seek votes. A Congress leader from Mangalore said there should be "a scientific way" to explain this issue. "The BJP has developed a legal case against the PFI and banned them legally. This is not an issue for a manifesto. We are struggling to bring our party back to power. This issue has made things difficult for us," he told The Federal.