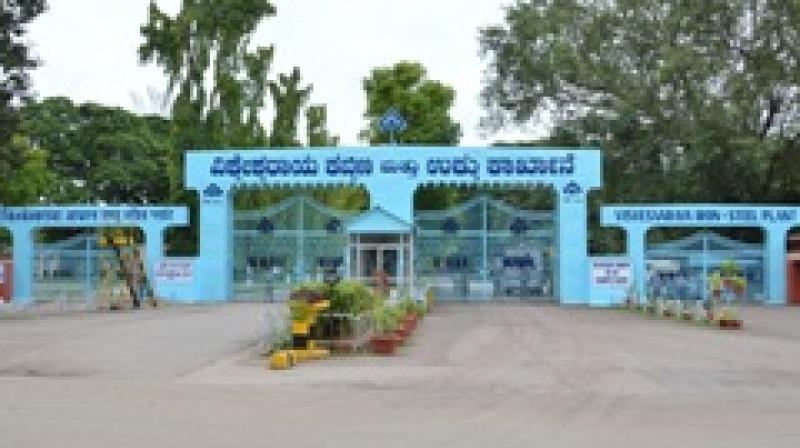 Karnataka: Iconic VISL reopens today; will it work or is it a political ploy?
The reopening of the iconic Visvesvaraya Iron and Steel Plant (VISL), seven months after it was shut down, has triggered joy in Karnataka but many are wondering if it will really happen or whether it is just a political bubble.
Mysore king Nalwadi Krishnaraja Wodeyar started VISL at Bhadravati in Shimoga, 260 km away from Bengaluru, during the end of World War I. It is to be reopened today (August 10).
The governing body of the Steel Authority of India Ltd (SAIL) has permitted production at VISL. Two shifts will start from Thursday. For those who always depended on the plant for a living, it is happy development.
Also read: Karnataka govt sets up four panels to probe award of BBMP works during BJP rule
But some union leaders feel the whole thing is a trick by the BJP ahead of the 2024 general elections. The Congress, now ruling Karnataka, and the Janata Dal (Secular) are also trying to reap benefits from the development.
As the Centre has already gone ahead with the disinvestment of VISL, one critical question is: who will invest in it again.
Role of SAIL
SAIL tried to seek investment from private parties but it did not yield any results. Now SAIL has decided to invest Rs 75 crore to start the bar mill of the factory. But the actual need is around Rs 1,000 crore, said R Ramachandra, a leader of the employees' union at VISL.
The plant earlier got iron ore from near Kuduremukh in the Western Ghats. Now this will be secured from Bellary region. So, why has BJP changed gears and now wants the VISL to come alive again?
BJP star and former chief minister BS Yediyurappa's elder son Raghavendra is MLA from Shikaripura in the Shivamogga Lok Sabha constituency. So, KN Rajappa, another union leader, feels that Yediyurappa or BSY may have pressured the Centre to announce the resumption of the plant so that Raghavendra can make a mark in the next Lok Sabha battle.
In January, before the Karnataka assembly elections, JD-S chief and former prime minister HD Deve Gowda urged Prime Minister Narendra Modi to solve the problem.
Also read: Kumaraswamy alleges Rs 1,000-cr graft in transfer of Karnataka officials
BJP eyeing gains
Congress leaders, including now chief minister Siddaramaiah and his now deputy DK Shivakumar vowed to pressure the Central government to restart VISL and also to give the necessary facilities from the state if they came to power.
In February this year, Union steel minister Jyotiraditya Scindia announced that VISL was closed due to high cost of production, low volume production and lack of captive ore mines. But he added that there were demands to reopen it.
After suffering a rout in the assembly elections, the BJP feels that restarting the factory will fetch it valuable votes in parliamentary elections, an aide to BSY said. VISL workers once played a crucial role in elections. MJ Appaji, a labour leader, was elected thrice to the Karnataka assembly due to workers' support.
The factory, which earlier had thousands of workers, now has 250 permanent employees and 1,500 contract workers. For now, there will be no fresh recruitment. VISL Contract Workers Association leader Suresh H said that both BSY and his son Raghavendra have given tall assurances about bringing investments but were now struggling on that front.
Also read: Karnataka: Congress questions BJP's silence over rape of Dalit girl
Disinvestment and workers
Privatisation was first proposed in 2000 but it did not succeed. In 2013, there was an attempt to bring in a private and government joint partnership. In 2016, Niti Aayog approved disinvestment despite opposition from workers.
Vinay Kulkarni, who was a Minister of Mines in the earlier Siddaramaiah government, sanctioned 150 acres of mines to help VISL. In 2018, the Centre promised an investment of Rs 6,000 crores to build a mega steel plant. But nothing happened.
Trouble for VISL began when environmentalists started an agitation in the Western Ghats where mining was done. The mining was stopped following the protests, and the factory was almost closed. In 1989, the Karnataka government, unable to bear the burden, handed over the VISL to SAIL.