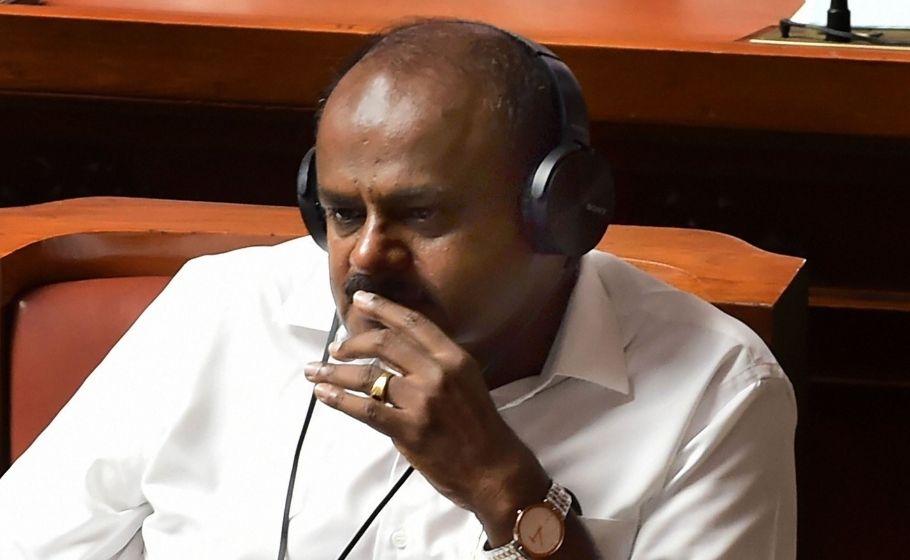 Is JD(S) with NDA or Opposition fold? Leadership's indecisiveness puts party in crisis
It appears the indecisiveness of top party leaders HD Deve Gowda and HD Kumaraswamy cost dear to Karnataka's major regional party – Janata Dal (Secular). While the Congress completely sidelined JD(S) by not inviting it to the ongoing Opposition parties' meet, the NDA led by the BJP is yet to extend an "official invitation" to JD(S) leaders for its Tuesday's meet in New Delhi.
Party's second-in-command and former Chief Minister Kumaraswamy looks disturbed by the recent political developments. The ruling Congress has been attacking the JD(S) for pracitising "opportunistic" politics, dubbing it as 'B' team of the BJP, even as the state BJP leaders consistently hinted at a possible pre-poll alliance with the JD(S).
Also read: Karnataka: Ahead of NDA meet, buzz over Kumaraswamy striking deal with BJP
'Congress spreading canards'
Kumaraswamy on Monday attacked Congress, particularly Chief Minister Siddaramaiah and asked the BJP high command to complete the process of naming Leader of Opposition for both the houses of legislature. At the same time, he appealed against "bringing up his name unnecessarily" for the post of Leader of Opposition (LoP) and spreading "canards" about the JD(S) joining hands with the BJP.
Speaking to the media, Kumaraswamy said, "According to my information, BJP has convened NDA meet to discuss the issue of Uniform Civil Code (UCC), following Prime Minister Narendra Modi's endorsement of the idea. Neither I nor party supremo Deve Gowda have received any official invitation. I don't know why my name is being dragged into an issue, which is restricted to BJP and NDA alliance partners. We are not a part of NDA alliance."
No invitation for Opposition meet
On not participating in the ongoing Opposition conclave led by Congress, he further clarified that neither he nor his father Deve Gowda have been invited. Accusing Congress, especially Karnataka state leadership of targeting JD (S), he said, "Chief Minister Siddaramaiah humiliated JD(S) during the assembly session. How can you expect Congress to invite leaders of a party, which according to them, has no relevance in Karnataka politics?"
Also read: Karnataka: Bommai hints at alliance talks with JD(S) ahead of 2024 LS polls
Not aspired for any post on offer
Clarifying what he termed as "canards" on the BJP's offer of making him LoP and offering a Cabinet post at the Centre, if he agreed to merge his party with the BJP, Kumaraswamy said he had not aspired for any of these posts at any time in recent days. "There are efficient leaders in the BJP. I appeal to the BJP high command to opt for any one of them, including former chief minister Basavaraj Bommai for the post of LoP at the earliest," he said. As the leader of JD(S) in the assembly, he would extend all support to the BJP in fighting for the issues pertaining to people of Karnataka, he added.
'Open to discuss any issue'
Asked whether he is prepared to participate in the NDA meeting scheduled for Tuesday, Kumaraswamy said, "I would participate, if BJP assures of treating us with respect and protecting the dignity of JD(S). I am prepared to discuss any issue broached in the meeting with an open mind."
No end to speculation
Interestingly, Kumaraswamy's repeated clarifications on the issue haven't put to rest the speculations on the JD(S) joining hands with the BJP in Karnataka.
Referring to rumours of making Kumaraswamy the Leader of Opposition, BJP's national general secretary CT Ravi on Sunday said, "There will be no smoke without fire. There must be a reason for the kind of news dominating public discourse."
Another JD(S) leader, who joined the party in the run up to the assembly polls, Ayanur Manjunath, said, "Kumaraswamy is likely to become LoP", hinting at a possible tie-up between JD(S) and the BJP.
Also read: It is premature to talk of JD(S)-BJP alliance in 2024: HD Kumaraswamy
BJP spokesperson N Ravikumar said on record that the BJP high command has invited Deve Gowda and Kumaraswamy to New Delhi for talks and both might be participating. Former Chief Minister Basavaraj Bommai had said in Hubli that the "talks are on between the party's top brass and Deve Gowda. Future political developments depend on the outcome of talks."
All eyes on next move of JD(S)
Meanwhile, sources in JD(S) pointed at a meeting of Kumaraswamy and Deve Gowda at their farmhouse in Bidadi, near Bengaluru. It is also said that the JD(S) is planning to demand seven Lok Sabha constituencies, in case of seat adjustment talks with BJP for the coming Lok Sabha elections. In view of these circumstances, political circles are curious about the next move of the JD (S).