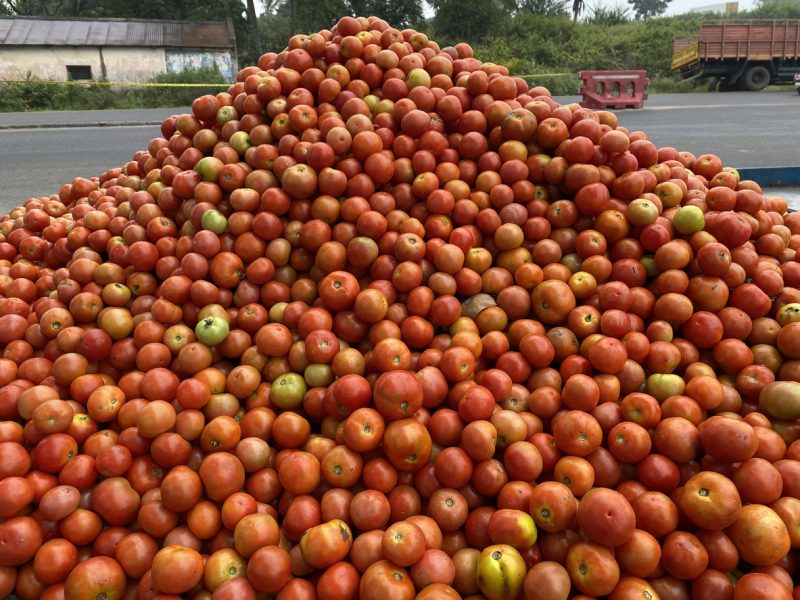 Ground report | As tomato prices hot up, Kolar mafia laughs all the way to the bank
As the price of tomatoes continues to rise at an astonishing rate in Karnataka's Kolar market, located approximately 70 km away from the IT capital Bengaluru, the middlemen and distributors in the tomato market are minting money, making hay while the sun shines.
At the same time, distributors and suppliers of fertilizers and pesticides are also actively engaged in their respective businesses. On the other hand, distressed farmers are standing in long queues, seeking the 'best available' pesticides to combat the leaf curl disease plaguing their crops.
Part 1 of Ground Report: Why tomato prices shot up in Kolar, and across India
"The steep hike in prices indicates the 'manipulation' orchestrated by middlemen and tomato distributors operating within the Agricultural Produce Market Committees (APMC). These committees fall under the purview of the Agriculture Department, and it is suspected that certain officials from related departments may be colluding with them," an official from the Agriculture Department told The Federal.
Farmers, consumer affected; mafia have an upper hand
The supply of tomatoes from farmers has decreased, but the question remains: why has the price suddenly surged to Rs 2,200 (as of Tuesday evening) per box of 15 kg, with the possibility of further spike? Meanwhile, unauthorised agents and licensed distributors (mandi owners) of tomatoes are reaping higher profits compared to the farmers.
Farmers who cultivate tomatoes are witnessing a decline in their yield this season, obtaining approximately 300 boxes (15 kg each) per acre, compared to around 1500 boxes in the previous year. When they sell their produce, they are burdened with the transportation costs borne by the agent or distributor. After deducting their commission and transportation charges, farmers receive around 60 percent of the daily price.
For instance, if the cost per box is approximately Rs 2,000, the farmer will receive Rs 1,200 per box. "Farmers have to reluctantly agree to these terms, given the significant loss of their crops," said Keerthan Gowda, a progressive farmer, who uses technology and techniques to maximise his yield in order to increase his earning.
Watch: Prices skyrocket at tomato market in Kolar as white fly attack damages crops
Narayana Gowda, a farmer activist and member of the Karnataka State Farmers' Association, told The Federal that both farmers and consumers are being adversely affected, with the 'mafia' responsible for the price hike gaining the upper hand.
Gambling on tomato prices at APMC market and 'artificial hike'
The Federal witnessed an alarming scene at the APMC market, where individuals were gambling on tomato prices, and officials were allowing these activities to take place. They artificially inflated the price of tomatoes from Rs 1,000 to Rs 1,500 per box and sold two large quantities of such boxes to a trader based in Andhra Pradesh. While auctioning is permitted according to APMC rules, officials have failed to control the creation of artificial rates.
The price increase lies solely in the hands of manipulators who are not concerned about anyone, focused on making money. Kolar is one of the two major tomato supplying markets, alongside Nashik, and within this market, gamblers create an artificial price hike, thereby controlling the market. "They also exploit the scarcity of tomatoes in the Nashik market and other regions in North India to generate even more demand," said Ramakrishna KR.
He added that obtaining a posting in the APMC yard and Agriculture department offices in Kolar is highly competitive, often involving bribes. "This is happening because these officials allow all the misconduct happening within the tomato market. Consequently, middlemen and distributors (mandi owners) engage in gambling to create an artificial price hike," he said.
Also read | Karnataka Budget 2023: Nothing to cheer for Kannada cinema
The Federal observed that the security personnel registered the entry of vehicles carrying tomatoes to farmers and also the vehicles transporting them to their respective destinations. However, there were some personnel, who were not keeping the records of such movements, allegedly allowing middlemen to operate through their oversight.
When questioned about these issues, SR Kumaraswamy, Deputy Director of the Agriculture Department, said that there are officials and teams dedicated to monitoring the process. He assured that appropriate action would be taken if any such incidents were identified.
Nexus between pesticide-fertilizer companies, officials, and tomato distributors
Narayana Gowda, the farmer-activist, alleges that there exists a nexus between pesticide and fertilizer companies, officials, and tomato distributors and agents. While tomato farms are grappling with diseases and experiencing reduced tomato production, these pesticide and fertilizer companies are reaping greater profits, he said.
In the market, there are approximately 3,800 companies, 480 local distributors, and 1,200 shops that sell pesticides, fertilizers, and tomato seeds. Many of these entities are fraudulent, selling counterfeit products at lower prices than their original value, to lure unsuspecting farmers. Often, they sell unauthorised products by affixing fake stickers on the bottles.
This deceptive practice has led to long queues of farmers eagerly awaiting these products, Gowda observed. "Such pesticides may harm tomato plants more than effectively combating the disease-causing viruses. Additionally, farmers purchasing low-priced fertilizers often find them to be unproductive, resulting in reduced yields," he added.
The low-quality tomato seeds may also contribute to the decline in tomato yield. Unfortunately, there is currently no mechanism in place to regulate and assess these factors. Gowda alleged that the officials concerned are not taking these issues seriously. He questioned why these companies in Kolar operate their businesses during evening hours to the next morning instead of selling their products during daytime, raising suspicions about heir practices.
The mafia's deceptive narrative 
K Basappa, a farmer, voiced his suspicion regarding a possible nexus between officials and companies. He said that these companies obtain business from farmers by promoting the excessive use of pesticides and fertilizers, falsely promising higher yields. The resulting 'artificial price' hike is created by the said mafia, who benefit at the expense of farmers, consumers, and the soil's well-being, he said.
An official associated with the Agriculture Department shared an incident where a resort, booked for a day by distributors of these companies, was raided by the police for involvement in prostitution. Curiously, although the resort owner and a few workers were named in the First Information Report (FIR), the distributors were not. According to him, this secret meeting of the distributors coincided with a period of low tomato yields among farmers in Kolar.
According to Narayana Gowda, the mafia group in question actively propagates a deceptive narrative, claiming that the treated water from the KC Valley is to blame for the reduced tomato yield. This false belief has led thousands of farmers to attribute the crop loss to contaminated water. It also serves as a tool to further the mafia's nefarious business interests.
Next in the series: Illegal gambling market controlling tomato price?