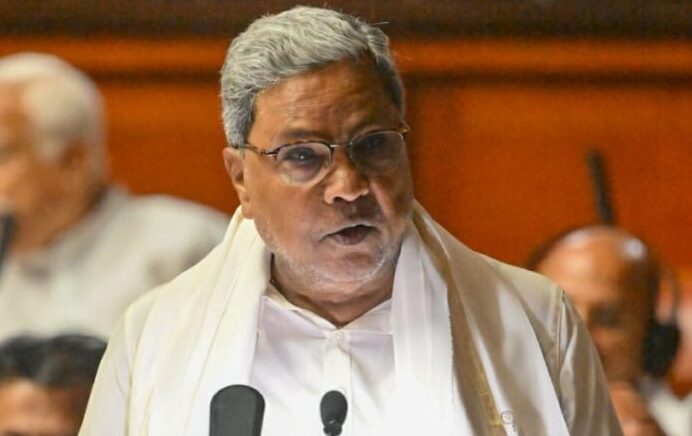 Karnataka Budget 2023: Nothing to cheer for Kannada cinema
Successive governments in Karnataka claimed to have adopted a healthy and constructive approach to the regional film industry, which has in fact stood to gain a good deal from its benevolent policies. Those who headed the government since 1956, following the State's reorganisation, have supported Kannada cinema.
Chief Minister Siddaramaiah, who himself is a film enthusiast and watches good films often has supported Kannada cinema, during his previous stint (2013-2018). He continued to encourage Kannada film industry even in his second stint. On coming to power when a delegation of Kannada cinema met Siddaramaiah with a demand of developing a film city, which he promised during his previous tenure, the chief minister reacted positively. He also provided tax exemption to Daredevil Mustafa, which is based on the work of acclaimed writer Poornachandra Tejaswi, which appealed to both the mass and the class category of audience. Kannada cinema has expected much from Siddaramaiah at a time when the success rate is dipping and star films are failing at the box office.
Empty promises
The Kannada film industry appears to be disappointed with the 14th Budget of Siddaramaiah, as it feels his announcements about film subsidy and film city project sound like empty promises. One section of Kannada cinema is elated and others look unenthusiastic. While the former describes the promises made in the Budget as "pro-film industry", the latter dismisses them as "breathing life to old projects".
Also read: Karnataka Budget highlights strains from BJP govt failures, Central aid shortcomings
It is significant that, before the presentation of the Budget, two delegations from Kannada film industry have met the chief minister and presented a memorandum, besides drawing his attention to the ground realities of what is plaguing Kannada cinema. "Our expectations fell flat. What the film industry got is mere assurances", says Ba Ma Harish, President, Karnataka Film Chamber of Commerce (KFCC).
Film city project
Siddaramaiah has announced the government's decision of developing Karnataka Film City, with a state-of-the-art facility near Mysuru. Taking a dig at the previous dispensation, the chief minister said, there was an attempt to shift film city from Mysuru to Bengaluru and an announcement was made about the plan earlier. But, the previous government failed to take up the project earnestly. Nevertheless, the CM promised to execute the project. "Promises have been made by successive governments on developing a film city over the last four decades, but nothing concrete has happened to date. Film city has become a political tool for political parties. There is no mention of earmarking of funds and a clear road map to executive the project. It was Siddaramaiah who breathed new life into the film city project during his previous tenure," said a KFCC functionary on condition of anonymity.
He is also critical of the announcement of the Kannada Film Museum, which the government planned to develop adjacent to Dr. Rajkumar Memorial at Kanteerava Studios. "It took a decade for successive governments to develop the Dr. Rajkumar memorial. No one knows how long it will take to develop the museum, which is expected to showcase a path travelled by nine-decade-old Kannada cinema", he notes.
Also read: Karnataka Budget: CM says Rs 52,000 cr to be spent for 5 key poll promises
Defibrillation unit in Puneet's name
All said and done, the announcement of installing Defibrillation units in all the district headquarters, for the treatment of cardiac patients received appreciation from the public at large. The initiative has been named after deceased actor and 'Karnataka Ratna' recipient artist Puneet Rajkumar,
The government's promise of constituting committees to disburse subsidies for Kannada films brought some solace to film producers, who have been waiting to get the government's assistance for the past three years. "Hundreds of filmmakers have been kept waiting for the past three years," says filmmaker and writer NS Shankar.
The subsidy policy was envisaged in the 1960s by the government for promoting good films with aesthetic and social content. Offering subsidy was once acting as a fillip for Kannada cinema. "But, subsidy being offered to such films has now become a contentious issue in recent years, because the link between the intent and actual results deserves scrutiny," Shankar observes.
Also read: Kannada film Bera review: A true Karavali story lost in narration
Acknowledging Shankar's observation, Umesh Banakar, President, Karnataka Film Producers' Association (KFPA), says, "Subsidy policy, which was envisaged to promote good Kannada cinema, has lost its meaning and vested interests are defeating its fundamental concern."
Controversy surrounding subsidy
The government could not release the subsidy amount being paid for films from 2018, as a producer approached the court, questioning the selection of films for subsidy. The court withheld the process of releasing subsidy amounts to films till the case is settled. Subsequent governments did not act on this order.
In 2012, a member of the Karnataka Film Subsidy Committee (KFSC) faced the allegation of accepting a bribe of Rs 2.5 lakh from a director to get his film selected for claiming subsidy. The then chief minister Sadananda Gowda ordered a probe.
Also read: Prakash Raj on encouraging new directors, his break from cinema, upcoming films
CAG report
A Comptroller and Auditor General (CAG) report pointed out in 2017 that the Karnataka government spent Rs 34.90 crore in a span of four years (2013-16) to give subsidies to 349 films but nearly half (130) of these have not been released for public screening.
The Department of Information and Public Relations which got a whiff of how filmmakers were earning subsidies through dubious means in 2019 issued an order to plug the loopholes.
Interestingly, the previous BJP government headed by Basavaraj Bommai has increased the number of films to get subsidies from 125 to 175 for the year 2022-23. But the fact according to KFCC, the total number of films produced in that period has not crossed not even 150, as production of films was hit by COVID-19 for several months.
Also read: Kannada cinema flounders in first half of 2023; just 5 of 118 new films break even
Shankar, who was part of the subsidy committee in 2004, underlines the urgent need for the government "to reframe the guidelines for selecting films. He also advised the government to adopt guidelines framed by the neighbouring Maharashtra government, which is helping genuine filmmakers".
Referring to the announcement on forming the selection committee for offering subsidies in the Budget, Banakar suggested the government form guidelines before constituting committees, for three successive years. "Even if the government forms guidelines to plug the loopholes in the subsidy system and constitute committees, it takes one more year to announce and release subsidies. What will be the fate of producers by then?" is the question being posed by members of Karnataka Film Producers' Association.
"A delegation of KFCC is planning to meet CM and apprise him on the real issues plaguing Kannada cinema to find realistic solutions," says Harish.
Also read: Karnataka Film City: Why Siddaramaiah wants to move fast on elusive project
Also read: KGF-2, Kantara make a splash: Is Kannada cinema's golden era back?
Also read: Kannada films increase focus on original content, but not everybody is happy
Also read: How 'Sankalpa' carved a niche for itself in Kannada cinema history