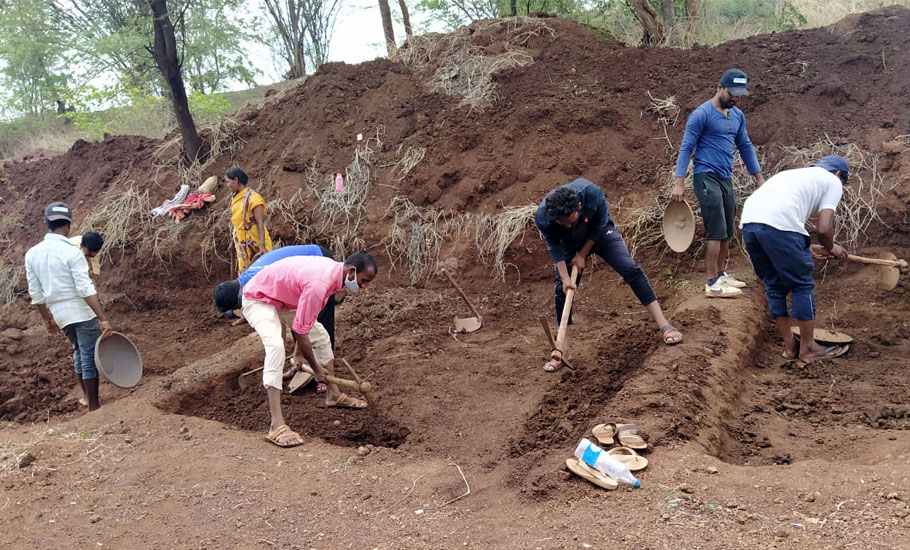 Go, dig a lake if you are an engineer looking for a job
Erappa Bawage is a first-generation engineering graduate from a scheduled tribe family in Karnataka's Bidar. The 27-year old mechanical engineering graduate was also the first from the family to land a white-collar job after he got employed at a precision tool manufacturing company in Bengaluru's Yeshwanthpura. But for the past two months, Erappa has been working as a labourer, desilting a lake in his native village of Kamthana under Mahatma Gandhi National Rural Employment Guarantee Act (MNREGA) scheme. This, after the company asked Erappa and other employees to leave after the COVID-19 lockdown was announced. Erappa who was earning around ₹18,000 per month now earns a meagre ₹275 per day under the rural job scheme.
The pandemic has resulted in large-scale job loss and business shutdowns in the country, affecting many people, especially the ones who were at entry-level roles and positions deemed not crucial. More importantly the new unemployment problem is pushing many families back to Below Poverty Line (BPL).
Lockdown leaves 27 mn youth jobless
The Centre for Monitoring Indian Economy's (CMIE) report in May assessed that 27 million youth in the age group of 20-30 years lost their jobs in April 2020 due to the lockdown. The unemployment rate has reduced only marginally in June post easing of lockdown norms. Researchers at the United Nations University are projecting a worst-case scenario where 104 million people in India could fall below the poverty line. The World Bank describes BPL as earning less than $3.2 a day which is around ₹ 241 at present exchange rates.
Erappa today earns less than half of what he was earning while working in Bengaluru. As a result the family is once again dependent on government-distributed ration and work under MNREGA. "It feels bad at times, if I have to do this work after studying so much. But at least I have some work and can earn a little, thanks to MNREGA. I know others who don't even have this option. There is no word from the company, we might have to continue doing this till December as I don't see companies opening full-fledged before that," said Erappa.
Related news: Jobless graduates look for MGNREGA work in Uttar Pradesh
This is a story which repeats in several villages of Karnataka. Atish, a MBA degree holder who was working in the sales department of HDFC bank in Bengaluru had to resign after the lockdown was announced. He too was a first-generation graduate from the family which belongs to the scheduled caste Holeya community.  His father was a construction labourer and Atish was the first one to get into formal employment. With the family heavily dependent on his income, Atish decided to work under MNREGA to make ends meet.
He says at least 20-25 educated youngsters like him who have returned from cities are now working under the scheme in his village. "With no work I couldn't stay in the city paying rent and for food. I don't earn like before, but something is better to take care of the family. My friends in Bengaluru who stayed back haven't found any job so far even after the lockdown, if I get a suitable job I will return to Bengaluru or I will look for something here," he says.
Neo-graduate generation take to MNREGA
A glance at the profile of new MNREGA job card holders shows an acute unemployment crisis although the rural employment guarantee scheme has been a lifesaver for many. Engineers, graduates, post graduates, veterinary science graduates and diploma holders are the well-educated new beneficiaries of this scheme.
Some border districts have seen a huge spike in demand for work under the scheme. The Bidar Zilla Panchayat estimates that more than 5,000 graduates, post graduates and diploma holders have sought work under the scheme with many of them returning from cities like Hyderabad, Bengaluru and Mumbai. The district which has seen more than 50,000 people returning home after inter – state movement was allowed has created around 17,000 new job cards in the last two months.
"Youngsters sent me messages and selfie videos seeking work. We instructed local officers to fast track their inclusion process," says Bidar Zilla Panchayat CEO Gyanendra Kumar Gangwar. The district has a silver lining with 56 per cent of MNREGA work force consisting of women.
Related news: Why UPA-era MGNREGA scheme could be a boon during COVID-19 pandemic
Across Karnataka 293.61 lakh person days of work was provided last year. This year it has gone up to 333.63 lakh person days in the same time period. The state has added 3 lakh job cards this year with many more pending for approval. "We are seeing high demand and about 10 lakh people are working on the field every day. On a personal note, ideally the educated/ skilled should get into skilled work. From society's point of view, that will add more value. But because the unlocking process is not complete and industries are still not completely functional, we are seeing the educated also seeking work," said LK Atheeq, Principal Secretary Rural Development and Panchayat Raj Department.
Govt should do more, MNREGA is just a lifeline: Experts
Several experts believe that increasing spending on MNREGA or Direct Benefit Transfer schemes will be a temporary solution and the government has to seriously look at the economic model it pursues if job creation has to be stepped up. "The economic model followed for the last decade or so is heavily dependent on services and outsourcing. This impact was inevitable, even if there was any other disruption to this model if not COVID-19. MNREGA or DBT will only help people survive, it can't turn villages into employment dens," said Dr RS Deshpande, former director of the Institute for Social and Economic Change.
Sociologist GK Karanth agrees with the view. He believes the economic boom in the last decade helped many families get out of poverty but many of them are still in the margins. "We have observed that in the development process over the years, many have got in and out of poverty. Many haven't improved so much that they can be assured of not falling back into poverty when there is such a shock," says Prof G K Karanth.
Pandemic fallout: Education takes a hit
Even as UNICEF estimates that an additional 120 million children in South Asia will be pushed into poverty, the impact of job losses and lack of employment in rural areas is likely to hit the student community hard. Parents are likely to use any available money for household expenses while education takes a backseat.
Nineteen-year-old Sanketha Ramakanth from Karwar has earned little over ₹2,000 by working for eight days under the MNREGA scheme.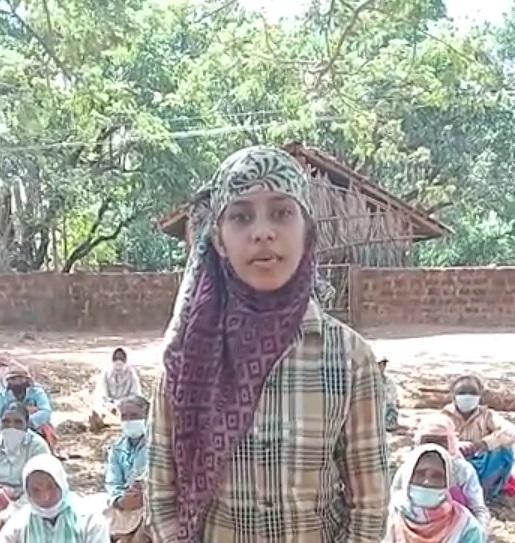 The first-year Bachelor of Science student is working during the lockdown to earn money to fund her college fee and that of her sister who is studying B.Com. Both her parents work as daily wage labourers and with their income taking a hit due to the lockdown, Sanketha had to find an alternate source to fund her education.
"My college fee is ₹4000 and whatever my parents earn goes for household expenses, so I decided to work to pay my college fee and that of my sister. Now because of the rains, work has stopped, but whenever it resumes I will go," says Sanketha who has to earn around ₹8,000 before college reopens to pay the fees.