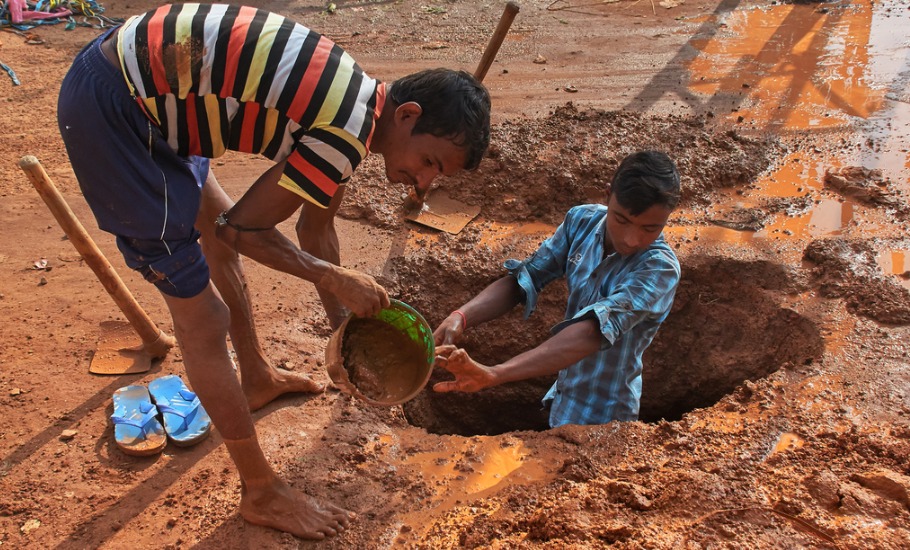 A few months after Narendra Modi first came to power with a massive mandate in 2014, he had mocked the UPA-era rural jobs guarantee scheme, the Mahatma Gandhi National Rural Employment Gurantee Act (MGNREGA).
Speaking in Lok Sabha in February, 2015, he had said, "I keep hearing talk that the government is planning to scrap MGNREGA, or already has. I know that you doubt my experience in many areas but I am sure you will admit that I have political acumen. My political acumen tells me that MGNREGA should not be shut down. I will not make such a mistake because MGNREGA is a living monument of your failures. Sixty years after independence you still have to send people to dig holes in the ground. So I will celebrate this with pomp and splendour. I will tell the world that these holes you are digging are for your own sins."
Well, five years and a global pandemic later, Prime Minister Modi has not only had to eat his words but also been compelled to increase the allocation under the MGNREGA scheme for "digging holes" as jobs vanish and rural unemployment hits record highs. A part of the ₹20 lakh crore stimulus package unveiled by the government last week contains an additional ₹40,000 crore towards MGNREGA, taking the total budgeted amount for the scheme to a little beyond ₹1 lakh crore for 2020-21.
Advertisement
Related news: MGNREGS: A good way to transfer benefits amid COVID-19 crisis
This increased allocation comes after a harsh, sudden and nationwide lockdown halted all economic activities for weeks, forcing hundreds of thousands of jobless migrant labourers to leave cities for their home states. This magnitude of reverse migration is bound to increase pressure on receiving states such as Bihar, Uttar Pradesh, Madhya Pradesh and Rajasthan to generate additional employment for the returning migrants.
Last week, Finance Minister Nirmala Sitharaman had said that the additional allocation under MGNREGA was being done to generate more opportunities for the returning migrants. The mandate of MGNREGA is to provide at least 100 days of guaranteed wage employment every fiscal to every rural household whose adult members volunteer to do unskilled manual work. A MGNREGA dashboard shows today (May 21) that 2,03,19,287 workers are expected in 16,93,457 worksites throughout the country.
Coming back to the increased allocation, not only is this a step back from the thinking of the government only a few months back, when the Union Budget for 2020-21 had actually slashed the allocation below that in the previous fiscal, even the new enthusiasm for MGNREGA may be nowhere near enough to keep joblessness from rising in the hinterland.
Rajendran Narayanan of the Stranded Workers Action Network (SWAN) pointed out that before the COVID-19 pandemic, their organisation had been demanding a minimum allocation of ₹1 lakh crore for MGNREGA. "The increase of ₹40,000 crore announced by the Finance Minister is welcome but there is still a long way to go. The MGNREGA budget should be at least double, at ₹2 lakh crore."
Related news: Back in their villages, only hope for migrants is UPA-era MNREGA
Another organisation which works at the grassroots, People's Action for Employment Guarantee (PAEG), has said that the inadequacy of the allocation for FY2020-21 was clear even before the pandemic and subsequent lockdown led to massive additional job losses and mass reverse migration to rural areas.
"With nearly 20 per cent of the current year's MGNREGA budget already exhausted within just 45 days of the financial year, there was a need to immediately infuse funds into the programme. The additional funding to MGNREGA will fulfil this shortfall and allow the states to ensure quick registration of job cards for those returning from urban areas, for freshly registering job cards of increased rural labour demand and to open new works to generate employment at this critical time. This allocation should be seen as first among a series of steps to be taken in response to this crisis," it said.
PAEG has suggested that the entitlement for job guarantee for households could be increased to 150 days in a year from 100 now, under MGNREGA. Such an increase has been done in the past during certain calamities. It has further proposed that the MGNREGA could become an open ended entitlement, allowing every individual to work for at least 200 days in a year.
"That will require at least double the current enhanced allocation – at least during the period of the disaster." Also, an urban jobs guarantee scheme on the lines of MGNREGA could be considered.
Related news: Fund shortage, delayed payments put MGNREGA and workers in peril
Narayanan explained that under MGNREGA architecture, there was a provision for a projected labour budget, which was sent to the Centre by each state by December each year. This budget showed the number of persondays of work needed for MGNREGA (since it is a demand driven programme and work must be provided on demand). The projected labour budget was devised after consultations with gram sabhas, etc, which decided a shelf of work, estimates of works needed and then how much labour needed. But after the Modi government came to power, it has been working with what is known as an "approved labour budget", where projections are almost always lower than the projected labour budget.
The second issue being faced with MGNREGA now is that even the enhanced overall allocation of ₹1 lakh crore doesn't account for the differential between the wages paid under this scheme and the minimum agricultural wages in each state. The government has announced, as part of the stimulus package, that the wage under MGNREGA has been increased by ₹20 to ₹202. But this increase would have happened anyway since the practice of adjusting annual increase to inflation is being followed. And even after the wage has been fixed at ₹202, it is still below the minimum wage provided by many states to their agricultural workers.
As the Modi government struggles to contain the economic fallout of the COVID-19 pandemic, perhaps another increase in MGNREGA allocation would be appropriate.