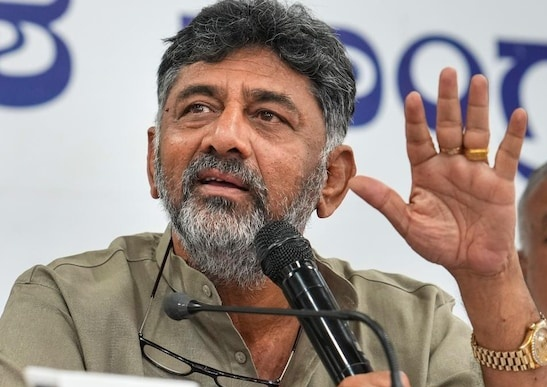 Discontent in Karnataka Congress: DKS, state MLAs to meet party top brass in Delhi
A team of 50 state Congress leaders and ministers from Karnataka is slated to meet the party leadership in New Delhi on Wednesday (August 2) amid brewing discontent among state party MLAs.
However, Karnataka Congress president D K Shivakumar told reporters on Tuesday that the team is meeting the party leadership to chalk out strategies for the 2024 Lok Sabha polls.
AICC president Mallikarjun Kharge, party leader Rahul Gandhi, general secretaries K C Vengopal and Randeep Singh Surjewala among others are likely to participate in the meeting in the national capital, deputy chief minister D K Shivakumar added.
Ahead of leaving for Delhi, the Karnataka Congress president said he will also be meeting few Union ministers to discuss issues and projects related to the state.
Brewing discontent
The meeting with the Congress high command assumes significance as it comes amid brewing discontent within the ruling party with as many as 30 legislators reportedly having written to Chief Minister Siddaramaiah and the party leadership expressing concern over non-implementation of development works in their constituencies and functioning of certain ministers.
"There is a meeting in Delhi tomorrow, today I will be meeting some central Ministers there. There is party work and also government work. So, I'm going to Delhi," Shivakumar had told media in Bengaluru.
Also read: Karnataka Congress MLA threatens to quit at CLP meet, cites self-respect, denies apologising
Noting that the party meeting with state ministers and leaders in Delhi is about the Lok Sabha polls, he said that they will discuss and plan a strategy on what all needs to be done in the interest of the Congress, ahead of elections.
Several ruling party MLAs are said to be miffed and have complained that they had not been able to get work done in their constituencies, and have not been granted powers to decide on transfers (of government servants) as requested. They are said to have expressed unhappiness regarding some ministers, alleging that they were not cooperating with them.
Also read: Congress to meet Karnataka leaders after murmurs of discontent
CLP meet
Following this, the CM had last week held a Congress Legislature Party meeting, where some legislators expressed their displeasure regarding behaviour and conduct of certain ministers.
There are also reports about talks regarding the need for a coordination committee, for better connect between government and the party, which has not been confirmed by the state Congress.
However, Siddaramaiah, Shivakumar and several ministers of the state government have maintained that there is no disgruntlement in the ruling party.
(With input from agencies)