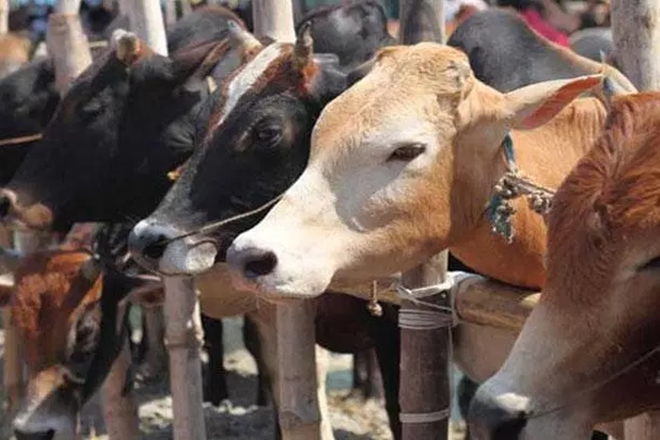 A fringe group named Rashtra Rakshana Pade in Karnataka harassed cattle traders who were going from Mandya to Tamil Nadu and allegedly killed one of them.
Punith Kerehalli, the main accused, who went to Sathanur police station in Kanakapura and lodged a case against the Muslim cattle traders for "illegal transport" of cattle, is now absconding. He is a right-wing activist who started Rashtra Rakshana Pade. He actively took part in campaigns over boycotting halal meat and also asking Hindus not to do business with Muslims in Karnataka.
Also read: Maharashtra: Cabinet nod for cow service commission to implement beef ban law
The Muslim community, with the body of the victim, held a protest in front of the police station. So far, police have made no arrests.
Chronology of events
Muslim cattle traders purchased 15 cattle from Mandya to transport them to Tamil Nadu on Friday night (March 31) in a vehicle. Rashtra Rakshana Pade leader Punith and other members allegedly waylaid them the same night and assaulted them but two of them managed to escape.
Also read: Hope Centre will declare cow protected national animal, says Allahabad HC
Later Punith and his team took one of the cattle traders Syed Zaheer to the police station and complained about the "illegal transport" of cattle. Zaheer lodged a complaint against Punith for assaulting them. Police kept Zaheer in the police station and allowed Punith to leave, it is alleged.
On Saturday, police were informed about the death of Idrees Pasha (39) and his body was found a few hundred metres away from the Sathanur police station.
Police later registered another FIR against Punith in a murder case based on the complaint by Idrees' brother Yunus Pasha.
What police said
According to police, Idrees and two others, Zaheer and Irfan were transporting around 15 cattle in a vehicle. The Rastra Rakshana Pade members stopped them at Santemela Circle at Sathanur on Friday night. Sensing danger, Idrees and Irfan escaped while Zaheer was caught and allegedly assaulted by the team. Punith and his team allegedly told Zaheer that they (Muslims) should not live here and must go to Pakistan.
Zaheer, in his police complaint, said that they showed the bills for the purchase of the cattle. Then, Punith allegedly demanded Rs 2 lakh and threatened to "finish him" if he didn't pay.
Though Zaheer tried to explain to him that the cattle were purchased legally and were being taken to Tamil Nadu, the accused allegedly assaulted him.
According to police, they found Idrees' body on Saturday. However, as per Yunus' complaint, Punith and his team murdered Idrees and to divert attention, he took Zaheer to the police station and lodged a case against him for "illegal cattle smuggling".
Ramanagara SP Karthik Reddy said the accused persons including Punith are yet to be arrested and they were awaiting the post-mortem report to know the cause of death. The family members of Idrees, however, alleged that the cow vigilantes had tortured him to death as there were assault marks all over the body.
Viral on social media
The accused Punith's images with celebrities and political leaders including Bengaluru South MP Tejasvi Surya are going viral on social media.