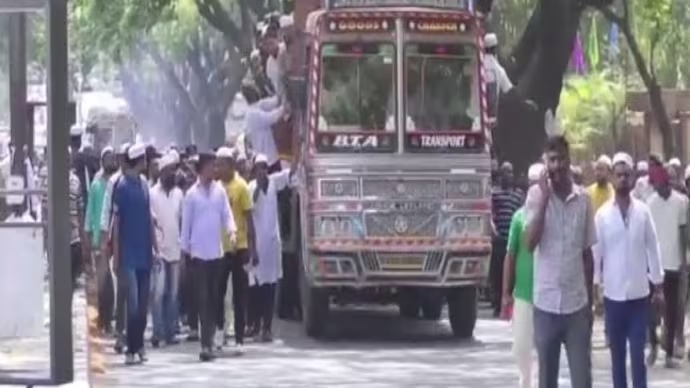 According to police sources, a group of cow vigilantes in Sathanur allegedly beat a man to death and assaulted his two associates on Sunday. The vigilantes accused the three individuals of illegally transporting cattle.
A man was allegedly beaten to death and his two associates were assaulted by a group of cow vigilantes accusing them of transporting cattle illegally at Sathanur here, police sources said on Sunday.
Also Read: Karnataka elections: Cong eyes Vokkaliga MLAs to bolster its Old Mysuru tally
According to sources, the incident took place on Friday night when the deceased identified as Idrees Pasha and his two associates Irfan and Syed Zaheer were transporting cattle.
The accused, Puneeth Kerehalli, a cow vigilante and his team are said to have intercepted the trio, accusing them of transporting cattle illegally for slaughter.
The vigilantes allegedly assaulted and abused them, despite their efforts to reason out by stating that they had the receipt of the purchase. The accused allegedly even demanded Rs 2 lakh from them.
Also Read: Karnataka polls: Will Yediyurappa's son Vijayendra take on Siddaramaiah in Varuna?
According to sources, Idrees, who reportedly resisted the vigilantes, was reportedly chased and beaten up by them. He was later found dead.
Zaheer and Irfan were caught and taken to the Sathanur police station.
Zaheer and his associates were booked under sections of the Karnataka Prevention of Cow Slaughter and Cattle Prevention Act, Prevention of Cruelty to Animals Act, Transportation of Animals Act, and Motor Vehicles Act, based on the complaint by Kerehalli, and it is during the investigation police came to know about Idreess death.
Also Read: Karnataka Assembly polls: CVoter survey predicts Cong win; Zee News says tight race
Tension prevailed on Saturday as the family of the deceased staged a protest and demanded action against the vigilantes, holding them responsible for the mysterious death of Idrees. However, following the police interference, the situation was brought under control.
Police have registered a case against Kerehalli and others for murder and under various sections of IPC, and are investigating the case. According to police sources efforts are also on to nab the accused.
(With agency inputs)