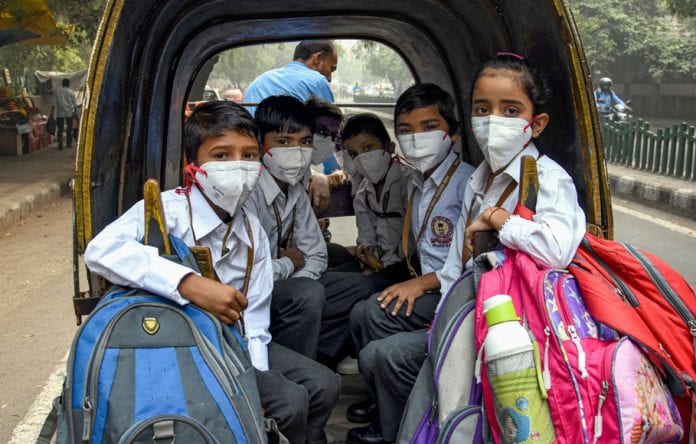 Schools reopen in Andhra Pradesh from November 2 with the academic year for 2020-21 extended up to April 30, the state education department has said.
Students of classes 9 and 10 can attend schools from November 2, every alternate day with classes to be held till noon. No classroom can have more than 16 students with strict social distance protocols in place.
School reopens for students of classes 6-8 from November 23 while for students of class 1-5, it will start on December 14.
Andhra has about 60,000 schools – including aided, unaided, and private institutions. All higher educational institutions, including universities and its affiliated colleges, will open from November 2 and classes will take place on all six days a week.
Classes for first-year professional and non-professional UG courses will commence from December 1. A new academic calendar for non-professional courses, professional courses, and postgraduate programmes was released by the higher education department recently.
Rukmini Banerji @Pratham_India: When schools reopen, continue remote learning with older kids; have teachers engage small groups of younger kids; have a shift system; engage parents; lighten curriculum. Can we focus on building foundational skills both b4 & after schools reopen? pic.twitter.com/We4xDugQRu

— samyukta lakshman (@slakshmanova) June 23, 2020
Safety protocols in wake of Covid-19 situation
The state government and schools are taking no chance with regards to safety of students and the fear of the pandemic spreading further.
Commissioner of School Education V China Veerabhadrudu told The Indian Express: "Wearing masks, washing hands, and maintaining physical distance are mandatory which should be followed by every student as well as teachers. Every day, the students will be undergoing orientation on COVID precautions and the classes start from 9:15 am and will go on up to 1:45 pm, followed by midday meals. In the afternoon hours, the students will be taking online classes for those students, who didn't turn up for schools. The academic year 2020-21 is extended up to April 30, totaling 180 working days."
What about students opting to stay home?
Alternate arrangements will be made for children who cannot attend school/college for any reason. Online education will be provided by way of dedicated apps including Abyasa and Diksa, along with Doordarshan classes and Youtube channels.
Also read: Life after Covid: The fatigue, the isolation and the haunting anxiety
For residential schools, the hostel facilities will be made available anytime between November 2 -23.
The state government has provided grants to schools to provide equipment including thermo scans or sanitizers.