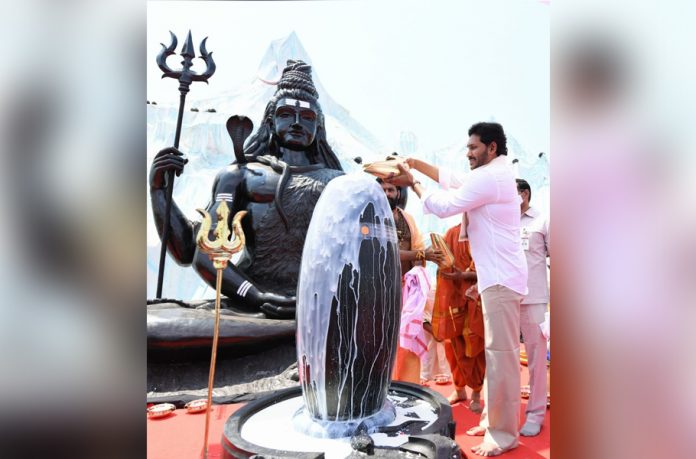 At a time when the BJP is crying foul on the alleged 'attacks' on Hindu temple and conversions of Hindus into Christianity in Andhra Pradesh, Chief Minister YS Jagan Mohan Reddy, a devout Christian himself, is going out of his way to prove that his government is more concerned about Hindus than the so-called champions of Hindutva politics.
Jagan's attempts to prove his obeisance towards Hinduism is more visible now. From sporting a 'tilak to participating in poojas at Hindu temples, the 'Christian' chief minister is on a mission to show the BJP that it is not the only party that espouses the cause of Hindus. A regular visitor to the Tirupati Balaji temple, the chief minister on Thursday (March 11) participated in the Maha Shivratri celebrations at Gudiwada, a nondescript town in Krishna district, where he was seen pouring milk on the Shiv Linga.
TDP, BJP attack Jagan on temple 'desecrations'
Advertisement
Jagan, whose family practices Christianity, has been facing religious crisis since becoming the chief minister in May, 2019. During his tenure, there has been a variety of offences on more than 10 temples at different parts of the state. While the blame was put on Jagan's government, former chief minister and TDP chief N Chandrababu Naidu, who for decades had preferred to remain neutral on religious issues, has now channelled his energy into attacking Jagan on religious grounds.
Related news: Jagan mum on abolition of Legislative Council as YSRCP races ahead of TDP
"You are a Christian. Your home minister (M Sucharita) is a Christian. Your DGP (Gautam Sawang) is a Christian. You need to be more alert and careful in protecting the sentiments of Hindus," Naidu thundered while leading a protest against the desecration of a Ram idol at Ramateertham in Vizianagaram district in December 2020.
The damage control strategy adopted by the government continues to draw criticism. Without registering significant progress in investigation, the government has offered to replace the damaged idols and restore the damaged portions. Endowments minister Vellampalli Srinivas even vowed to renovate some temples.
TDP spokesman Pattabhi, however, pointed out that the culprits have not been apprehended in any of the major attacks, right from burning of the chariot at Lakshmi Narasimha Swamy temple in Antarvedi of East Godavari district to idol desecration at Ramateertham.
BJP too faulted the failure of the police in investigation. "What we are asking the government is to bring the culprits to book. The devotees need to know who resorted to the attack on their sentiments. Restoration and replacement will automatically happen", said BJP state president Somu Veerraju.
BJP's K Raghurama Krishan Raju, earlier a YSRCP MP from Narsapuran in West Godavari district is Jagan's most aggressive critic. He alleged that the attacks on temples and the conversions were happening because of the soft stand taken by the government.
BJP's Subramanian Swamy comes to the rescue
Amid a shower of brickbats, the BJP's Rajya Sabha MP Subramanian Swamy has come to the rescue of Jagan's government.  The BJP leader who visited Jagan at his residence in Amaravati on Wednesday (March 10) rubbished allegations about the conversions of Hindus.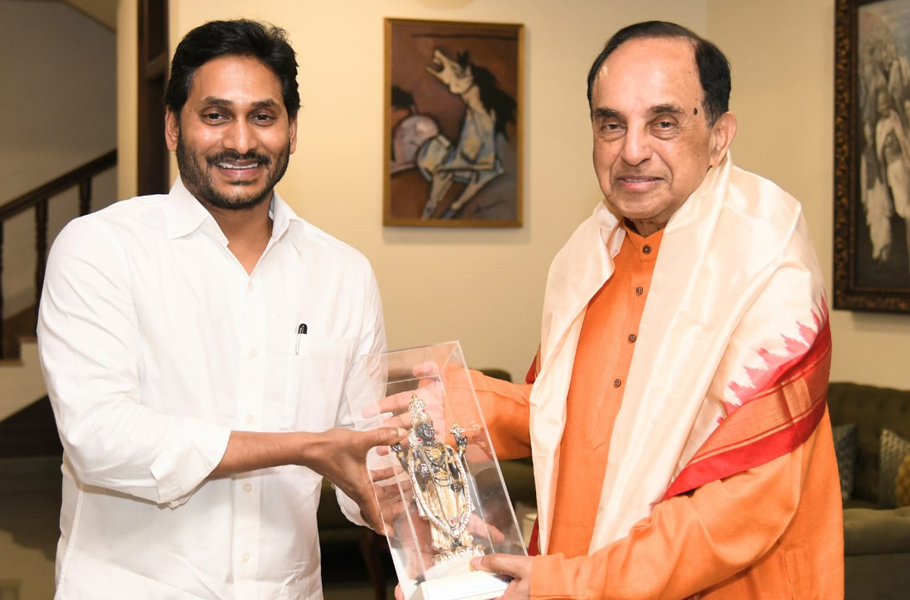 "Conversions are not happening. If they are taking place, bring them to my notice," he told reporters assembled outside Jagan's residence.  Swamy was in the state to file a ₹100 crore defamation suit against a popular vernacular daily in a Tirupati court. A story in the daily in 2019 had claimed that content related to Christianity was posted on Tirumala Tirupati Devasthanams' (TTD) website.
Swamy, who described himself as 'Hindutva spokesperson', said the newspaper was emboldened by the backing of TDP president N Chandrababu Naidu to carry the 'fake news' on the most popular hill shrine. Senior media professionals, however, believe that the issue was closed after the TTD's version was carried in the media.
Seer's guidance behind Jagan's Hindutva politics
When in trouble over religious matters, Jagan falls back on the advice of his Hindu guru Swamy Swaroopanandendra Saraswati of Visakhapatnam Sri Sarada Peetham, of whom Subramanian Swamy is also a follower. Jagan has met the seer at least half a dozen times after being sworn in as the chief minister. Whenever there is a crisis, representatives from Tadepalli are rushed to the Peetham for guidance and intervention.
Reportedly at the seer's advice, the chief minister has increased his participation in Hindu rituals and events since January. He recently laid foundation the stone for re-building of about 20 temples that were demolished during the TDP regime in the name of roads-widening. Jagan also attended the new chariot inauguration at Antarvedi last month. (When asked by the TDP and BJP on what happened to the probe into the burning of the old chariot, Cabinet member K Kannababu asked the BJP leaders to pursue the state government's request to the Centre seeking a CBI probe into the case.)
Invitations from temples for participation in rituals and blessings by priests on a variety of occasions form an important part on the chief minister's itinerary and his office's media release. That apart, a tweet greeting people during festivals is a practise that Jagan doesn't miss out these days.
Political analyst Gosala Prasad says despite Jagan's attempts to appeal to the Hindu voter, his ways are not in line with Hindu traditions. "In Hindu customs, married persons participate in holy events along with their spouse. Jagan is trying to overcome the anti-Hindu image, by winning the hearts of the community members through his participation. But, his presence will not gain sanctity unless he is accompanied by his wife," Prasad said.
Related news: Telangana malnourished under KCR, my party is ray of hope: YS Sharmila
Considering the fact that he came to power due to the backing of minorities, BCs, STs and SCs, YS Jaganmohan Reddy is leaving no stone unturned to show that he is the champion of the Hindus and protector of temples. What is helping him is the fact that none of his predecessors had openly flaunted their religiosity for a faith they do not follow.