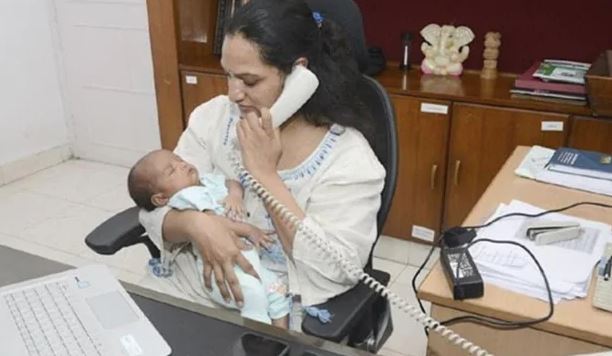 When crisis looms, it indeed is the call of duty that comes first than anything else — even your newborn. Proving the saying right and setting an example for others amid the COVID-19 outbreak, the chief of Visakhapatnam's municipal body has resumed her duty, barely a month after giving birth.
In photos circulating on social media, Srijana Gummalla, commissioner of the Greater Visakhapatnam Municipal Corporation is seen holding her baby in her arms while working at her desk.
"It is like a call of duty for me. As a human being, it is my response to be of some help to the administration. I felt that this is the time we should all stand together and be of strength to each other," ANI quoted her as saying.
Gummalla's attitude towards work has made her the poster girl of the civil servants' fraternity in the country and earned her the praises of colleagues and ministers including Union minister Gajendra Singh Sekhawat.
Related news | Heartwarming act of humanity: Yuvraj praises policemen sharing food

"The country is fortunate to have such corona warriors. People like her are living examples of dedication. My heartfelt thanks to them," he tweeted in Hindi.
While Gummalla, a 2013-batch IAS officer has said that she is taking all necessary precaution to see that the baby is taken care of while at work, she has shot down detractors and fellow civil servants who have criticised her rejection of the entitled six months of paid maternity leave.
"What a fall!! Is the fraternity eulogising this act. Does it mean 6 months maternity leave is a sham. Doesn't the baby deserve attention, care and warmth of mom? Its sad that these actions are hero worshipped. Everyone who wrks in Govt. knows tht none is indispensable," tweeted Dipika Bajpai, a Karnataka-cadre Indian Forest Service officer.
Replying that "extraordinary times require extraordinary decisions," Gummalla curtly said that she hadn't asked for any acknowledgement for her act and that it should be her call whether to exercise her right (to take leave) or not.
Related news | Amid lack of incentives, TN police ensure smooth passage of lockdown