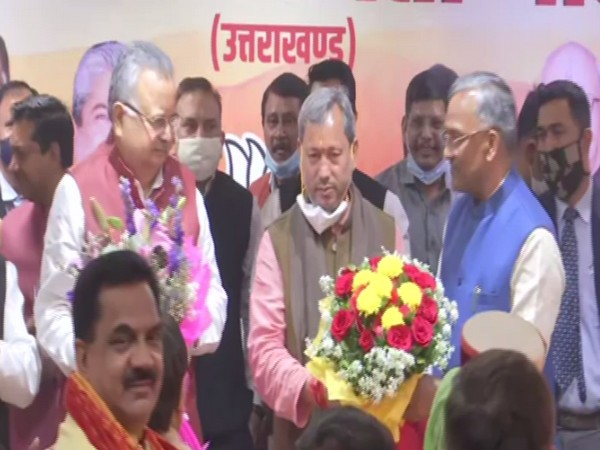 Tirath Singh Rawat was sworn in as the chief minister of Uttarakhand on Wednesday (March 10), a day after the resignation of Trivendra Singh Rawat.
Tirath Singh, 56, is a BJP MP from the Pauri constituency. He was the chief of the party in Uttarakhand in 2013-15. He was picked over favourites including Union minister Ramesh Pokhriyal Nishank and state minister Dhan Singh Rawat.
"With the names of Dhan Singh, Nishank… making the rounds, nobody in the party expected that Tirath would be named for the CM post," The Hindustan Times quoted a party MLA as saying on condition of anonymity.
Tirath Singh, who is not identified with any faction in the state BJP, was chosen with the approval of Prime Minister Narendra Modi.
Also read: Tirath Singh Rawat to be new Uttarakhand chief minister
Shortly after he took oath, Modi tweeted: "Congratulations to Shri @TIRATHSRAWAT on taking oath as the chief minister of Uttarakhand. He brings with him vast administrative and organisational experience. I am confident under his leadership the state will continue to scale new heights of progress."
Trivendra Singh submitted his resignation to governor Baby Rani Maurya on Tuesday amid complaints that his (Trivendra Singh) performance had been below par. He had met BJP leaders in Delhi recently, including party chief JP Nadda.
According to sources, there was discontent among the state's BJP MLAs and MPs over his style of functioning. The central BJP leadership had recently sent two observers, party vice-president Raman Singh and general secretary Dushayant Kumar Gautam, to assess the Trivendra Singh's performance. The report was submitted to Nadda, who then summoned him to Delhi.
Incidentally, Trivendra Singh is not the only chief minister to put in his papers before the completion of his tenure. The state was carved out from Uttar Pradesh on November 9, 2000, and since then, it has seen nine chief ministers. Be it the BJP or the Congress, only one — the late Narayan Dutt Tiwari — has had the distinction of having completed his tenure of five years.