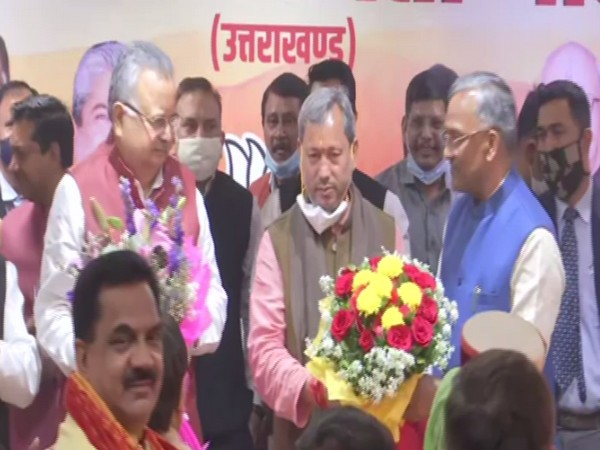 Dehradun: Tirath Singh Rawat will be the new Chief Minister of Uttarakhand. He was chosen as the leader of the BJP legislature party here on Wednesday. The swearing-in will happen later in the day.
Also read: Here's why Rawat joined long list of CMs who couldn't finish term in Uttarakhand
He is currently the party MP from Pauri Garhwal. His name was announced by outgoing chief minister Trivendra Singh Rawat after the legislature party meeting, which lasted around 30 minutes.
Advertisement
Tirath Singh Rawat was the state BJP president from 2013 till 2015 and is currently the party's national secretary. He was also an MLA from Chaubattakhal constituency from 2012-17. His choice by the BJP comes as a surprise as he was not among the favourites.
Trivendra Singh Rawat resigned as CM of the hill state on March 9. He submitted his resignation to governor Baby Rani Maurya after the party decided to put in place a new chief minister a year before the assembly elections amid complaints that Rawat's performance has been below par. Rawat had met BJP leaders in Delhi on March 8. He had also met BJP President JP Nadda.
Also read: Uttarakhand CM Rawat resigns amid complaints of below-par performance
"The party gave me an opportunity to serve this state for four years. It now wants to give the responsibility to someone else now," Rawat told mediapersons in Dehradun.
The central BJP leadership had recently sent two observers, party vice-president Raman Singh and general secretary Dushayant Kumar Gautam, to assess the CM's performance. The report was submitted to Nadda who then summoned Rawat to Delhi.
It is to be noted that apart from ND Tiwari, no Uttarakhand chief minister has completed a full term. Both Congress and BJP have changed CMs before elections but that didn't help them in the next elections.
(With inputs from Agencies)