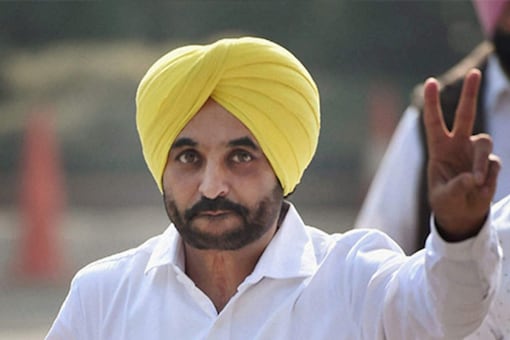 On Friday (April 7), the Chief Minister of Punjab, Bhagwant Mann, announced that the state has paid off its entire electricity subsidy bill of Rs 20,200 crore for the last financial year and has observed an increase in both excise and GST revenue.
Mann, addressing the media here, said the state has registered a revenue of Rs 8,841 crore for the financial year 2022-23, up by 41.41 per cent as against revenue of 2021-22.
He said his government has set a target of 10,000 crore in excise revenue for the current fiscal, as he criticised the previous governments for allowing "liquor mafia" in the state.
Also Read: Amritpal's bid to drag Akal Takht into his battle is not likely to succeed
Mann said that the state has registered a 16.6 per cent jump in the Goods & Services Tax collection, earning Rs 18,126 crore in revenue for the year 2022-23.
"We are now among the top states in terms of GST collection," he said.
Mann said the state has registered a rise of 78 per cent in stamp duty and fee collection in the month of March. The government had earlier announced an exemption of 2.25 per cent on stamp duty and fees on registration of properties.
The CM said his government has cleared the total electricity subsidy bill of Rs 20,200 crore for the last financial year, and asserted that the government will ensure uninterrupted power supply to the people.
Also Read: The Navjot Sidhu riddle Congress needs to tackle in troubled Punjab
"In 2022-23, which is the first year when the Punjab government paid the entire subsidy bill of Rs 20,200 crore to the Punjab State Power Corporation Limited. Not even a single penny was pending towards the PSPCL," he said.
He said that the government has also paid the first installment of Rs 1,804 crore out of the legacy amount of Rs 9,020 crore which had been pending for the previous years.
The amount of Rs 9,020 crore will be given in five installments, said Mann.
Mann said the Rs 20,200 crore amount comprised Rs 9,063.79 crore (free electricity to the farm sector), Rs 8,225 crore for domestic consumers, and Rs 2,910 crore for the industry sector.
Also Read: Delhi govt has failed us: Sultanpuri hit-and-run victim Anjali Singh's family
Replying to a question on radical preacher Amritpal Singh, who continues to be on the run since March 18 when Punjab Police launched a crackdown against him and his aides, Mann said, "when any development comes, we will let you know."
To a query on crop damage because of rains, Mann said 60 per cent girdawari (field inspection) to assess the loss is complete and also said the compensation will be given to affected farmers. The distribution of compensation will start from Baisakhi, he said.
(With agency inputs)