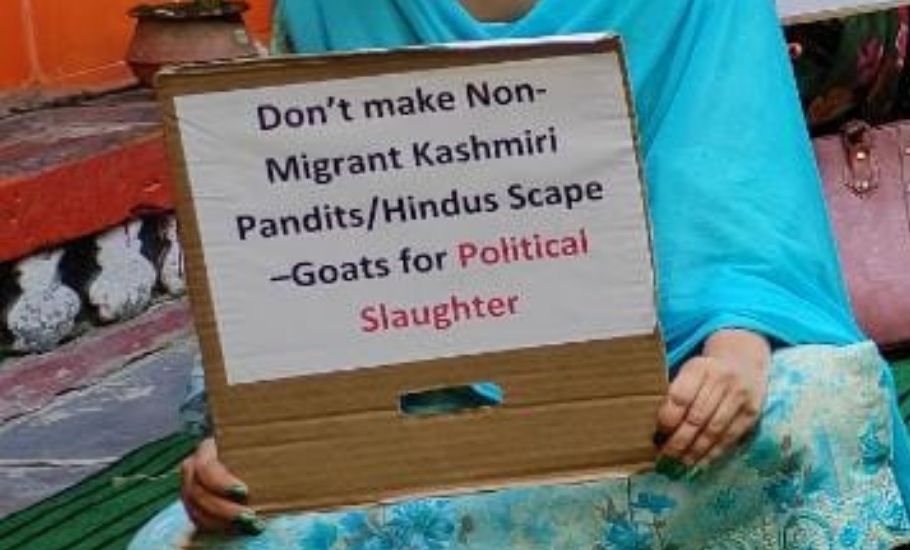 Sakshi, the then 10-year-old daughter of a well-known non-migrant Kashmiri Pandit, Sanjay Tickoo, was watching the Dussehra celebrations on television at her Srinagar home in 2007. In a child-like expression, Sakshi asked her father, "Papa, why don't we celebrate Dussehra in Kashmir?"
Sanjay was moved by his daughter's desire to celebrate Dussehra in Kashmir.
He decided to make the Vijayadashami, also known as Dasara or Dashain, celebrations possible in the Kashmir Valley. Dussehra is one of the major Hindu festivals celebrated at the end of Navaratri every year.
Sanjay, aged 56, is born and brought up in Srinagar's Barbarshah area. Like other 808 non-migrant Kashmiri Pandit families, Sanjay's family never left the Kashmir Valley, his homeland.
With enthusiastic support from the majority Muslim community, neighbours and friends from the region's vibrant civil society, Sanjay achieved success in reviving the Dussehra celebrations in Kashmir in 2007.
"The contribution from the Muslim community, friends and neighbours to organise and celebrate Dussehra festival in Kashmir was immense and gratifying," Sanjay told The Federal, adding that "without their moral and financial support it would not have been possible."
Related news: Civil society report paints 'chilling' image of Kashmir since 'internet siege'
The festival was celebrated for eight years since 2007, but interrupted briefly due to the successive summer agitations in 2008 and 2010, the devastating floods in 2014, civilian uprising in 2016, and the unprecedented lockdown last year in August as Jammu and Kashmir lost its semi-autonomy and statehood.
Sanjay is famous among the majority community. He also heads the Kashmiri Pandit Sangarsh Samiti (KPSS), an organisation that has actively been involved in looking after the abandoned Hindu temples and holy caves and springs in Kashmir.
According to Sanjay, his organisation started the process of re-opening and reviving the abandoned temples in 2003-04. "The local mosque (Masjid) committees, Muslim neighbours and well-wishers encouraged me and helped us clean the holy spaces," he told The Federal, adding that it is mostly members from the majority community who immediately report any encroachment of the temple sites to us.
Sanjay was reluctant to name his Kashmiri Muslim friends who help him revive and cleanse holy Hindu sites and organise Dussehra celebrations. "Let it remain a secret," he said with a smile.
Related news: One year of revocation of Article 370: What has changed in J&K
Many prominent Kashmiri Muslims admire Sanjay's work and enthusiasm.
Khurram Parvez, Coordinator of the Jammu and Kashmir Coalition of Civil Society (JKCCS), acknowledges the good work done by him. "Sanjay Tickoo has been actively engaging with the Kashmiri civil society to visibilise the non-migrant Kashmiri Pandit community and the problems they face."
"It is due to his organisation (KPSS)'s work that people know that the Kashmiri Pandits who chose to stay back in the Kashmir Valley have an alternative discourse to the state-sponsored and supported discourse on migrant Pandits," Parvez told The Federal, adding that "despite identifying with the Indian government's position on Kashmir, Sanjay was called traitor by some extremist groups in Jammu, but he never gave up on speaking his heart out. He has played a role in promoting communal harmony in the Valley."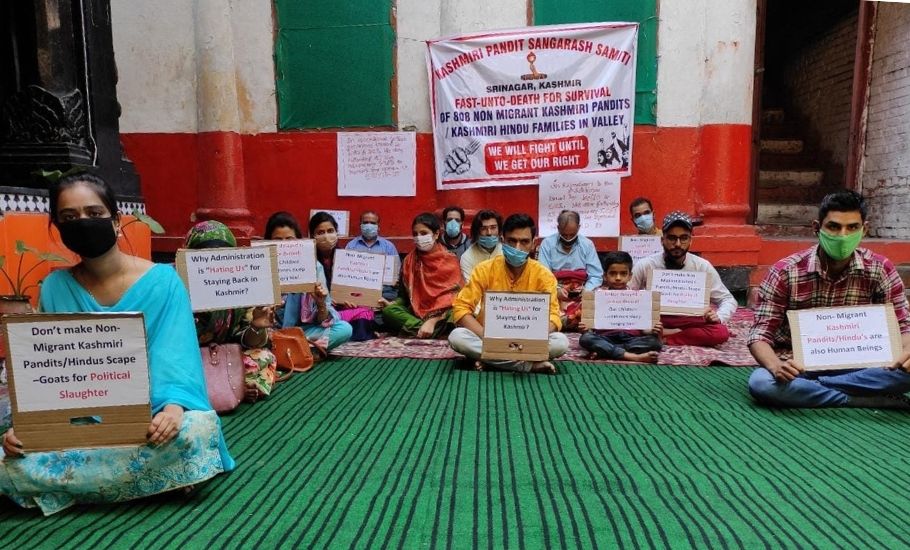 In March 2010, the Jammu and Kashmir government said on the floor of the Legislative Assembly that "219 Kashmiri Pandits were killed" in the restive region. Human rights bodies put the number of those killed in J&K since 1989 at close to 100,000, majority of the slain belong to the majority Muslim community. A total of 38,119 Kashmiri Pandit families were registered with the government, of which 24,202 departed in early January 1990 and most settled in parts of the Jammu province. According to official figures, the total number of Pandits stood at 1.5 lakh at the time of migration. At least 808 Pandit families, including Sanjay's, never departed and stayed back in their homeland.
Presently, Sanjay is on a hunger strike in Srinagar. His KPSS alleged that the Disaster Management Relief, Rehabilitation and Reconstruction (DMRR&R) department was punishing the non-migrant Kashmiri Pandits for staying back in the Kashmir Valley.
Related news: Kashmir: From a dream tourism destination to 'first victim'
"Since the abrogation of Articles 370 and 35 (A), we are facing harassment and isolation at the hands of the department. Despite multiple directions from the High Court and recommendations by the Ministry of Home Affairs, the relief department is playing with the life and security of the non-migrant Kashmiri Pandits," Sanjay alleged.
In protest, the KPSS members on September 20 decided to fast unto death.
The organisation's list of demands includes sorting out the issues related to the "survival and existence of 808 non-migrant Kashmiri Pandit families" living in Kashmir.
"I, Sanjay K. Tickoo, President, KPSS have decided to start Fast-Unto-Death from today i.e. 20.09.2020 against Relief Department for persecution and bureaucratic harassment against Non-Migrant Kashmiri Pandits – Kashmiri Hindus for not implementing Hon'ble High Court directions and recommendations issued by Ministry of Home Affairs regarding Job and Rehabilitation of the left out Community who chose to stay back in Kashmir Valley."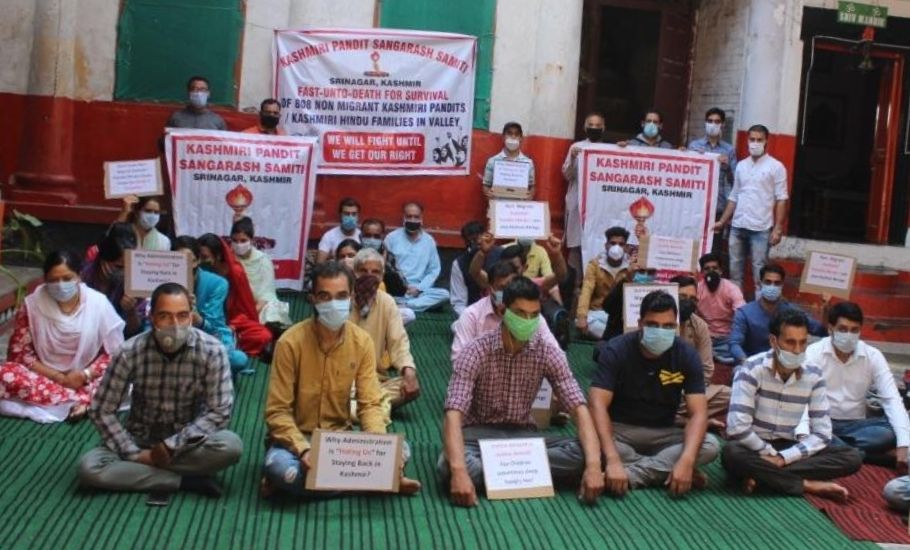 The KPSS demanded "easy and stress-free process of providing bona fide certificates to all the aspirants as per SRO 425 dated 10.10.2017", "monthly financial aid to 808 Kashmiri Pandit families" and providing "accommodation to all deserving non-migrant Kashmiri Pandit families living in Kashmir Valley."
He said that it was impossible to keep all the temples intact in the absence of worshipers and rituals in the mornings and evenings. According to Sanjay's rough estimate, there are hundreds of temples, holy caves, springs and other spaces considered sacred by the Pandit community in Kashmir.
There are roughly 5,000 temples across the erstwhile state of Jammu and Kashmir, which, according to Sanjay, include sacred caves and holy springs. Sanjay was astonished when MoS Home G Kishan Reddy, in a press conference held in Bengaluru last year, had casually mentioned a figure of 50,000 in relation to the temples in J&K.
Sanjay told The Federal that his KPSS during the last 16 years managed to re-open and cleanse at least 120 of the 1,842 holy sites which include caves, springs and temples.
"In the entire state of Jammu and Kashmir, the total number of big and small temples, holy caves and springs would not be more than 5,000. According to our survey, there are a total of 1,842 temples, shamshan bhoomis (cemeteries), holy springs, holy trees and caves in the Kashmir Valley," said Sanjay Tickoo, president of the KPSS.
Senior BJP leader Rajeev Pratap Ruddy had told the central government during the UPA regime's second term that the total number of temples in Kashmir was 464, out of which 174 were either destroyed or were left unattended and abandoned.
Related news: Kashmiris upset over official status to other languages along with Urdu
"It is not easy to maintain the sanctity and cleanliness of the temples. While talking about the renovation or reconstruction of temples, it is important to see that somebody is always there to light a diya in the mornings and evenings," Sanjay asserted.
"You don't reopen a temple to show-off and invite the media for coverage or to play to the gallery. The real challenge is to maintain the daily functioning of the temple," he added.
Sanjay is also unhappy with the BJP government's unilateral decision to revoke Article 370. He calls it a "hasty step taken by the Centre without consulting mainstream political parties of the state." According to him, the non-migrant Pandits living in Kashmir were bearing the maximum brunt of this "unilateral and unconstitutional" move.
"Due to the unprecedented communication gag and the absence of internet, our relatives and friends are worried for months together. We can't be forced to remain confined in a dark cave forever," he said.